Another month, and another batch of rock documentaries (and rock-related movies) for your consideration. All of these are available to stream, so get to watchin'.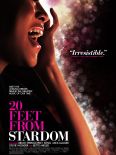 The Oscar-winning documentary
20 Feet from Stardom
gives a behind-the-spotlight view into the lives of the talented backup singers that music fans have heard singing on hits for decades.
Jo Lawry
who has been backing up Sting for many years said it best when she said "There's something that happens when you lock in with somebody and all the harmonics ping... If you don't like that, what do you like?" The film gets a bit reverential at times, and really seems to try to push
Judith Hill
as the next big thing, but the real highlight comes at the 30 minute mark.
Merry Clayton
is brought into Sunset Sound & Elektra Studios to listen to her isolated vocals on
Gimme Shelter
, including the spine-tingling cracks in her voice and Mick Jagger's surprised "WHOO!" that follows. It's a great story (she recorded it in her bathrobe and with curlers in her hair) that makes the whole documentary worth watching. -
Zac Johnson
(Watch it
on Netflix
)
Many of the
Beatles
' achievements have only improved or made their genius more evident over time, such as embracing of new recording techniques, incorporating instruments not previously present in rock and roll music, and retiring from touring to focus on their work in the studio. Some of these decisions seemed baffling at the time, but are now accepted parts of the Beatles narrative that led to wild bursts of creativity. Only a few of their projects are still viewed as head-scratchers or blatant missteps, such as the failed Apple Boutique, the "
butcher cover
," and the
Magical Mystery Tour
film. For the latter, the band cobbled together a few loose ideas, piled friends, family and strangers into a bus, and shot whatever they felt like. It aired on the BBC the day after Christmas in 1967 and drew tremendous ire from bewildered audiences, who were probably expecting something more in the vein of the band's feel-good earlier movies. It didn't help that the movie aired in black and white at the height of the acid era, and was watched by families gathered around in search of holiday entertainment. PBS made a documentary in 2012 that digs into what the hell happened with the movie, securing interviews with the surviving Beatles and several participants, as well as with fans who were children at the time who were trying to make sense of what exactly was happening on their televisions. Film luminaries Martin Scorsese and Terry Gilliam pop in to discuss the movie's influence on their careers, with Gilliam—not shockingly—admiring its absurdity, while Scorsese finds resonance in its technical aspects. -
Chris Steffen
For anyone who is a fan of girl groups and harmony singers, it is easy to fall into the allure of
The Sapphires
. Based on a true story of three sisters and their cousin who rose to some small level of stardom as an aboriginal girl group, their bumbling, soulful, tipsy Irish manager (the always terrific
Chris O'Dowd
playing a slightly cooler version of Roy from
The IT Crowd
) sees the potential in their honky-tonk covers and convinces them to embrace soul music. Sure, there is some familial struggle, some racial tension and some mortal danger (due to much of the film being set in Vietnam during the Vietnam War), but the real appeal of this film for music fans are the performances. There are some fun montage scenes of the girls bumbling their dance routines before finally getting their groove, and their voices end up working beautifully together. There is an unfortunate twist that turns out not to be a twist, and some hamfisted romance that probably appeals to a demographic that is not a strictly musical audience, but the music and O'Dowd's doofy charm make it a worthwhile hour-and-a-half. -
Zac Johnson
(Watch it
on Netflix
)
This documentary about late
Morphine
frontman Mark Sandman doesn't shy away from letting the audience know early on about Sandman's onstage death in 1999. It's referenced early and matter-of-factly, and then jumps back to the band's roots and Sandman's pre-Morphine days. His sojourns through Alaska, casino employment, and time in Belize are all entertaining glimpses into his past, and display his eccentric proclivities enough that it's no surprise when he suddenly forms a band based on a two-string bass, multiple baritone saxophones—often played simultaneously—and drums. Unfortunately, the movie manages to somehow stretch time by essentially wrapping up the band's history in only half of the running time, and then looping back around and padding out the rest with further recollections. It's probably interesting if you're a converted fan, but for new initiates looking for information and to hear music, it becomes a redundant structure for the film. -
Chris Steffen
(Watch it
on Crackle
)