Rose Maddox exerted a heavy influence on honky tonk females through her recordings with the Maddox Brothers but later turned to traditional bluegrass forms as well to inspire folk revivalists of the 1960s and '70s. Born on August 15, 1925, Maddox moved from Alabama to Modesto, CA, with her family to make a better living as farm laborers. After several years of hard work and occasional amateur musical appearances, Fred Maddox lobbied KTRB-Modesto to give a time slot to him and his brothers Cliff, Cal, Don, and Henry. The radio station agreed, but on the condition that the Maddoxes include a female singer. Rose was recruited -- as an 11 year old -- and the group soon appeared in bars as well as on the radio show. They won a contest at the California State Fair in 1939, and began to broadcast at KFBK-Sacramento, which included several stations in nearby states as part of its coverage.
World War II interrupted the career of the Maddox Brothers & Rose, with Cal, Fred, and Don entering the services. The group re-formed in the late '40s and became more popular than ever: They recorded for 4 Star and Columbia, making annual trips east to appear on the Louisiana Hayride and Grand Ole Opry. The Maddoxes' popularity was biggest on the West Coast, however; they performed on several radio shows with good music and comic hillbilly routines that appealed to the masses of dispossessed Southerners in California.
The Maddox Brothers last recorded in 1957, and Rose decided to go solo a year later with help from brothers Cal and Henry. She signed to Capitol but didn't have much success until 1961, in which she accounted for five Top 20 hits. Both "Kissing My Pillow" and its B-side "I Want to Live Again" hit the country Top 15 early in the year. "Mental Cruelty" made it to number eight in May, and her duet with Buck Owens called "Loose Talk" hit number four the same month. She ended the year with another Top 15 single, "Conscience, I'm Guilty." Her biggest hit, "Sing a Little Song of Heartache," came the following year, reaching number three in late 1962. More Top 20 singles followed in 1963, including "Lonely Teardrops," "Down to the River," "We're the Talk of the Town," "Somebody Told Somebody," and another duet with Owens, "Sweethearts in Heaven."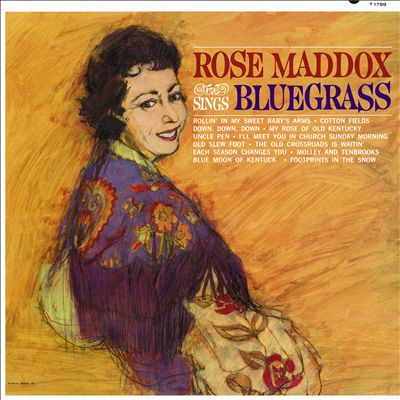 After hearing suggestions that her voice would be perfect for bluegrass recordings, the resulting Rose Maddox Sings Bluegrass (with Bill Monroe, Don Reno, and Red Smiley) became a big hit with folk revivalists of the mid-'60s. Maddox's Capitol contract ended in 1965, and after recording with several smaller labels, she began to concentrate on tours, with brothers Cal and Henry in addition to her son, Donnie. During the '80s, Rose suffered several heart attacks but continued to perform at folk and bluegrass festivals and record for Arhoolie, Varrick, and Takoma. Maddox spent most of the '90s relatively quietly, performing at a few festivals and recording an occasional album, including The Moon Is Rising in 1996. Maddox died of kidney failure on April 15, 1998. She was 71 years old.