The premier jazz vocal act of all time, Lambert, Hendricks & Ross revolutionized vocal music during the late '50s and early '60s by turning away from the increasingly crossover slant of the pop world to embrace the sheer musicianship inherent in vocal jazz. Applying the concepts of bop harmonies to swinging vocal music, the trio transformed dozens of instrumental jazz classics into their own songs, taking scat solos and trading off licks and riffs in precisely the same fashion as their favorite improvising musicians. Vocal arranger Dave Lambert wrote dense clusters of vocal lines for each voice that, while only distantly related, came together splendidly. Jon Hendricks wrote clever, witty lyrics to jazz standards like "Summertime," "Moanin'," and "Twisted," and Annie Ross proved to be one of the strongest, most dexterous female voices in the history of jazz vocals. Together Lambert, Hendricks & Ross paved the way for vocal groups like Manhattan Transfer while earning respect from vocalists and jazz musicians alike.
The act grew out of apartment jam sessions by Lambert, a pioneering arranger and bop vocalist who had appeared in groups led by Gene Krupa and Buddy Stewart -- though he had also gained infamy leading a vocal choir on the disastrous "Charlie Parker with Voices" session recorded for Clef in 1953. That same year, Lambert met Jon Hendricks, who had similar vocal specialties that extended to lyrical changes. The pair debuted with a radically reworked version of "Four Brothers," which featured lyrics by Hendricks and note-for-note duplications of the original solos by Al Cohn, Zoot Sims, Stan Getz, and Woody Herman. They recorded a few other sides but were unsuccessful until a chance meeting with solo vocalist Annie Ross hit paydirt.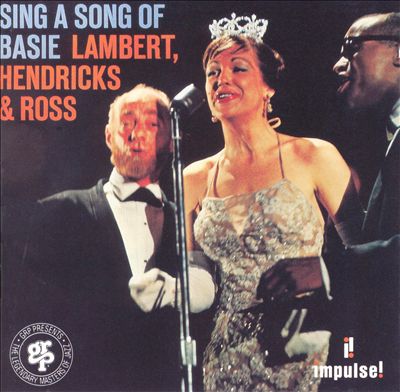 The first LP by Lambert, Hendricks & Ross was 1957's Sing a Song of Basie. Though the trio originally intended to hire a complete vocal choir to supplement their voices, the general incompetence of the studio voices led them to multitrack their own voices. The results were excellent, incredible vocal re-creations of complete solos from Basie classics like "One O'Clock Jump," "Down for Double," and "Avenue C" with added lyrics by Hendricks. The next year's follow-up, Sing Along with Basie, featured the bandleader himself and his group in a supporting role.
Perhaps realizing that multi-tracking was a bit of a gimmick, Lambert, Hendricks & Ross then recruited a straight rhythm trio and began touring and recording that way. The first studio effort, 1959's The Swingers!, represented a leap in quality and musicianship, leading to a contract with Columbia later that year. The trio recorded three albums for the label during the next two years, including a tribute to Duke Ellington.
All three had pursued separate solo projects during the trio's run. After constant touring began to wear her out, Ross left the group in 1962. Lambert and Hendricks replaced her with Yolande Bavan, and continued recording for RCA. However, it was nearly impossible to replace a soloist of Ross' caliber, and the three albums Lambert, Hendricks & Bavan recorded between 1962 and 1964 were decidedly below par. The group broke up in 1964, and Lambert's death in a traffic accident just two years later quashed any hopes of a reunion. Both Hendricks and Ross continued to perform and record, with Ross doing much theater and film work as well.