Enslaved are masters of Norwegian black/Viking metal who have, since the early '90s, consistently employed a forward-thinking approach to their craft while retaining their extreme roots. Though they emerged at the dawn of black metal's second wave, they offered a vastly more complex compositional style and rejected the term "black metal" as too limiting. They were right. Enslaved's aesthetic has dictated change as the true constant in their music. 1997's Eld, with its warm production and clean vocals, offered the 16-minute epic "793 (Slaget om Lindisfarne)," devoted to the raid that arguably began the Viking age. Originally regarded by the metal press as "too weird," it has since been reclassified an ahead-of-its-time classic. 2003's Below the Lights marked a creative songwriting expansion; Enslaved were unafraid to explore and depict emotional and psychological states with different instruments. They were delighted by the reception of 2015's In Times; it peaked at number four on the Heatseekers chart. 2017's E was interestingly built from the metaphorical bones of 2008's Vertebrae (a first for Enslaved), but employed almost entirely new strategies in dynamics, instrumentation, and textural dimension as their sound evolved. It won Norway's version of the Grammy for Metal Album of the Year.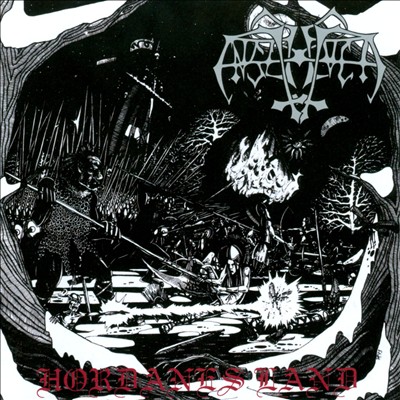 Enslaved was founded by guitarist/keyboardist Ivar Bjørnson and vocalist/bassist Grutle Kjellson in 1991. They were 13 and 14 years old, respectively. Their name was inspired by the Immortal song "Enslaved in Rot." Their initial demo, Nema, was issued the same year on cassette. A year later, they released the demo Ygdrasill, their first effort to get attention from the metal press. It drew the interest of Candelight, which signed the band for the acclaimed one-off Hordanes Land EP in 1993 showcasing the band's progressive ideas in the 13-plus-minute tune "Slaget i Skogen Bortenfor (Epilog/Slaget)." Though 1994's Vikingligr Veldi still walked in the shadow of black metal's lineage history, 1995's Frost became an early standard bearer for the outfit's evolving sound. 1997's Eld was the last approximation of Enslaved as a standard power trio. Its 16-minute "793 (Slaget om Lindisfarne)," combined with clean vocals and production, highlighted their progressive traits and Viking-themed topical preoccupations. It confused some fans but was ecstatically received by critics.
While 1999's Blodhemn was the band's first as a quintet, the following year's Mardraum (as a quartet), and 2001's Monumension reflected a continued evolution in sound that ambitiously embraced prog and Viking metal. With 2003's Below the Lights, the band trimmed down to a drummerless trio, with guitarist Arve Isda (Ice Dale). 2004's acclaimed Isa added keyboardist Herbrand Larsen and drummer Cato Bekkevold in a lineup that lasted a decade. This is the group that cut the celebrated outings Ruun (2006), Vertebrae (2008), and Axioma Ethica Odini (2010). After ten years of shifting label and distribution deals, Enslaved signed to Nuclear Blast for 2012's RIITIIR. In Times, issued globally in 2015, was co-produced by the band and future drummer Iver Sandøy, and mixed by Jens Bogren. It was their first album to land the band on the U.S. charts -- at number five -- including Top Hard Rock Albums (number eight) and Heatseekers Albums (number four). For their efforts, they took home the Metal Album of the Year Spellemannprisen, the Norwegian version of the Grammys. A year later, the band issued The Sleeping Gods: Thorn, a compilation of rare and experimental tracks that were released in 2011 as separate EPs. This was also the year that Larsen, often credited for the depth and dimension in Enslaved's more progressive sound, decided to leave the band. He was replaced by Håkon Vinje of Seven Impale. In 2017, Enslaved released Roadburn Live, their first concert album as well as the acclaimed, best-selling E, that netted the band another Spellemannprisen for Metal Album of the Year. Sandøy replaced drummer Cato Bekkevold in 2018, in time for the band to tour, re-sign with Nuclear Blast, and re-enter the studio. In January of 2020, Enslaved announced the release of Utgard, a new studio outing. Due to the global COVID-19 pandemic, they postponed its release date until October.