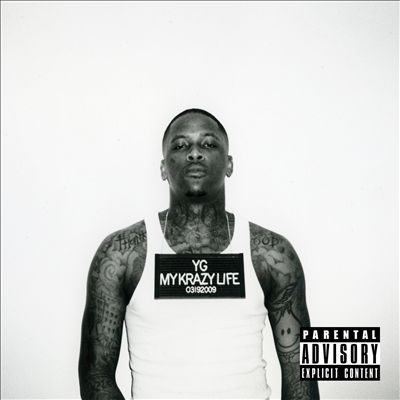 Wielding a forceful and slightly raspy voice ideally suited for the prowling basslines that support many of his best-known tracks, YG achieved and sustained commercial success throughout the 2010s without ever being overtly pop. The "brazy" yet "bool" West Coast rapper first achieved Hot 100 status with the players anthem "Toot It and Boot It" (2010) and has continually reaffirmed his commercial appeal with a string of Top Ten albums that began with My Krazy Life (2014) and has stretched through to My Life 4Hunnid (2020), and sixth studio album I Got Issues (2022) falling behind but still debuting within the Top 20. Highlighted by multi-platinum hits such as "My N*gga," "Who Do You Love?", and "Big Bank," YG's albums have been released through Def Jam.
The Compton, California native born Keenon Jackson issued his first two mixtapes in 2009 and 2010, a few years after he became a Blood. The latter tape featured "Toot It and Boot It," a low-profile collaboration with Ty Dolla $ign that reached number 67 after it was licensed to Def Jam for commercial release. YG continued to favor the mixtape format, then made his Def Jam album debut in March 2014 with My Krazy Life. Supported with the multi-platinum DJ Mustard productions "My N*gga" (aka "My Hitta," featuring Jeezy and Rich Homie Quan) and "Who Do You Love?" (featuring Drake), the album debuted at number two on its way to platinum status itself. A short film and accompanying soundtrack, Blame It on the Streets, was out by the end of the year. Anchored by another platinum single, "Why You Always Hatin'?" (with Drake and Kamaiyah), as well as the anti-Donald Trump protest track "FDT" (featuring Nipsey Hussle), YG's second proper album, Still Brazy, followed in June 2016 and debuted at number six.
The rapper's third Def Jam set was previewed through another Mustard collaboration, "Big Bank," which also featured 2 Chainz, Big Sean, and Nicki Minaj. The track went Top 15 R&B/hip-hop -- and eventually went 16 pop -- ahead of the August 2018 arrival of Stay Dangerous. It was YG's third straight Top Ten album, entering the Billboard 200 at number five a few weeks before he appeared in the film White Boy Rick. Within a year, Stay Dangerous was certified gold, while "Big Bank" became YG's third multi-platinum headlining single. 4REAL 4REAL, his fourth LP for Def Jam, followed in May 2019 and hit number seven on the Billboard 200. After a string of intermediary singles including "FTP," YG offered his fifth studio LP, My Life 4Hunnid, in October 2020. Lil Wayne, Ty Dolla $ign, and Gunna were among the artists featured on the album, which entered the Billboard 200 at number four. Kommunity Service, a collaborative album with Mozzy, appeared the following year, and landed at number nine on the Top Independent Albums chart. Early 2022 saw the release of "Scared Money" (feat. J. Cole and Moneybagg Yo) and "Toxic," in advance of YG's sixth studio album. That album, I Got Issues, was released in September of 2022 and debuted at number 18 on the Billboard charts.