Though a seminal force in the development of Brazilian popular music, singer Wilson Simonal remains largely unknown outside of South America. The architect of the pilantragem sound that dominated Brazilian charts during the late '60s, he was the nation's first Black pop superstar, but his career never recovered from accusations that he was a police informant. According to Greg Casseus' exhaustive The Saga of Wilson Simonal (published in the spring 2004 edition of Wax Poetics magazine), he was born Wilson Simonal De Castro in the Rio de Janeiro suburb of Agua Santa on February 26, 1939. After serving in the army, he spent the late '50s as the personal assistant of newspaper columnist, talent scout, and media gadfly Carlos Imperial; with Imperial's assistance, he began singing rock & roll at nightclubs in the Rio area, including the famed Beco des Garrafas. Simonal never fit within the confines of the bossa nova sound that dominated Brazil during the early '60s, however, and his 1962 debut LP, A Nova Dimensão do Samba, which fused traditional samba rhythms with vocals and arrangements inspired by American soul and doo wop, was a commercial failure. The follow-up, 1963's Tem Algo Mais, proved far more successful, boasting a distinctive marriage of bossa nova, jazz, and orchestral pop typified by the chart smash "Balanço Zona Sul." He then recorded a stopgap single, "De Manha," that would not only prove another major hit but also offered the first major exposure heaped on its writer, a then-unknown Caetano Veloso; throughout his career, Simonal exhibited an unerring knack for discovering new songwriting talent, recording early songs by the likes of Gilberto Gil, Chico Buarque, and Geraldo Vandré.
While Simonal worked on his third LP, S'imbora, the Brazilian government was the subject of a right-wing military coup that plunged the country into two decades of terror. The radical changes that swept throughout Brazilian society spelled the end of bossa nova's nationwide popularity, and while many listeners embraced the catchy but ultimately fluffy pop/rock dubbed "iê-iê-iê" (or "yeh-yeh-yeh," in homage to the Beatles), Simonal went in the opposite direction, recruiting backing trio Som Três to create a dynamic fusion of soul, jazz, and samba infused with rhythms inspired by the Latin American boogaloo sound. Simonal dubbed his new approach "pilantragem," roughly translated as "piracy" -- the modus operandi was to borrow liberally from whatever and wherever you chose, so long as the spare parts fit together in the end. 1966's Vou Deixar Cair... heralded the beginning of Simonal's pilantragem phase, generating the blockbuster "Meu Limão, Meu Limoeiro," a rewrite of the traditional American folk song "Lemon Tree." Soon after, he started his own television variety show, Show em Si Monal, also the title of a live LP issued in 1967. Later that year, Simonal also released the first of four volumes in his Alegria, Alegria!!! series, which collectively represent the creative zenith of his career. Highlighted by "Nem Vem Que Não Tem," perhaps his biggest international hit, the album's loose, celebratory spirit (bolstered by party sounds and applause bookending most of the tracks) found a massive audience as the government tightened its chokehold.
With 1968's Alegria, Alegria!!! Vol. 2 and the smash "Sa Marina," demand for the pilantragem sound grew so great that Simonal launched a side project, A Turma da Pilantragem; a year later, Alegria! Alegria! Vol. 4 launched his biggest hit, the Jorge Ben-penned "Pais Tropical." A passionate valentine to his Brazilian home, the song nevertheless skewed far too close to government-sanctioned rhetoric for some leftist listeners, a wariness further compounded by Simonal's military background. Following the release of 1971's Joia Joia, he left his longtime label Odeon for its chief competitor, Philips; around the same time, however, he sat down with accountant Rafael Vivani, who informed the singer that despite selling millions of records, his exorbitant lifestyle and poor investments had left him broke. Simonal suspected Vivani was embezzling, contacting friends within the Departamento de Ordem Política e Social (the police arm of the Brazilian military regime) to kidnap the accountant and "persuade" him to reveal what he'd done with his client's fortune. Vivani was eventually released and sued Simonal for extortion. During the trial, an army general claimed the singer was in fact a DOPS informant, contracted to spy on his fellow musicians. The story dominated headlines for weeks, and amid the chaos, Philips issued his label debut, Se Dependesse de Mim, which promptly tanked. 1973's Olhai Balandro, e Bufo No Birrolho Grinza! fared no better, and in late 1974, Simonal spent two weeks in jail on criminal charges related to his plot against Vivani. His final Philips LP, Dimensão '75, appeared around the same time to minimal commercial interest.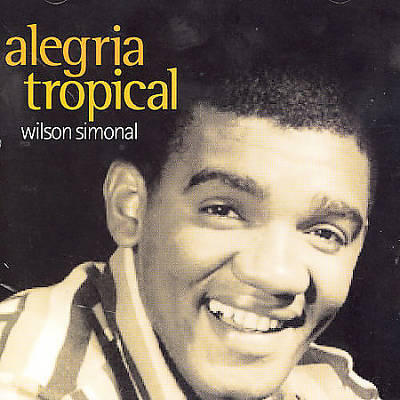 An outcast in his native Rio de Janeiro, Simonal relocated to São Paulo, signing to RCA and releasing Ninguem Proibe o Amor in 1975. He would release two more LPs for the label -- 1977's A Vida é So Pra Cantar and 1979's Se Todo Mundo Cantasse Seria Bem Mais Facil Viver -- but music played an increasingly diminished role in his life as he sought to prove he had been framed by the military. Simonal married a lawyer, Sandra Manzini Cerqueira, who further championed his case while he slipped into alcoholism; he recorded sporadically in the decades that followed, issuing relatively listless albums like 1981's Alegria Tropical, 1985's Charme Tropical, 1991's Os Sambas da Minha Terra, and 1995's Brasil to little attention. Simonal's final LP, Bem Brasil-Estilo Simonal, appeared in 1998 -- he died of cirrhosis on June 25, 2000. Only after his death was Cerqueria finally able to access the Justice Ministry and Department of Strategic Affairs documents proving that Simonal's name appears nowhere on any list of military informants. His records are now available in Brazilian record stores and finally receiving some measure of long-overdue acclaim. In addition, Simonal's sons Max De Castro and Wilson Simoninha today enjoy flourishing recording careers of their own, with the latter overseeing an extensive reissue campaign spotlighting his father's work.