This tasteful and disciplined New York based drummer and percussionist has a long history of pitching in on various masterworks, from the recordings of soul queen Aretha Franklin to the avant-garde saxophone maverick and fascinating composer Sam Rivers. Warren Smith has also been a longtime member of one of the great percussion projects, the Max Roach M'Boom ensemble of drummers. His reputation has always been that of a no-nonsense, hard-working, and dedicated performer, so he is a favorite working partner of bandleaders or composers who want to present projects with an absolute minimum of hassle or attitude from their collaborators. This list includes Anthony Braxton, Charles Mingus, Henry Threadgill, Van Morrison, Count Basie, Sam Rivers, Tony Williams, and Joe Zawinul. As each new generation of players enters the ever developing world of jazz, Warren Smith has never been one to lord over newcomers or put up barriers against innovative jazz forms; on the contrary, he seems to always be part of the crew that is out front.
During the late-'70s/early-'80s "loft jazz" scene in New York City, his Studio Wis was one of the few so-called "lofts" that actually was a loft. It was also not a "pay-to-play" loft; in other words, rather than exploit the city's hungry musicians, Smith gave generously of his personal studio space so that talented newcomers to the New York City scene such as Oliver Lake and Wadada Leo Smith could present concerts without having to worry about outrageous rental fees. Warren Smith often attended these events, smiling wider as the music went further and further out, approaching the unknown players to pay compliments and offer advice. His work in studio sessions and Broadway pit bands made him a likely source of wisdom on all subjects related to sight reading, arranging, or composition. When a young guitarist in a group performing at Studio Wis asked for advice on sight-reading exercises after a gig in 1979, Smith's response was typical of the man's generous nature. He strolled into a small office adjoining the performing space, and out of his own personal library of study material chose a superb book to give to the young musician as a gift: a copy of Louis Bellson's Odd Time Reading Text, one of the most helpful collections of sight-reading exercises ever published.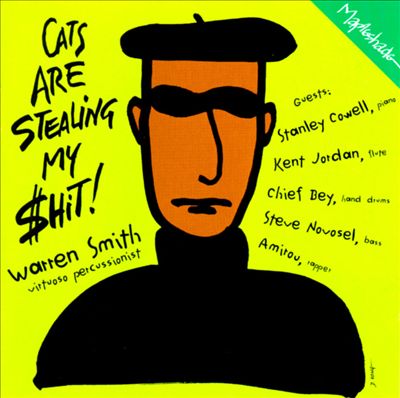 Although he does appear on records playing the drum set, Smith is just as often featured on any one of the many instruments from the formal orchestral percussion arsenal, from marimba to tympani, and don't forget glockenspiel. His vibraphone playing is so lauded that he was chosen to play the role of Milt Jackson in a group paying tribute to the Modern Jazz Quartet. Many of his relationships are long-running, such as with fellow drummer Roach, or with arranger and big band leader Gil Evans, whose use of Smith, on instruments such as marimba on 1957 dates with trumpeter Miles Davis, are among the percussionist's earliest significant recording credits. When Evans kicked off a hot performing and recording unit of his own in the '70s, emphasizing modern directions, utilizing electric instruments, and even recording a tribute to acid rock maestro Jimi Hendrix, Smith was the percussionist of choice utilized in many intriguing arrangements. Jazz listeners who hadn't done their research may have assumed Smith's knowledge of the experimental rock of the '60s was fleeting, but in reality he was one of the musicians involved in the original Earth Opera band and recording, putting Smith in the company of super bluegrass pickers Peter Rowan and David Grisman back when they were greenhorns. In 1961, Smith was a founding member of the Composers Workshop Ensemble, a New York based co-operative group dedicated to performing original jazz compositions by its membership. In his later years, he taught as a professor at SUNY at Old Westbury, and headed up his own medium-sized ensemble entitled the Wistet. In the '90s, Smith began recording and performing regularly with Bill Cole's Untempered Ensemble, also featuring the brilliant instrument inventor Cooper Moore. Smith's solo album, released in 1998, entitled Cats Are Stealing My ----, was received with great enthusiasm by critics, many of whom called it his most fully realized work to date.