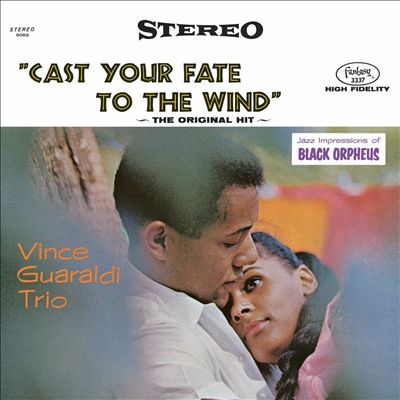 Vince Guaraldi was a well-respected jazz pianist whose greatest success came from avenues usually closed to contemporary jazz artists: he enjoyed a hit single at a time when jazz had largely been exiled from the pop charts, and he scored a series of very successful animated television specials (namely the Charlie Brown seasonal specials scores and soundtracks for which his name has become synonymous), a medium where cookie-cutter pop music was traditionally the order of the day. Beginning with 1962's Jazz Impressions of Black Orpheus and its Gold-certified single "Cast Your Fate to the Wind" (the B-side of "Samba de Orpheus") and its Grammy nomination for Best Instrumental Jazz Composition, Guaraldi was on his way to a run of hit records including a few with Brazilian guitar great Bola Sete, and 1964's The Latin Side of Vince Guaraldi and Jazz Impressions of a Boy Named Charlie Brown, cemented his place in American jazz via his popularity in his hometown of San Francisco. His association with Peanuts also opened the door to a slew of other television work. Over the next 12 years before his death in 1976, he would start and abandon a recording label, release six more albums, and keep up a full schedule of live performances, both with his own group and orchestras, in addition to his television commitments.
Vincent Anthony Guaraldi was born in San Francisco, California on July 17, 1928. A loyal son of the Bay Area, Guaraldi graduated from Abraham Lincoln High School in the city's Sunset District, and after serving in the military during the Korean War, he returned home and enrolled at San Francisco State University. While attending college, Guaraldi developed a passion for the piano, sparked by the blues and boogie-woogie sounds of Jimmy Yancy, Albert Ammons, and Pete Johnson. When Guaraldi began following their example on the keyboard, he took a detour into jazz, exploring the work of Oscar Peterson and Bill Evans, and guitarist Tal Farlow (Guaraldi dabbled on the six-string as well), and he became a frequent visitor at San Francisco jazz clubs such as Jackson's Nook and The Black Hawk, occasionally sitting in with local acts such as Sonny Criss, Bill Harris, and Chubby Jackson. One of Guaraldi's first notable gigs was an intimidating booking, playing at intermissions at The Black Hawk during a residency by the legendary Art Tatum; Guaraldi pulled it off, and in 1951, he joined the trio of vibraphonist Cal Tjader, appearing on Tjader's first album for the prestigious San Francisco jazz imprint Fantasy Records. While Guaraldi soon left Tjader's group, he'd rejoin them in 1955 and was a frequent guest on Tjader's recording sessions, appearing on over a dozen albums with the vibraphonist, and he performed with the group for their legendary late-night appearance at the 1958 Monterey Jazz Festival. In 1955, Guaraldi began performing with his own combo and appeared with his quartet on an album called Modern Music from San Francisco, which also featured the Ron Crotty Trio (Guaraldi accompanied Crotty on these sessions), and the Jerry Dodgion Quartet. Though Guaraldi made time for his own music, he also continued to accompany other acts, touring with Woody Herman's Thundering Herd and recording and playing out with Brew Moore, Conte Candoli, and Frank Rosolino, among others.
Guaraldi's first full album with his own group, simply titled The Vince Guaraldi Trio, was issued by Fantasy in 1956, and featured the pianist with guitarist Eddie Duran and bassist Dean Reilly. Guaraldi's first big break came in 1962; with his new trio (Monty Budwig on bass and Colin Bailey on drums), he recorded an album called Jazz Impressions of Black Orpheus, in which the combo interpreted selections from Antonio Carlos Jobim and Luiz Bonfá's score for Marcel Camus' classic film. To fill out the album, Guaraldi included an original tune he'd written called "Cast Your Fate to the Wind." "Samba de Orpheus" was released as a single, with "Cast Your Fate" as the B-side; "Samba de Orpheus" attracted little notice, but a DJ at Sacramento radio station KROY heard "Cast Your Fate" and liked it enough to put it into regular rotation. Other stations followed suit and "Cast Your Fate to the Wind" became a hit, rising to the Top 20 of the pop charts and earning Guaraldi a gold record, as well as a Grammy for Best Original Jazz Composition. (The single's unlikely success even prompted a television special on San Francisco's public television outlet KQED, entitled Anatomy of a Hit.) Following the success of "Cast Your Fate," Guaraldi recorded a handful of albums with guitarist Bola Sete and composed an unusual song cycle in which he and his trio accompanied the choir of San Francisco's Grace Cathedral for what Rev. Charles Gompertz called "a modern setting for the choral Eucharist."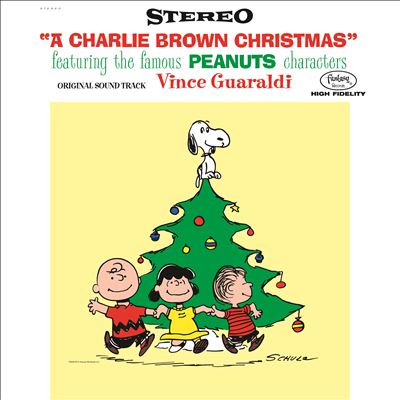 But it was in 1964 that Guaraldi took his first step toward the music that would make him most famous. Lee Mendelson and Bill Melendez, a pair of television writers and producers, were working on a documentary about Charles Schulz, the creator of the popular comic strip Peanuts, and they approached Guaraldi to compose the score. The documentary never aired, but when Mendelson and Melendez teamed up with Schulz in 1965 to create an animated Christmas special featuring the Peanuts characters, they wanted a score with a different flavor than most Saturday morning cartoons, and once again asked Guaraldi to collaborate. A Charlie Brown Christmas was an immediate hit with audiences and critics alike, and has become a Yuletide perennial, broadcast every December, and Guaraldi's score -- by turns full of contemplative beauty and brimming with high-spirited joy -- was cited by many as one of the best things about the show. When Mendelson, Melendez, and Schulz began work on a second Peanuts special, It's the Great Pumpkin, Charlie Brown, Guaraldi was again invited to write the music. He became an integral part of the production team behind the specials (generally at least one was produced each year), and also wrote music for the Peanuts-themed feature film A Boy Named Charlie Brown. Guaraldi's work on the Peanuts projects kept him busy enough that he would release only six more albums during the rest of his recording career (including two albums for Warner Bros. that found him experimenting with electric instruments), though he kept up a schedule of live performances in addition to his television commitments. On February 6, 1976, Vince Guaraldi died of a heart attack in a hotel room in Menlo Park, California; he had completed recording of his score for It's Arbor Day, Charlie Brown earlier in the day, and was resting between shows during a nightclub engagement when he collapsed and never woke up.
Mendelson and Melendez continued to produce Peanuts specials after Guaraldi's death, but they acknowledged the pianist was difficult to replace, and in 1992, with It's Christmas Time Again, Charlie Brown, they went back to using Guaraldi's themes for the shows, as performed by David Benoit, a jazz pianist who has cited Guaraldi as a major influence. George Winston, Wynton & Ellis Marsalis, and Dave Brubeck have also paid homage to Guaraldi's music for the Peanuts specials, while a number of pop, rock, and hip-hop artists have recorded his pieces, including Danny Gatton, Gary Hoey, Pizzicato Five, and Game Theory. In 2018, Omnivore Recordings issued The Complete Warner Bros.-Seven Arts Recordings, all cut between 1967 and 1969. It included Oh Good Grief!, The Eclectic Vince Guaraldi, and Alma-Ville (the last set of original tracks issued in his lifetime) along with four previously unheard selections.