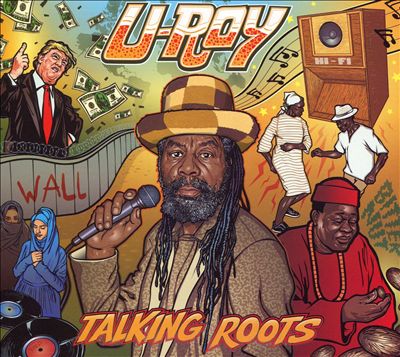 A groundbreaking figure in the evolution of reggae, U-Roy was among the first to introduce toasting, whereby a DJ would rap over instrumental dub records. U-Roy was toasting as early as 1961, freestyling rhymes and lyrical tangents between songs to keep the energy flowing at dances. This practice would become a phenomenon of Jamaican music and also lay the framework for hip-hop, with U-Roy's lackadaisical flow in particular influencing East Coast emcees during the late-'70s dawn of hip-hop. Known as "The Originator," U-Roy's output throughout the '70s silently guided the development of dancehall. He remained active up until his death in 2021, releasing new music through 2018's Mad Professor-produced Talking Roots, with his final studio recordings arriving on the posthumous album Solid Gold U-Roy shortly after his death.
U-Roy was born Ewart Beckford in Jones Town, Jamaica, in 1942. He started out DJing in 1961, working with various sound systems before landing a position as top DJ for King Tubby's Hi-Fi sound system in the late '60s. Producer Keith Hudson first took U-Roy into the studio in late 1969, but the material's release was delayed. U-Roy worked with Bunny Lee and Lloyd Daley on a few singles that drew some regional buzz before pairing with singer John Holt in early 1970. Holt's work with U-Roy emphasized the DJ's unique toasting approach, and the material they worked on together climbed the charts. Some of his best tracks were collected for the 1971 album Version Galore, and toasting began taking hold in Jamaica.
Throughout the '70s, U-Roy worked with many of Jamaica's top producers, cutting singles with Lee "Scratch" Perry, Sonia Pottinger, Alvin Ranglin, and many others. He toured in the U.K. and collaborated with roots reggae powerhouses like the Soul Syndicate on 1975's Dread in a Babylon and Sly & Robbie for the next year's Natty Rebel. Now signed with Virgin Records, U-Roy's music started to gain an international following. He launched his own sound system in 1978, and it served as a testing ground for the next generation of dancehall talents. Those involved with U-Roy's Stur Gav sound system included Ranking Joe, Josey Wales, and Shabba Ranks, who would introduce American pop audiences to dancehall with a string of hits in the '90s.
U-Roy's recorded output slowed as he became more involved with his sound system, but he remained active in the studio and on-stage throughout the '80s, '90s, and 2000s. Albums like 1999's Errol Holt-produced Serious Matter and 2012's Pray Fi Di People were celebrated by die-hard reggae fans and saw U-Roy collaborating with reggae legends like Marcia Griffiths and Horace Andy. The last album released during his lifetime, 2018's Talking Roots, was produced by Mad Professor and showcased the godfather of deejay culture still in strong command of his talents after over 50 years of making music. U-Roy died on February 17, 2021, at the age of 78. In July of that year, his final album, Solid Gold U-Roy, surfaced. The record, originally intended for release in 2020, featured guest appearances from Santigold, Ziggy Marley, Shaggy, and the Clash's Mick Jones, among others.