Toto defined the slick, smooth sound of Southern California in the late '70s and early '80s. This isn't quite the same thing as saying Toto solely played soft rock, although they contributed their share of adult contemporary standards, both as a band and as session musicians for Steely Dan, Boz Scaggs, George Benson, and Michael Jackson. Veterans of high-end Los Angeles studios, guitarist Steve Lukather, keyboardists David Paich and Steve Porcaro, drummer Jeff Porcaro, and bassist David Hungate could play anything from soul to hard rock, which they proceeded to do on Toto's earliest albums. They were a hit right out of the gate in 1978, with "Hold the Line" rocketing to number five, but their career was made by their 1982 album Toto IV, an immaculate collection of pop/rock confections that spun off three Billboard Top Ten hits -- "Rosanna," "Africa," and "I Won't Hold You Back" -- on its way to winning five Grammys. Toto IV was such a big hit that Toto forever lived in its shadow, but the group persevered over the next four decades, withstanding numerous personnel changes -- and one extended hiatus -- as they stayed in the studio and on the road, maintaining a cult following while their classic catalog, particularly "Africa," earned new generations of listeners.
Prior to their formation in 1976, most of the members of Toto were already Los Angeles music biz insiders. A couple were even born into the business. David Paich was the son of celebrated arranger Marty Paich, who worked on Ray Charles' landmark 1962 album Modern Sounds in Country and Western Music. Jeff Porcaro's dad drummed on several Lalo Schifrin scores, and played in sessions with Nancy Sinatra and the Monkees. David Paich and Jeff Porcaro met while attending Van Nuys' Grant High School, and while they were students, they played together in a band called Rural Still Life. After graduation, Paich and Porcaro became session musicians, both playing on records by Steely Dan, Cher, and Seals & Crofts, among many others. Paich wound up co-composing over half of Boz Scaggs' 1976 groundbreaking smash Silk Degrees, including the hits "Lowdown" and "Lido Shuffle," which turned the keyboardist into a hot commodity among record labels. He and Porcaro, who also played on Silk Degrees, decided to form Toto, recruiting bassist David Hungate from Scaggs' band, along with Jeff's keyboardist brother Steve and guitarist Steve Lukather, who also had a history with Boz Scaggs. The final addition was singer Bobby Kimball, and Toto signed to Columbia in 1976.
Released in October of 1978, Toto's eponymous debut swiftly became a hit, with its lead single, "Hold the Line," climbing to number five on Billboard's Hot 100. Toto also made its way into the Top Ten, peaking at nine; it was certified gold by the end of 1978 and platinum in January. In 1979, Toto were nominated for two Grammy Awards: Best New Artist, which they lost to the disco outfit A Taste of Honey, and Producer of the Year, which they took home. Hydra quickly followed in October 1979, but it stalled out on the charts at 37, with its hit single "99" going no further than 26 on the charts; Hydra still was certified gold in March 1980. The harder-edged Turn Back appeared in 1981 but it stiffed, peaking at 41 on the Top 200 and failing to generate a hit single.
Toto's fourth album was positioned as make-or-break record for the band and 1982's Toto IV did indeed make the band. Deliberately constructed as an immaculately produced mainstream pop record, Toto IV turned into the blockbuster it was designed to be, peaking at four on the Billboard charts, earning three platinum certifications (two arriving within its chart run, the latter coming in 1991), and winning a whopping five Grammy Awards, including Record of the Year, Song of the Year, and Album of the Year. The song-based awards were awarded to "Rosanna," the album's first single, which went to number two on Billboard, but the record's second single, "Africa," was a bigger hit, reaching number one in early 1983. One final single, "I Won't Hold You Back," reached number ten in 1983, right around the time "Human Nature" -- a Michael Jackson single co-written with Steve Porcaro -- was on the charts. "Human Nature" was pulled from Thriller, the 1982 blockbuster from Michael Jackson that featured both Porcaro brothers, Steve Lukather, and David Paich, meaning Toto were once again on the charts both as a band and as session musicians.
Although Toto were at the peak of their fame, there was trouble brewing behind the scenes. David Hungate left the band after the release of Toto IV, relocating to Nashville so he could play and produce sessions in the Music City; he was replaced by Michael Porcaro, Jeff and Steve's brother. Bobby Kimball was fired from the band in 1984 in the wake of the dismissal of drug charges from 1981 that he spent the majority of 1983 defending. Toto regrouped by composing and recording the score to David Lynch's adaptation of Frank Herbert's sci-fi classic Dune, and by the time the soundtrack hit the shelves in December 1984, the band delivered Isolation. Recorded with new singer Fergie Frederiksen, who previously sang with Trillion and Le Roux, the arena rock-leaning Isolation didn't appeal to as wide an audience as Toto IV. It peaked at 42 on the Billboard Top 200, going gold in February 1985 with its first single, "Stranger in Town," reaching 30. Following the conclusion of the Isolation tour, Frederiksen was fired from the band.
Hiring Joseph Williams as their lead singer, Toto quickly wrote and recorded Fahrenheit, which echoed the pop sounds of Toto IV but still found space for a cameo by Miles Davis. Released in August 1986, the album reached 40 on the Top 200 while generating a number 11 hit in the form of "I'll Be Over You," which featured Michael McDonald on backing vocals. Steve Porcaro parted ways with Toto at the end of the Fahrenheit supporting tour. He showed up on some dates on the tour for 1988's The Seventh One, which became their last album to feature a Top 40 single in the form of "Pamela," which peaked at 22.
Once the Seventh One album cycle was completed, Toto entered a period of turmoil. Joseph Williams left the band and was replaced by Jean-Michel Byron, but his time with Toto was brief: he recorded new songs for the 1990 compilation Past to Present 1977-1990 before being fired after its supporting tour. Steve Lukather took the lead vocal spot for Kingdom of Desire, which appeared in Europe in 1992 and America in 1993. Before Kingdom of Desire had its initial release, Jeff Porcaro died of a heart attack while gardening at home on August 5, 1992. Toto replaced their founding member with Simon Phillips, who had previously played with Lukather on a tour with Jeff Beck and Carlos Santana in 1986. This new version of the band was showcased on the 1993 live album Absolutely Live, which was recorded two months after Jeff Porcaro's death. The new lineup made its first studio album, Tambu, in 1996.
Toto celebrated their 20th anniversary in 1998 with the release of Toto XX, a collection of rarities, outtakes, and demos. Bobby Kimball, the band's original lead singer, rejoined Toto in 1998 and the group released Mindfields in March 1999, supporting it with a tour that was dubbed as a reunion; the tour was captured on the 1999 album Livefields. Through the Looking Glass, a collection of covers, appeared in 2002, followed by a tour celebrating the band's 25th anniversary. The tour was documented on the 2003 set Live in Amsterdam.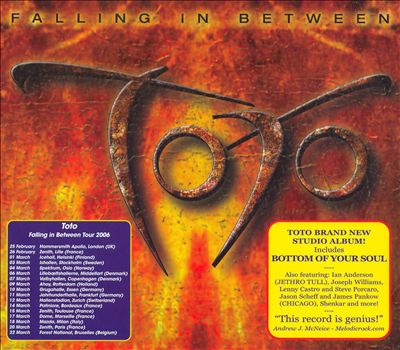 Over the next few years, Toto experienced some upheavals in their lineup as David Paich sat out several concerts between 2003 and 2005. Greg Phillinganes was hired as his substitute and, by 2005, he became the band's full-time touring keyboardist, with Paich remaining a member of Toto in the studio. Falling in Between, the group's first collection of original material since Mindfields, appeared in 2006. On its supporting tour, bassist Mike Porcaro sat out the 2007 dates; Leland Sklar took his place and appears on the 2007 live set Falling in Between Live. On June 5, 2008, Steve Lukather announced on his website that "there is no more Toto," but instead of breaking up for good, the band entered a two-year hiatus. In February 2010, the group reunited for concerts to benefit Mike Porcaro, who had recently been diagnosed with ALS. Nathan East took Mike's place and Joseph Williams came back aboard as lead singer. The 2010 tour was a success, leading to subsequent tours in 2011 and 2012. A 35th Anniversary tour followed in 2013, with Simon Phillips leaving the band in January 2014; he was replaced by Keith Carlock, who previously played with Steely Dan, John Mayer, and Sting. Nathan East left not long afterward, replaced by original bassist David Hungate.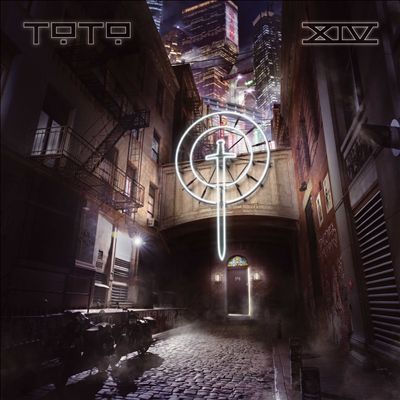 Toto XIV, which featured Hungate on some tracks and Paich and all cuts, appeared in March 2015. Just prior to its release, Mike Porcaro died from complications from ALS. Toto toured through 2015, playing several co-headlining dates with Yes. By that time Carlock had left the band; his replacement was Shannon Forrest. Toto also rounded out their touring lineup in 2015 with percussionist Lenny Castro, who'd played with the band in the '80s. Soon, Hungate left the band again, replaced by Leland Sklar, whose tenure was brief; he was replaced by Shem von Schroeck in 2017.
Toto planned 2018 as a 40-year Anniversary celebration, releasing the compilation 40 Trips Around the Sun in commemoration of their founding and planning a supporting tour. That year, the band experienced a spike in popularity thanks to a resurgence of popularity for their 1982 number one hit "Africa." Younger listeners turned it into a viral sensation on the Internet, and that popularity crossed over into the mainstream when Weezer covered it after a 14-year-old fan urged the band to do so on Twitter. Weezer's "Africa" became a hit, reaching number one on Billboard's alternative rock chart and 54 on the Top 100, and Toto returned the favor by recording a version of Weezer's "Hash Pipe." The group's new lineup, which included John Pierce, Steve Maggiora, and Robert "Sput" Searight, debuted with a livestreamed concert in Los Angeles, which was released to the public on 2021's With a Little Help from My Friends.