One of the most iconic figures in swamp rock, Tony Joe White was a songwriter, guitarist, and singer whose gritty, soulful music wove together elements of blues, country, and rock into a unique and powerful reflection of his Southern roots. As a songwriter, White wrote "Rainy Night in Georgia," which was a hit for Brook Benton and was recorded by dozens of artists, and "Polk Salad Annie," which Elvis Presley made a staple of his Vegas-era live shows, among many others. As a recording artist, White was an uncompromising performer and often battled his record companies for control of his work, but his high standards meant the bulk of his albums reflected the honest, deeply rootsy spirit of his songs. 1969's ... Continued was arguably the best of his early albums for Monument Records, 1972's The Train I'm On and 1973's Homemade Ice Cream were highlights from his tenure with Warner Bros. where he enjoyed his greatest commercial success, 2021's The Shine was a superior latter-day effort, and 2021's Smoke from the Chimney was a posthumous release fashioned from White's unreleased demos.
Born July 23, 1943, in Goodwill, Louisiana, White was born into a part-Cherokee family. He began working clubs in Texas during the mid-'60s and moved to Nashville by 1968. White's 1969 debut album for Monument, Black and White, featured his Top Ten pop hit "Polk Salad Annie" and another charting single, "Roosevelt and Ira Lee (Night of the Moccasin)." That same year, Dusty Springfield reached the charts with White's "Willie and Laura Mae Jones." Brook Benton recorded a version of White's "Rainy Night in Georgia" that hit number four early in 1970; the song has since become a near-standard with more than 100 credits. White's own "Groupie Girl" began his European success with a short stay on the British charts in 1970.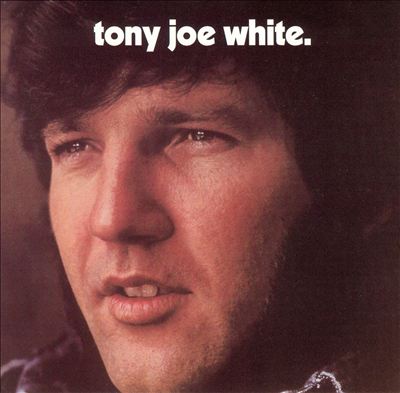 He moved to Warner Bros. in 1971, but success eluded him on his three albums: Tony Joe White, The Train I'm On, and Homemade Ice Cream. Other stars, however, continued to keep his name on the charts during the '70s: Elvis charted with "For Ol' Times Sake" and "I've Got a Thing About You Baby" (Top Five on the country chart), and Hank Williams, Jr. took "Rainy Night in Georgia" to number 13 on the country chart. White also wrote music for and appeared in the 1974 rock musical film Catch My Soul. White himself recorded Eyes for 20th Century Fox in 1976, but then disappeared for four years. He signed to Casablanca for 1980's The Real Thang but moved to Columbia in 1983 for Dangerous, which included the modest country hits "The Lady in My Life" and "We Belong Together."
White was inactive through much of the '80s, but worked with Tina Turner on her 1989 Foreign Affair album, writing four songs and playing guitar and harmonica. He released Closer to the Truth a year later for his own Swamp label and toured with Eric Clapton and Joe Cocker to very receptive French crowds (Closer to the Truth has sold 100,000 copies in that country alone). His 1993 album Path of a Decent Groove was released only in France, though Warner's The Best of Tony Joe White earned an American release the same year. Lake Placid Blues (1995) and One Hot July (1998) were Europe-only efforts until 2000, when Hip-O Records brought out One Hot July in the U.S., giving White his first new major-label domestic release in 17 years. But White was just beginning to roll, or re-roll, as the case may be. The critically acclaimed The Beginning appeared from Swamp Records in 2001, followed by Heroines, featuring several duets with female vocalists, from Sanctuary in 2004, and a live Austin City Limits concert, Live from Austin, TX, from New West Records, appeared in 2006.
In 2007, White released another live recording, Take Home the Swamp, as well as the compilation Introduction to Tony Joe White. In the summer of 2010, Rhino Handmade released a previously unissued live date from 1971 entitled That on the Road Look; later that fall, White's latest studio offering, The Shine, appeared through his Swamp Records imprint. The Shine gained enough attention that he then made the leap to the high-profile roots rock indie Yep Roc, which released Hoodoo in the fall of 2013. In 2015, White's sides for Warner Bros. got a new lease on life with the release of the collection The Complete Warner Bros. Recordings by Real Gone Records. White's second album for Yep Roc, Rain Crow, was released in 2016. Produced by Tony Joe's son Jody White, the album included a guest appearance by musician and actor Billy Bob Thornton. In September 2018, White released Bad Mouthin', his first and only all-blues album, on Yep Roc, but the following month he died in Nashville at the age of 75. After his passing, Jody White discovered a cache of home-recorded demos that his father had pitched to producers and artists but had gone otherwise unrecorded. Jody teamed up with Dan Auerbach of the Black Keys, a serious Tony Joe White fan, to create new arrangements for the tunes and marry them with White's vocals and guitar. The project became the album Smoke from the Chimney, which was released in May 2021 by Auerbach's label, Easy Eye Sound.