Tom Zé began his career together with Caetano Veloso, Gilberto Gil, Gal Costa, and Maria Bethânia. As a composer, he influenced Caetano and many others and delivered an expressive body of work through his own discography. A restless thinker, he was adept at modern erudite music experimentations, yet he was always ignored by both industry and audiences until he was discovered by David Byrne. He can be better understood through his self-coined definition: "I don't make art, I make spoken and sung journalism."
Zé was born in the Bahia hinterlands. The strongest musical references of his childhood were the cocos by Jackson do Pandeiro, the forros by Luiz Gonzaga, the local folklore, the traditional Afro-Brazilian sambas de roda, and violeiros' cantigas, together with the mass idols broadcast by the omnipresent Rádio Nacional (only after 1949, when electricity arrived there). In 1951, he was already in Salvador. A bad student, he discovered a great inspiration in the arid Os Sertões (Euclides da Cunha), the coverage of the battle of Canudos that brought a detailed description of his Northeastern peers. Later, he joined the CPC, a popular culture center that acted as a cultural resistance organization during the military dictatorship, researched folklore, and producing culture based on the findings. After some partnerships with the poet José Carlos Capinam for folkloric dances like bumba-meu-boi and chegança, he was criticized by CPC members for becoming repetitive. He hadn't accepted the criticism ("folklore is always the same"), but he enrolled at the Music College of Bahia. After a basic course to learn the rudiments of written music, he studied with such luminaries as H.J. Koellreuter (music history), Piero Bastianelli, Walter Smetak (violincello), Aida Zolinger (piano), Edy Cajueiro (violão), Ernst Widmer (composition), Yulo Brandão (counterpoint), Jamari Oliveira (harmony), Lindembergue Cardoso (instrumentation), and Sérgio Magnani (orchestration).
In 1963, he became acquainted with Gilberto Gil and Caetano Veloso in Salvador, where actress Maria Muniz promoted weekly musical get-togethers, also frequented by musicians and young artists such as Fernando Lona, Alcyvando Luz, Orlando Senna, Maria Lígia, and Álvaro Guimarães. On September 7, 1964, Zé had his opening night in a musical directed by Caetano Veloso (Nós por Exemplo No. 2), with Caetano, Gil, Gal Costa, Maria Bethânia, Alcyvando Luz, Perna Fróes (still known as Antônio Renato), and percussionist Djalma Corrèa. Soon, he joined the other Baianos in the Nova Bossa Velha -- Velha Bossa Nova show and in 1965, in the musical Arena Conta Bahia, which included his composition (with Chico de Assis) "O Cachorro do Inglês." The musical was such a success that Caetano, Gil, Gil, Bethânia, and Zé were invited to record their singles through RCA. Then, in the same year, Zé debuted in the record business with his single "Maria do Colégio da Bahia." His "Parque Industrial" was recorded on the album/manifesto Tropicália, and he recorded his first LP, Tom Zé (Rozemblit). His "São Paulo, Meu Amor" won first place at TV Record's IV FMPB (São Paulo), and got fourth place and the Best Lyrics award at the same festival with "2001" (with Rita Lee).
In 1969, he performed in Rio and São Paulo with Gal Costa in the show O Som Livre de Tom Zé e Gal Costa. In 1970, he recorded Tom Zé through RGE. The next year, he opened a music course in São Paulo, Sofist Balacobaco -- Muito Som e Pouco Papo. In 1972, he recorded Tom Zé through Continental, followed by 1973's Todos os Olhos, 1976's Estudando o Samba, and 1977's Correio da Estação do Brás, all for the same label. In 1974, he gave a concert with the band Capote in São Paulo. In 1975, he worked on the Brazilian staging of The Rocky Horror Picture Show as an actor. In 1976, he toured the university circuit with Vicente Barreto. In 1984, he went to RGE, where he released Nave Maria, and Continental re-released 1972's Tom Zé as Se o Caso é Chorar. In all this time, he continued to make sporadic appearances, but was still almost completely ignored by the masses due to his unusual approach to music with plenty of irony, erudite music references, and utilization of self-made instruments. Zé was so depressed that he decided to return to his small hometown to work at his nephew's gas station.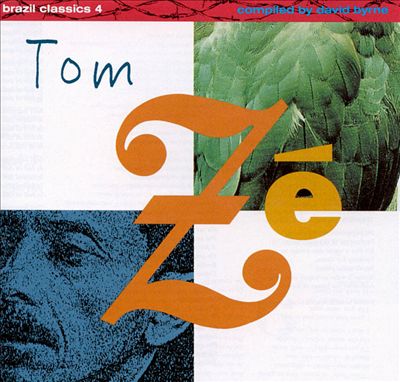 In 1989 while visiting Brazil, David Byrne found a used copy of Estudando o Samba, which he took as a didactic work. When he listened to the album, he was immediately taken by Zé's sound and called Arto Lindsay, who gave him what information he had about Zé. When a Brazilian journalist from a renowned newspaper interviewed Byrne, he saw a note on his desk, "When in Brazil, look for Tom Zé." He reported that and Zé was alerted. Radiant, he phoned Caetano for more information and Caetano replied that the attention wasn't about him, but rather Tuzé de Abreu, Byrne's friend -- which prompted a certain level of reserve by Zé in subsequent interviews. However, Byrne did sign Zé as the first artist of his Luaka Bop label. His releases there would get favorable reviews in The New York Times, The Village Voice, Rolling Stone, Billboard, and Le Monde, and win a Creativity Award in Telluride, CO. In 1991, his album The Best of Tom Zé was voted the third best album by critics and fourth by the readers of Down Beat. In 1992, he recorded The Hips of Tradition (also on Luaka Bop) and participated in the Zurich Jazz Festival in Switzerland. He then departed for a successful series of tours in Europe and the U.S. He is the first Brazilian musician to be presented at New York's Museum of Modern Art (1993), and the first Latin American composer to be presented at the Walker Art Center in Minneapolis, MN. He also opened a concert at the London International Festival of Theatre at Queen Elizabeth Hall in London, England. He appeared in concert and at festivals in Canada (Vancouver, Montreal, Edmonton, Saskatoon) and New York, and received 20th Century Artist honors and performed at Summerstage in New York's Central Park.
In 1994, he worked on the film Sábado (Ugo Giorgetti) and toured through Europe including the Netherlands, Germany, Switzerland, and France. In 1995 and 1996, he toured the biggest capitals of Brazil. In the same year, he wrote (together with José Miguel Wisnik) the Parabelo soundtrack for Grupo Corpo (a modern ballet company), which brought them the APCA award. In 1998, Com Defecto de Fabricacao (Fabrication Defect) was released by Luaka Bop, followed by Postmodern Platos Remixes to close out the decade in 1999. To begin the new millennium, Warner Music Brazil released one compilation entitled Enciclopédia Musical Brasileira, which was followed by Jogos de Armar in 2000. Grupo Corpo: Sanaugustin, a collaboration with Gilberto Assis, followed in 2002. In 2006 the pair teamed up again for the confusingly titled Santagustin. In 2005, Zé released Estudando o Pagode, and in 2006, Danc-Eh-Sa: Danca dos Herderieros do Sacrificio. Imprensa Cantada 2003 was finally issued in 2007, and in 2010 Luaka Bop released a new album in Estudando a Bossa, as well as a limited-edition 180-gram LP box set containing the albums Massive Hits (Estudando o Samba), Estudando o Pagode, and Estudando a Bossa, as well as a 7" collaborative single with Tortoise and a CD containing a conversation between Zé and David Byrne.