In the work of American songwriter Tom Waits, swampy blues, Beat poetry, West Coast jazz, Tin Pan Alley, country, 1930s-era cabaret, and post-Civil War parlor songs meet neon-lit carnival music and wheezing, clattering, experimental rhythms (often played by makeshift musical instruments), forming a keenly individual musical universe. It has often been imitated but never replicated. Since the '70s, Waits has charted a path from playing fleabag dive bars to opera theaters and prestigious concert halls all over the world. His recordings -- from early masterpieces such as Small Change and Blue Valentine and the twisted, dramatic, and black, humorous art songs on the trilogy of Swordfishtrombones, Rain Dogs, and Frank's Wild Years, to the deconstructed experimental soundworlds erected for Bone Machine and Mule Variations -- have charted the lives and circumstances of the humble, forgotten, evil, demented, abandoned, cursed, and just plain down-on-their-luck humans to places of honor in our pantheon in a spirit akin to the photographs of Robert Frank and Diane Arbus. He has charted an iconoclastic path through Stephen Foster and George Gershwin, Howlin' Wolf, and Captain Beefheart, as well as writers from the Beat Generation, and Charles Bukowski, Nelson Algren, and Mark Twain to create a holistic body of work whose appeal crisscrosses generations and blurs pop's arbitrary boundaries. Waits has won two Grammys and is a member of the 2011 class of The Rock and Roll Hall of Fame. He is included among the 2010 list of Rolling Stone's 100 Greatest Singers, as well as its 2015 list of 100 Greatest Songwriters of All Time.
He has composed for and acted in movies and musicals as a character actor. His list of supporting roles includes Paradise Alley, Rumblefish, The Cotton Club, The Outsiders, and Bram Stoker's Dracula, to name a few. He has also appeared in a number of director Jim Jarmusch's films including a starring role in 1986's Down by Law. Waits received an Academy Award nomination for his score and soundtrack for Francis Ford Coppola's One from the Heart.
Waits heard an abundance of American song forms -- from show tunes and crooners to blues and hillbilly music -- while growing up in San Diego during the '50s and early '60s; he was also under the sway of Border Radio's golden era and exposed to everything from mariachi and banda to swing, jump blues, R&B, honky tonk, folk, and early rock & roll. Wrapped up in music and Jack Kerouac's On the Road, he taught himself piano and guitar as a teenager and began singing on San Diego's burgeoning folk scene. He also began writing his own songs based on snatches of overheard conversation. Leaving home while still an adolescent, Waits hit the road for Los Angeles, where he lived out of his car while working as a doorman at the L.A. nightclub The Heritage. He got his performing break in 1969 at the Troubadour (and freely borrowed from jazz comedian Lord Buckley's stage persona) and eventually secured work as a songwriter before signing a recording contract with Asylum Records. Relocating to the infamous Tropicana Motor Hotel, he made fast friends with other aspiring artists and denizens of the nighttime streets (including Chuck E. Weiss and Rickie Lee Jones), and recorded and released his Jerry Yester-produced debut album Closing Time in 1973. The album included the track "Ol' '55," which was covered by the Eagles on their first album, On the Border, and it eventually became a minor hit, securing him his first steady income when the album went multi-platinum. In those early days, Waits played anywhere and everywhere he could get a gig. He opened shows for artists like Frank Zappa & the Mothers of Invention in theaters, and headlined seedy bars and long-abandoned jazz clubs from coast to coast. In 1974, Waits followed up with The Heart of Saturday Night, produced by Bones Howe. Less folky and countrified than his debut, the album was positively received by critics and sold well, entering the lower rungs of the Top 200 chart. Its title track became a regional hit for Jerry Jeff Walker.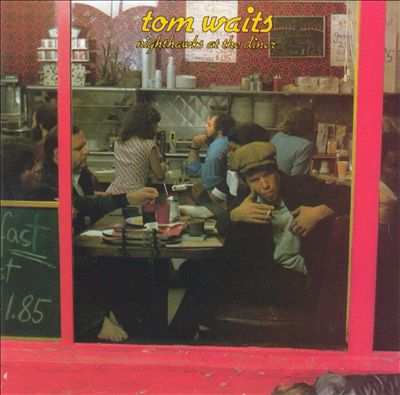 Seasoned by the road, Waits' live shows had become freewheeling encounters with audiences. He not only played and sang, but told wryly humorous, sometimes outrageous, sometimes bawdy stories that self-mythologized his persona and offered character sketches of strippers, circus freaks, barflies, and other streetwise ne'er-do-wells. These were captured on 1975's double-length classic Nighthawks at the Diner; his band included all jazzmen, with drummer Jim Hughart, pianist Michael Melvoin, and saxophonist Pete Christlieb. Waits stayed with the rangy jazz tip for 1976's Small Change (number 89), a more melancholy, lush affair that also brought the first hints of the raw, bluesy sound that appeared on later albums. While his rhythm section included Hughart and West Coast jazz icon Shelly Manne on drums, Waits and Howe also showed off the songwriter's love for ballads by adding a string section. Some of its songs, including "Tom Traubert's Blues" (aka "Waltzing Matilda") and "Step Right Up" became staples in his setlist for decades. Waits doubled down on jazz and low-key swing-blues for 1977's Foreign Affairs, whose best-known track was a duet with Bette Midler on "I Never Talk to Strangers." It hit 111 on the Top 200. While touring and playing slightly bigger rooms, Waits sought to project a more sinister sound and added an electric guitar (for the first time) to 1978's brooding, menacing Blue Valentine, that confused fans of his more laid-back style. In 1980, he issued Heartattack and Vine. Its electric blues and R&B slant propelled it into the top half of the Top 200. It was his best-selling full-length since Small Change. The set also included the song "Jersey Girl," later covered by Bruce Springsteen. It was his final recording for Asylum.
Waits jumped ship to Chris Blackwell's Island Records for 1983's Swordfishtrombones. Frustrated by the limitations of standard instrumentation that he was basically forced to use, his new label encouraged his freedom. Waits established his "junkyard orchestral deviation" concept by using marimbas, trashcan lids, kettle drums, and tympani as well as bleating trombones and muted trumpets. While the shift in sonics was radical and the public didn't initially get it (it only reached 183 on the Top 200), it has since become one of his most respected recordings. Prior to the album's issue, Waits and Crystal Gayle had been working on the music for and their appearances in One from the Heart. On set, he encountered actress and writer Kathleen Brennan for the first time. They fell in love and were married in 1980. She became his constant collaborator and co-writer. The iconic Rain Dogs followed in 1985 as Waits moved deeper into an experimental direction where his now-ubiquitous megaphone, car radios, and percussion instruments made from scrap metal carried the same place in the mix as keyboards, electric guitars, and drums while offering a host of more accessible songs including "Downtown Train" (later covered to hit status by Rod Stewart, who cribbed the idea for his version from a conversation with Bob Seger, who'd later cut "Blind Love"). Waits' tunes have since provided Marianne Faithfull, Dion, and others with material. His profile in the world had risen. He was able to secure all-star sidemen including guitarists Marc Ribot, Chris Spedding, and Keith Richards, bassists Larry Taylor and Greg Cohen, percussionists Michael Blair and Bobby Previte, and saxophonist Ralph Carney. In addition to the army of percussion instruments, Waits began using a pump organ in earnest, as evidenced by the Brennan song "Hang Down Your Head." Despite its relative accessibility and return to formal song forms, the album only reached 185.
Frank's Wild Years fared far better. Released in 1987, it was Waits' ninth album and subtitled "Un Operachi Romantico in Two Acts." Waits and Brennan co-wrote most of the songs for a play of the same name which premiered the year before with the two principals and Steppenwolf Theatre Company. The album peaked at 115 on the albums charts. Waits undertook a tour documented by the album Big Time, and his fortunes turned for good. The experimentation of the trilogy had brought his music to post-punk and indie rock audiences. Waits pushed his own envelope with the rattling, clattering Bone Machine in 1992. winning his first Grammy as Best Alternative Music album even though the album appeared near the bottom of the Top 200. It was a banner year for the songwriter. He appeared on saxophonist Teddy Edwards' album Mississippi Lad that year and released his score for Jarmusch's film Night on Earth. He and Brennan next collaborated with writer William S. Burroughs and director Robert Wilson on The Black Rider, a dark, thematically connected series of vanguard cabaret songs deeply influenced by '30s Weimar-era Berlin. Despite critics' complaints about its radical, unrelenting bleakness and noisy soundscapes, it reached number 130 on the charts.
Waits made a poignant guest appearance on British composer Gavin Bryars' Jesus' Blood Never Failed Me Yet, a left-field hit in the U.K. in 1994. The song appeared twice. The other version was Bryars orchestration of a found field recording by a homeless man in London. Waits had attained the kind of artistic freedom he sought with Island, but also wanted more freedom in his business dealings. To that end, he signed to indie label Epitaph/Anti in 1999 and released the now-classic Mule Variations. It sold better than any of his previous recordings and hit number 24 on the Top 200. In the aftermath of his first international tour in more than a decade, he won another Grammy, this time for Best Contemporary folk album. Around the same time, Waits and Brennan worked with Wilson again on a Czech adaptation of Woyzeck. The team of Waits/Brennan/Wilson worked on two other theater works -- Blood Money and Alice (based on Alice in Wonderland), that reflected a more introspective side of Waits' music-making persona in that both were rife with ballads. Waits recorded both scores and released them on the same day in 2002. The critical reaction was mixed, but fans didn't care. They respectively reached 32 and 33 on the album charts during the same week.
While Waits played select shows and entertained commissions from all over the globe, he and Brennan were in retreat in their home studio working for the better part of four years on Real Gone. Released in 2006, the set featured a smaller cast of familiar faces including Les Claypool, Taylor, Ribot, and son Casey Waits on drums and percussion. The set sold well and reached 28 on the Top 200. Two years later, Waits released the mammoth limited-edition, three-disc collection Orphans: Brawlers, Bawlers & Bastards. Comprised of 26 rare and 30 previously unissued songs, Waits explained it thusly: "Some are from films, some from compilations. Some is stuff that didn't fit on a record, things I recorded in the garage with kids. Oddball things, orphaned tunes." The acclaim for this sprawling set was universal. It hit number 74 on the albums chart, and was nominated for a Grammy for best Contemporary Folk Album. Waits and Brennan once more took to the road across the United States, Canada, and Europe. In 2009, Glitter and Doom, the live document from the run, arrived and reached number 63. Two years later, Waits issued Bad as Me, his first set of all-new original material since Orphans. It was his highest-charting album ever, reaching number six on the Top 200 and chosen as one of the best albums of the year by critics across the web and in print. Bad as Me was also nominated for a Grammy for Best Alternative Music Album.
Waits spent the next few years remastering and reissuing his first six Elektra/Asylum albums: Closing Time, The Heart of Saturday Night, Nighthawks at the Diner, Small Change, Foreign Affairs, Blue Valentine, and Heart Attack and Vine. Likewise, the three individual volumes in Orphans (Brawlers, Bawlers, and Bastards) were re-released. Waits also resumed his acting career in David Lowery's feature film The Old Man and the Gun, co-starring Robert Redford (in his final picture), Sissy Spacek, and Danny Glover. In 2018, Waits appeared as one of several guest vocalists on Ribot's political album Songs of Resistance 1942-1918 (others included Steve Earle, Meshell Ndegeocello, Justin Vivian Bond, and others), which benefitted The Indivisible Project, an organization that helps individuals resist Donald Trump's agenda via grassroots movements in their local communities.