Although for a few years Tom Fogerty was in one of the most successful rock groups in the world, it was his lot to be in the huge shadow of his younger and far more talented brother, John Fogerty. Tom played rhythm guitar and sang some background vocals in Creedence Clearwater Revival, but only one of his compositions was recorded by the band. Tom was the first member of CCR to leave, splitting in early 1971 because of tensions with his brother and a wish for more freedom to sing and write his own material. Despite recording nine albums prior to his death in 1990, however, he never succeeded in either making hit records or presenting nearly as strong a musical identity as John -- or, indeed, CCR as a whole -- did.
Fogerty began playing music as a high schooler in the late '50s, sometimes sitting in with John's group, the Blue Velvets, which already included future CCR members Stu Cook and Doug Clifford. Although Tom's band, the incredulously named Spider Webb & the Insects, got as far as getting a contract with Del-Fi Records, nothing came out before they broke up in the winter of 1959. The Blue Velvets began backing Fogerty at demo sessions and live performances, and Tom eventually joined the Blue Velvets as lead singer, the band being billed as Tommy Fogerty & the Blue Velvets. Under that name, they cut three very obscure singles for the small Orchestra label in 1961 and 1962.
After getting a contract with Fantasy Records, the group's name was changed (against their wishes) to the Golliwogs, who recorded half-a-dozen singles in the mid-'60s. At this time, Tom's role in the band was far more visible than it would be in Creedence Clearwater Revival. He shared lead vocals with John (in fact, Tom took all of the lead vocals on the first three singles), and the Fogerty brothers co-wrote most of the Golliwogs' singles. These 45s (eventually assembled on the Fantasy LP Pre-Creedence) were extremely derivative of the British Invasion and other R&B and rock trends of the day, with few hints of the swampy roots rock that would characterize CCR. Even by the end of the Golliwogs days, it was becoming obvious that John was much the more vital singer and songwriter. By the time they started releasing material under the name Creedence Clearwater Revival in 1968, John was firmly in control of the band's musical direction.
Only one Tom Fogerty composition, "Walk on the Water" (which had actually first been recorded by the Golliwogs in 1966), would appear on a CCR album, credited to both John and Tom under the joint composition agreement that held in the Golliwogs days. In early 1971, after five LPs and more than a half-dozen huge hit singles, Tom left the band, frustrated by the lack of opportunity to sing and contribute his own material. The group would continue as a trio for one final album before disbanding.
In subsequent years, Tom would often complain that his contributions to the early days of Creedence were overlooked, particularly as it had been he who had sung lead on most of their recordings prior to 1966; he who wrote material with John in the Golliwogs days; and he who took care of much of the business end of the band in the pre-CCR era. That all may be true, and it may be that John Fogerty did not go out of way his way to give his brother credit for this. But the hard truth is that the Blue Velvets and the Golliwogs would have never gotten anywhere if John had not stepped forward with his songs, voice, and guitar playing; they would have been just another garage and bar band. This would be emphasized, perhaps unintentionally, by the results of Tom Fogerty's solo career.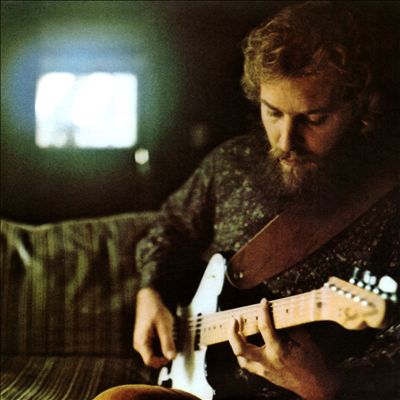 Fogerty signed with Fantasy as a solo artist and nearly made the Top 100 with his debut single, 1971's "Goodbye Media Man." His first album, 1972's self-titled Tom Fogerty, was the only one of his LPs to chart, topping out at number 78. More important to note than his meager chart performance, however, is the meager musical value of the solo recordings themselves. While at least not blatant attempts to copy Creedence, they were unexceptional, pedestrian rock that shared CCR's blues, country, and rock influences. As a singer, Tom didn't sound much like his brother; actually, the problem was that he didn't sound like anyone in particular, his lack of vocal power and personality suggesting he was ill-suited for fronting a band or launching a solo career in the first place. Jerry Garcia and Merl Saunders played on some of Fogerty's sessions, and Stu Cook and Doug Clifford were the rhythm section on his 1973 album Zephyr National, which also had some contributions from John. A single from the album, "Joyful Resurrection," strongly echoed the vintage Creedence sound and, perhaps not coincidentally, was Tom Fogerty's best solo track.
Fogerty continued to record, to little sales or public acclaim, throughout the '70s and '80s. He, Cook, and Clifford became increasingly estranged from John Fogerty in disputes over use of the Creedence catalog and John's feuds with Fantasy Records. By re-signing with Fantasy in the early '80s (he had left for a couple of albums on PBR in the late '70s), Tom further alienated John, although all four bandmembers managed to set aside their grievances and play together one last time at Tom's wedding in 1980. The brothers, sadly, grew further apart over the course of the '80s before Tom died in 1990 of AIDS, believed by his family to have resulted from blood transfusions he received during operations for back trouble.