The Undertones slam-bang punk-pop drew its strength from one simple fact: you didn't need a secret handshake to enjoy it. John and Damian O'Neill mated infectious guitar hooks to '60s garage, '70s glam rock, and Feargal Sharkey's signature vocal quaver. Those qualities came together on their breakout hit "Teenage Kicks," whose simplicity harked back to '60s ideals of when the song was king.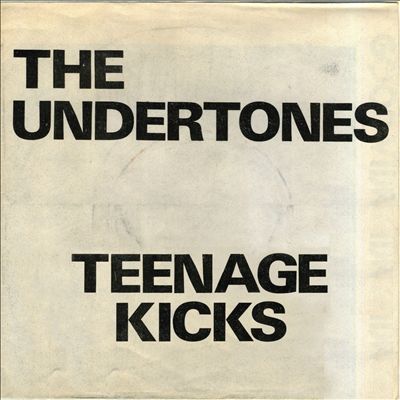 The Undertones formed in Derry, Northern Ireland, in 1975. However, they avoided references to their hometown's sectarian strife for "more songs about chocolate and girls," as their second album phrased it. But gigs were scarce in a scene dominated by show bands, and the boys felt sufficiently discouraged to consider quitting -- until Belfast record shop owner Terry Hooley released the Teenage Kicks EP on his Good Vibrations label in September 1978.
The song captivated Britain's top DJ, John Peel; suddenly, as Damian O'Neill recalled, people were asking for autographs at the job. The frenzy attracted a deal from Sire Records, which released the band's rough-and-ready debut in April 1979. That fall, the Undertones earned kudos as a support act on the Clash's American tour. So did Hypnotised, which showed a band already straining against the Ramonesy thrust of earlier singles like "Jimmy Jimmy" and "My Perfect Cousin."
However, the Undertones entertained some notions of growing up, which started when they switched to EMI. Positive Touch (1981) unveiled exotic instrumental flourishes like horns, slide guitars, tack pianos, and even xylophones; its brief residency in the U.K. Top 50 provided the first inklings of trouble.
The band returned after a lengthy lay-off with The Sin of Pride (1983), which flirted with '60s soul and psychedelia. But its singles -- including a slick remake of the Isley Brothers' "Got to Have You Back" and the grungy "Love Parade" -- made little impression, and the album peaked at number 46 on the U.K. charts. Sensing a thankless competition with their younger, cheekier selves, the Undertones split up in the summer of 1983 after a series of summer festival gigs.
Sharkey launched a short-lived solo career, while John and Damian O'Neill won critical plaudits -- but little sales -- for their tough-minded political band, That Petrol Emotion. Hopes of re-forming the original lineup for John Peel's 50th birthday fell apart after the O'Neills' father died. The band mulled an offer for five gigs in 1994, but blamed Sharkey's skittishness for scuttling the deal.
The boys skirted their former frontman's reluctance by recruiting Derry's Paul McLoone for two hometown gigs in 1999, and haven't looked back. The reissues kept coming, while the Teenage Kicks (2001) documentary gave fans a fond review of the band's history. Get What You Need, the first new album in 20 years, earned a thumbs-up from fans on its September 2003 release. Twenty-five years after "Teenage Kicks" put the Undertones on the map, the pride of Derry seem more ubiquitous than ever.