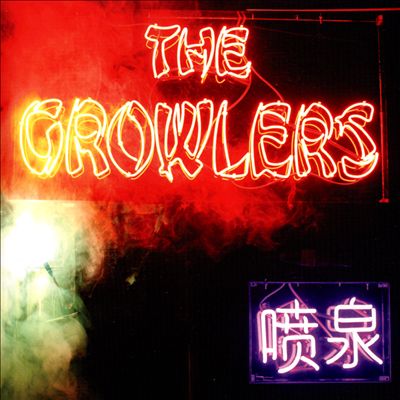 Based out of Los Angeles, California, indie rockers the Growlers emerged in the early part of the 2010s, employing an atmospheric blend of reverb-laden surf rock, country-folk, and classic rock. After a handful of smaller releases, their 2014 album, Chinese Fountain, found some mainstream chart success and helped expand their audience in advance of the Julian Casablancas-produced City Club LP in 2016. Along with their prolific output, the Growlers have also curated and headlined their own annual festival. In 2020, the band admitted to instances of sexual misconduct, resulting in the departure of two of its members.
Formed in 2006, the self-described "Beach Goth" outfit went through numerous personnel changes before settling on the core lineup of Brooks Nielsen (vocals), Matt Taylor (lead guitar), Scott Montoya (drums), Anthony Braun Perry (bass), and Kyle Straka (keyboards, guitar) -- they later pared down to a trio consisting of Nielsen, Taylor, and Straka). They issued their debut album, Are You in or Are You Out? via Everloving Records in 2009, followed by the Hot Tropics EP in 2010. In 2012, the group established their own Beach Goth Festival which became an annual event featuring a wide variety of acts spanning pop, metal, and hip-hop. Their follow-up full-length, Hung at Heart, arrived in 2013 with their third album, Chinese Fountain, coming out the following year on FatCat in the U.K. and Everloving in the U.S. The latter proved to be somewhat of a breakout for the Growlers and cracked the Billboard 200 pop chart. For their next release, the band tapped Strokes member Julian Casablancas to produce, and the resulting album, City Club, appeared in 2016 on Casablancas' label Cult Records. Two years later, the Growlers issued a collection of rarities and B-sides called Casual Acquaintances on their own Beach Goth label. The single "Foghorn Town" was issued in late 2019 ahead of the arrival of the full-length outing Natural Affair, which followed in January 2020.
Although not members of its roster, the Growlers were named among several other bands associated with California indie Burger Records as having committed instances of sexual misconduct during their career. Following these initial July 2020 accusations, Starcrawler frontwoman Arrow De Wilde publicly revealed that while touring with the Growlers earlier in the year, the band had initiated a sexually degrading end-of-tour prank on her involving an Australian male stripper. During the fallout from these revelations, late-period Growlers keyboardist Adam Wolcott Smith admitted to his own incident of abuse and quit the band. In a public statement, frontman Nielsen apologized for their behavior and announced that lead guitarist Matt Taylor would also be temporarily leaving the band.