Whether celebrated as a sincere tribute or derided as a tongue-in-cheek put-on, the Blues Brothers -- Joliet Jake and his silent brother Elwood -- was among the most popular groups of the late '70s; what started as a skit on the hit NBC television sketch comedy series Saturday Night Live quickly snowballed to become a true phenomenon, complete with hit records, a sold-out concert tour, and even a feature film. Clad in vintage black suits, narrow ties, fedoras, and omnipresent wrap-around sunglasses, the Blues Brothers delivered spirited renditions of classic soul hits in the tradition of the signature Stax-Volt sound; purists may still cringe, but if nothing else the group deserves credit for introducing any number of soul and blues classics to a new generation of listeners while also allowing some of the most gifted session men in the business a chance to shine on-stage and -screen.
According to "Don Kirshner" (actually Saturday Night Live bandleader Paul Shaffer in disguise), the Blues Brothers' history was as follows: "In 1969, Marshall Checker, of the legendary Checkers Records, called me on a new blues act that had been playing in the small, funky clubs on Chicago's South Side....Today they are no longer an authentic blues act, but have managed to become a viable commercial product." In reality, however, vocalist Jake and harpist Elwood Blues were music lovers John Belushi and Dan Aykroyd, two of SNL's brightest stars who created their respective aliases in early 1976 to warm up crowds before performances of the hit series. The Blues Brothers made their national TV debut with Belushi and Aykroyd outfitted in the bee costumes they often wore for another sketch, performing (naturally enough) Slim Harpo's "I'm a King Bee," and in the months to follow they grew in popularity, appearing on the program with increasing regularity.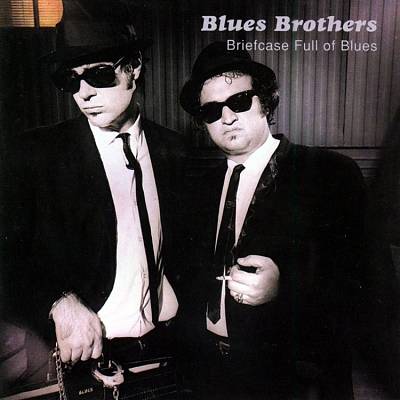 The Blues Brothers' band included top Memphis sessionmen like guitarist Steve Cropper and bassist Donald "Duck" Dunn, who together appeared on many of the original Stax label recordings of songs in the group's repertoire; later incarnations also featured notables like bluesman Matt "Guitar" Murphy. While opening for comedian Steve Martin in Los Angeles in 1978, the Blues Brothers recorded their debut live LP, Briefcase Full of Blues; the album quickly went platinum, launching Top 40 hit covers of "Soul Man" and "Rubber Biscuit." They also toured in 1980 to promote their feature-length movie, The Blues Brothers, a sprawling musical comedy featuring cameos by everyone from Cab Calloway to Aretha Franklin, as well as their second LP, Made in America. Two more Top 40 hits -- "Gimme Some Lovin'" and "Who's Making Love" -- appeared that same year.
In 1981, The Best of the Blues Brothers was released, further solidifying their massive popularity; however, on March 5, 1982, Belushi died in Hollywood of an accidental drug overdose, and the Blues Brothers' saga was effectively over. Or so it seemed; as the movie remained a cult favorite and old Saturday Night Live sketches continued to run in syndication, the group's "legend" continued to grow, and, in 1988, Cropper, Dunn, Murphy, and other players re-formed the Blues Brothers Band for a world tour, often backing singer Eddie Floyd. In 1992, they even cut a new LP, Red White and Blues, which featured a guest appearance from Aykroyd/Elwood. Around the same time, Aykroyd also mounted his House of Blues franchise, an international chain of upscale blues joints; he, actor John Goodman, and Belushi's brother Jim also appeared on occasion in a new Blues Brothers lineup. Finally, in 1998, a second movie, Blues Brothers 2000, was released.