The 13th Floor Elevators were one of the pioneering bands of psychedelic music; many have cited them as the first true psychedelic rock band, and if they weren't, they certainly predated most of the San Francisco bands that gave the sound a global audience. The Elevators played a bracing fusion of garage rock and genre-defying musical exploration powered by Roky Erickson's feral vocals and rhythm guitar, Stacy Sutherland's concise but agile lead guitar work, and Tommy Hall's amplified jug playing, the latter of which gave them a sound unlike any other in rock. The Elevators were also exploring the outer limits of both consciousness and rock & roll in Texas in the early to mid-'60s, a time and place that wasn't quite ready for them, leading to the myriad problems that at once fueled their legend and cut down the band before their time.
The 13th Floor Elevators story began in Kerrville, TX, where in 1963, Stacy Sutherland (born 1946) was hanging out in the parking lot of a diner and met John Ike Walton (born 1942). Walton was a banjo picker who was playing for anyone who cared to listen, and Sutherland, already an accomplished guitarist, struck up a conversation. The two became friends, and when they met Benny Thurman (born 1943), a classically trained violinist who could also play bass, they formed a band. The Lingsmen featured Sutherland and Max Range on guitars, Thurman on bass, and Walton on drums, and soon landed a steady gig in the resort town of Port Aransas, TX. Meanwhile, Tommy Hall (born 1942) was a student at the University of Texas, studying chemical engineering and psychology. Hall was keenly intelligent and had a philosophical bent, and he fell in with a group of Austin bohemians who were experimenting with peyote. In 1964, Hall claims to have been part of LSD experiments which took place at UT; no records exist which confirm such experiments, but however he became interested in the drug, Hall was a quick convert, and believed it was a tool to reaching the next level in psychological and spiritual evolution. As pop music grew more sophisticated with the emergence of Bob Dylan and the Beatles, Hall believed that rock & roll could be used as a medium to advance his ideas about psychedelics and philosophy. Sutherland, who had developed a powerful taste for marijuana and downers, began hanging out in Austin, and through mutual acquaintances met Hall; after seeing the Lingsmen play, Hall recruited Sutherland, Walton, and Thurman for the new band he hoped to form.
Hall was a gifted lyricist but no singer, so the group needed a lead vocalist. Roger Kynard Erickson (born 1947), known to his friend as Roky, was the frontman with a popular Austin band called the Spades, who had scored a local hit with "You're Gonna Miss Me." Hall and Sutherland believed Erickson's raw, powerful voice was just what their band needed, and in late 1965 they lured him away from the Spades to join the newly formed 13th Floor Elevators (the name a reference to the floor on a skyscraper that usually goes unnamed). In early 1966, the Elevators re-recorded "You're Gonna Miss Me" for a local label, Contact Records; the new version was in every respect more powerful than the original, and it looked to have the makings of a hit. By the spring, the record had been snapped up by an upstart label in Houston, International Artists Records, and IA was able to turn "You're Gonna Miss Me" into a small nationwide success.
While on the surface the Elevators rise to fame seemed ordinary, underneath things were anything but. Under Hall's leadership, the Elevators did every rehearsal, performance, and recording session under the influence of LSD (except for Walton, who after a bad trip refused to have anything to do with the drug), and while their single was climbing the charts on AM radio, the bandmembers were becoming the heroes of a Texas community that had not yet become known as hippies. When the band released their debut album, The Psychedelic Sounds of the 13th Floor Elevators, in the fall of 1966, Hall insisted on including bizarre liner notes charting man's efforts to alter his consciousness. And while LSD was not yet illegal when the group began using it, the marijuana they habitually smoked certainly was, and around the time "You're Gonna Miss Me" was released, Erickson, Hall, Sutherland, and Walton were busted for possession. While the group attempted to keep up a busy schedule of performances, they did so knowing they could end up in jail at any time. Despite this, the Elevators went out on tour and even appeared on American Bandstand, where Dick Clark innocently asked Hall, who was the head man of the group, to which he replied, "Well, we're all heads."
After an extended stay in San Francisco, where they made a strong impression on the budding local rock scene (and reconnected with an old Austin friend, Janis Joplin, who was beginning to make a name for herself in California), the Elevators ended up back in Texas in 1967 as they began work on their second album, Easter Everywhere. While the album was a masterpiece, it didn't spawn a hit like "You're Gonna Miss Me," and it was recorded as the band was beginning to splinter; Walton, unhappy with the band's business affairs and their relationship with International Artists, left the group, and Thurman followed. Danny Galindo became their new bassist, and Danny Thomas signed on as drummer. The band's fragile legal situation prevented them from touring and they played only limited local shows in support of the album. When an attempt to record a live album at a concert in Houston went awry after Sutherland sunk into a bad trip on-stage in 1968, International Artists released The 13th Floor Elevators Live, a ludicrous LP in which old studio demos were overdubbed with crowd noises taken from a boxing match.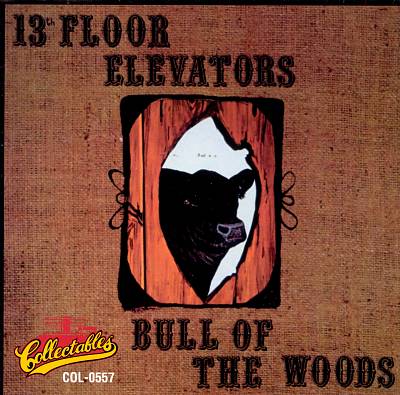 The Elevators' use of drugs was beginning to catch up with most of them, and Erickson in particular began to buckle under his constant use of LSD and speed, ending up in a hospital for a while. At the same time, Hall grew tired of his role as the band's overseer, so Sutherland became the de facto leader of the group for the recording of their third and final album, Bull of the Woods. With Erickson and Hall making only token appearances on the album, and Galindo replaced by Ronnie Leatherman, it was the most stripped-down and elemental Elevators album, despite IA's insistence on adding horn overdubs to several songs. When Erickson was busted for marijuana again in 1969, it spelled the end of the group for all practical purposes, especially when Erickson, pleading insanity on the advice of a lawyer, ended up in an Austin mental hospital. Hall and some friends attempted to liberate Roky, who had tried to escape several times on his own, and eventually he was sentenced to the Rusk Prison for the Criminally Insane, where he was subjected to repeated shock treatments and powerful psychoactive drugs.
Various handfuls of Elevators alumni played periodic reunion shows during the '70s after Erickson was finally released from Rusk, but those came to an end in 1978, after Sutherland was shot to death by his wife during a domestic dispute. Since then, only Erickson has continued to make music on a regular basis, finally overcoming frequent bouts of physical and mental illness to make a comeback album in 2010. With time, the legend of the Elevators grew, and in 2007, author Paul Drummond published a richly detailed biography of the group, Eye Mind: The Saga of Roky Erickson and the 13th Floor Elevators, The Pioneers of Psychedelic Sound. In 2009, Drummond helped compile Sign of the Three Eyed Men, a ten-disc box set that finally brought together the Elevators' recorded legacy in its definitive form.