The most iconic band of the U.K. glam rock scene of the '70s, T. Rex were the creation of Marc Bolan, who started out as a cheerfully addled acolyte of psychedelia and folk-rock until he turned to swaggering rock & roll with boogie rhythm and a tricked-up fashion sense. For a couple years, T. Rex were the biggest band in England and a potent cult item in the United States. If their stardom didn't last, their influence did, and T. Rex's dirty but playful attitude and Bolan's sense of style and rock star moves would show their influence in metal, punk, new wave, and alternative rock; it's all but impossible to imagine the '80s new romantic scene existing without Bolan's influence.
Marc Bolan was born Mark Feld on September 30, 1947 in Stoke Newington, London, England. The youngster seemed cut out for a career in showbiz nearly from the start; he started playing guitar at the age of nine when he and some friends formed a skiffle band, and he made his professional acting debut in 1963, playing a minor role on the children's television series Orlando. After a brief run as a child model, Bolan (his stage name a contraction of Bob Dylan) dove into music, and released his first single, "The Wizard," in November 1965, shortly after he signed a deal with Decca Records. After cutting a few more unsuccessful singles, which found Bolan moving into a direction clearly inspired by Dylan and Donovan, Simon Napier-Bell took over as his manager, and in 1967 Bolan became a member of the notorious psychedelic band John's Children. While he was in John's Children long enough to write and sing lead on their single "Desdemona" and tour Europe as the Who's opening act, Bolan left the group after a mere four months, and quickly began writing songs for his next project.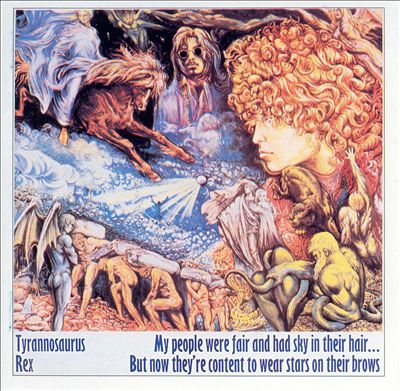 Before 1967 was out, Bolan had launched his new group, Tyrannosaurus Rex, with a show at London's Electric Garden. However, Bolan booked the gig before he finalized the band's lineup; legend has it he was still auditioning musicians the day of the show, and by all reports the debut was disastrous. Abandoning his original concept of a four-piece band, Bolan reworked Tyrannosaurus Rex into an acoustic duo, with Marc on guitar and vocals and Steve Peregrin Took on percussion. Bolan's loopy but engaging lyrical sensibility and Eastern-influenced melodies, coupled with Took's use of hand drums and unconventional percussion devices, helped to earn the group a loyal following in London's hippie community, and they were championed by the legendary BBC disc jockey John Peel. The duo scored a deal with Regal Zonophone Records, and their debut album, My People Were Fair and Had Sky in Their Hair... But Now They're Content to Wear Stars on Their Brows, was released in July 1968; the album was produced by Tony Visconti, who would go on to produce nearly all of Bolan's subsequent work. The second Tyrannosaurus Rex album, Prophets, Seers & Sages: The Angels of the Ages, appeared just three months later, and the third, Unicorn, came out in May 1969, shortly after the publication of The Warlock of Love, a book of poems written by Bolan. However, Bolan and Took found themselves increasingly at odds, as Took's behavior became more outré, especially during a largely unsuccessful American tour, and Unicorn proved to be his last album with Tyrannosaurus Rex.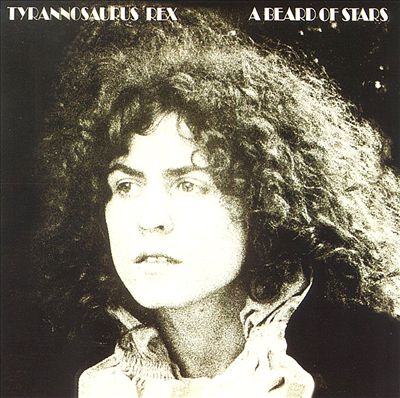 Mickey Finn took over as the duo's percussionist, and in 1970 they recorded the album A Beard of Stars as well as the single "Ride a White Swan," and both saw the band moving in a new direction, venturing away from the fading U.K. hippie scene. Bolan had begun playing electric guitar, giving the songs a bigger and buzzier sound, and Finn's handclaps and percussion provided a stompdown backbeat that turned Tyrannosaurus Rex from a folk act into a potent if minimal rock band. The duo acknowledged their shift in direction with their fifth album, which bore their new name, T. Rex. "Ride a White Swan" was a surprise smash in the U.K., and the T. Rex album also fared well, and Bolan doubled down on the group's new proto-boogie sound by expanding T. Rex to a quartet with the addition of trap drummer Bill Legend and bassist Steve Currie. Bolan also took to sporting top hats, feather boas, and glittery outfits on-stage, giving their shows a welcome sense of flash, and while some of Bolan's older fans blanched at his abandonment of his folkie impulses, the release of Electric Warrior in September 1971 was all the consolation he needed. The album was a major hit, rising to the top of the U.K. album charts and establishing T. Rex as one of Britain's biggest bands, while also helping to launch the glam rock era that would dominate U.K. rock for the next several years. The album spawned two U.K. hit singles, "Jeepster" and "Bang a Gong (Get It On)," and while the former made little impact in the United States, the latter cracked the American Top 40, and T. Rex developed a growing cult following in the United States, especially on the West Coast, where the glam crusade found its greatest American success.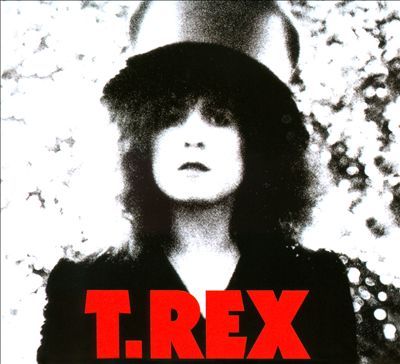 As "T. Rexstasy" took hold in the U.K. and Europe, Bolan and his crew released The Slider in July 1972, which offered more of the group's crunchy hard rock boogie and Bolan's sly, playful lyrics; the album was another smash in the U.K., rising to number four on the album charts, while it peaked at a more than respectable number 17 in the United States. The album was also recorded while a film was being made about Bolan and T. Rex, Born to Boogie, directed by none other than Ringo Starr. But neither of the two singles, "Telegram Sam" nor "Metal Guru," made much of an impression in the United States, and neither did the non-album single "20th Century Boy," though it was a smash in the U.K. Surprisingly, T. Rex opted not to feature the song on Tanx, issued in January 1973, and the album rose no further than number 102 in America, and it received lukewarm reviews in the U.K. and Europe, though sales there were still impressive. By the time T. Rex released their next album, Gloria Jones had joined T. Rex on keyboards and backing vocals (she was also in a romantic relationship with Bolan, despite the fact he was married at the time), and the group displayed a new R&B influence on 1974's Zinc Alloy and the Hidden Riders of Tomorrow. However, the album's reception confirmed the bloom was off the rose for T. Rex; the single "Teenage Dream" failed to crack the U.K. Top Ten, and the LP wasn't even released in the United States.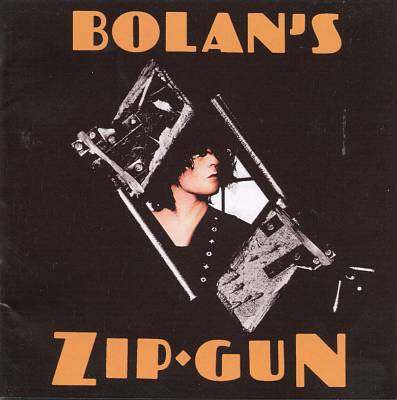 Early 1975 saw the release of Bolan's Zip Gun, which was produced by Bolan after Tony Visconti bowed out, and only featured drummer Bill Legend on one track, with drummer Davy Lutton and keyboard man Dino Dines joining the group. Once again, the album wasn't issued in America, though a combination of tracks from Zinc Alloy and Zip Gun was released stateside by Casablanca Records as Light of Love. Bolan became a tax exile who relocated to California, which made him the target of more unfriendly reports in the British music press.
Bolan was on the rebound in early 1976 with the release of Futuristic Dragon, an ambitious set that featured a bigger sound than T. Rex's last few albums, and while it once again went unreleased in the United States, reviews were positive and the album was a modest commercial success. Bolan also became a father with the birth of Rolan Bolan, his son by Gloria Jones, and he returned to England, where he became the host of a pop music show, Marc, that featured performances by Bolan, artists from the height of the glam rock days (including David Bowie), and rising stars on the punk rock scene, including the Jam, Generation X, and the Boomtown Rats. As Bolan's star was on the rise, he returned to the studio to make a new album; Dandy in the Underworld was credited to T. Rex, but was almost entirely the work of studio musicians after the final breakup of the classic T. Rex lineup. The album received positive press in the U.K., but Bolan had little opportunity to bask in its success; he died in an auto accident on September 16, 1977. While both Mickey Finn and Bill Legend toured with bands calling themselves T. Rex in the wake of Bolan's death, for nearly all fans the notion of T. Rex without Marc Bolan seemed absurd, and the band's legacy has been kept alive through reissues of T. Rex's recordings and archival collections of rarities from Bolan and the group, and by covers of their songs from acts as diverse as Guns N' Roses, the Violent Femmes, Siouxsie and the Banshees, the Replacements, the Power Station, and the Bongos.