Famed for his work in Buffalo Springfield and Crosby, Stills & Nash, two of pop music's most successful and enduring groups, Stephen Stills was born in Dallas, Texas, on January 3, 1945. He became fascinated by music at a young age, and by the age of 15 was playing professionally. He eventually dropped out of college to move to New York City to try his hand as a folk performer before signing on as a guitar player with the Au Go-Go Singers, where he befriended a fellow bandmate named Richie Furay.
After a tour of Canada (during which they headlined a bill with the Squires, which featured guitarist Neil Young), Stills left the Au Go-Gos in 1965 for Los Angeles, where he became enmeshed in the city's burgeoning folk-rock community. After a series of session gigs and auditions (including one for the TV series The Monkees), in the spring of 1966 Stills enlisted Young, Furay, bassist Bruce Palmer, and drummer Dewey Martin to form the Herd, later dubbed the Buffalo Springfield. A year later, the group issued their eponymous debut; its Stills-penned single "For What It's Worth," made them stars. Internal problems, ego clashes, and drugs were already tearing the band apart, however, and by the release of 1968's Last Time Around, the Springfield had already dissolved.
Stills quickly resurfaced with 1968's Super Session, recorded with fellow guitarists Mike Bloomfield and Al Kooper. A jam session with ex-Byrd David Crosby and former Hollies member Graham Nash led to the formation of the vocal harmony supergroup Crosby, Stills & Nash; released in 1969, their self-titled debut was hugely successful, propelled by the single "Suite: Judy Blue Eyes," written by Stills for folksinger Judy Collins. Later that year, Neil Young joined the loose-knit group, and in 1970, as Crosby, Stills, Nash & Young, they issued Déjà Vu, another major hit.
From its inception, CSNY were designed to allow the individual performers great latitude for their solo work, and following the recording of the group's live LP Four Way Street, in late 1970 Stills released his self-titled solo debut. Sparked by the success of the hit single "Love the One You're With," the album, which featured cameos from Jimi Hendrix and Eric Clapton, was another smash, as was his 1971 follow-up Stephen Stills 2. In 1972, Stills began performing with a new backing unit, Manassas, which featured ex-Byrd and Flying Burrito Brother Chris Hillman; both their eponymous debut and 1973's Down the Road continued Stills' long string of chart successes.
In 1975, he celebrated his signing to Columbia with Stills, followed a year later by Illegal Stills. In the summer of 1976, he planned to tour with Neil Young; however, Young was hampered with throat problems, so Stills took to the road alone, although he and Young did team for the LP Long May You Run. In 1977, Stills reunited with Crosby and Nash for CSN, which sold over four million copies; the following summer, the trio mounted an acoustic tour, and Stills issued the solo record Thoroughfare Gap. CSN continued their reunion throughout the early years of the next decade, teaming in 1980 for Replay and in 1982 for Daylight Again, which featured the hits "Southern Cross" and "Wasted on the Way."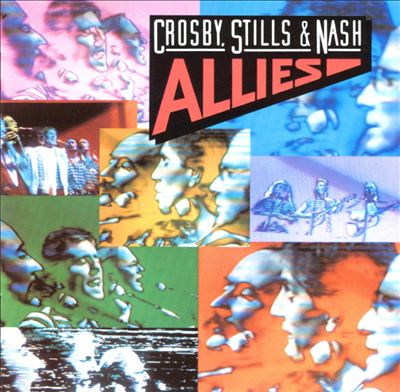 Following 1983's live CSN effort Allies, Stills again went solo for 1984's Right by You. In 1985, Crosby was sent to prison on drug possession charges, and Stills spent much of the late '80s out of the public eye. Following Crosby's release, in 1988 the reconstituted Crosby, Stills, Nash & Young recorded American Dream, followed in 1990 by the CSN release Live It Up. In 1991, Stills issued the solo LP Stills Alone, while CSN's After the Storm appeared in 1994. Stills, Young, and Furay finally reunited as Buffalo Springfield for a pair of shows at Young's annual Bridge School Benefit in the fall of 2010. It wasn't a complete reunion, since bassist Bruce Palmer had died in 2004 and drummer Dewey Martin passed in 2009, but the three singers used drummer Joe Vitale and bassist Rick Rosas to fill in. The same configuration played six concerts in the spring of 2011 but reportedly did no studio work. Afterward, Stills formed the Rides with Kenny Wayne Shepherd and Barry Goldberg. Their debut, Can't Get Enough, arrived in 2013; their second album, Pierced Arrow, followed in 2016. In 2017, Stills released Everybody Knows, a duet album with his former muse Judy Collins.