Although remembered today primarily for one or two songs, in its own time Stealers Wheel bid fair to become Britain's answer to Crosby, Stills, Nash & Young. Only the chronic instability of their lineup stood in their way after a promising start. Gerry Rafferty and Joe Egan had first met at school in Paisley when they were teenagers. Rafferty had seen three years of success as a member of the Humblebums before they split up, and he'd started a solo recording career that was still-born with the commercial failure of his album Can I Have My Money Back? (Transatlantic, 1971). He'd employed Egan as a vocalist on the album, along with Roger Brown. Rafferty and Egan became the core of Stealers Wheel, playing guitar and keyboards, although their real talent lay in their voices, which meshed about as well as any duo this side of Graham Nash and David Crosby -- Brown joined, and Rab Noakes (guitar, vocals) and Ian Campbell (bass) came aboard in 1972. That lineup, however, lasted only a few months. By the time Stealers Wheel was signed to A&M later that year, Brown, Noakes, and Campbell were gone, replaced by guitarist Paul Pilnick, bassist Tony Williams, and drummer Rod Coombes (ex-Juicy Lucy and future Strawbs alumnus). This band, slapped together at the last moment for the recording of their debut album in 1972, proved a winning combination working behind Rafferty's and Egan's voices. Their self-titled debut, produced by Jerry Leiber and Mike Stoller, was a critical and commercial success, yielding the hit "Stuck in the Middle with You" (it hit Top Ten in America and the U.K.). Even this success had its acrimonious side. Rafferty had quit the band by the time Stealers Wheel was released, replaced by Spooky Tooth's Luther Grosvenor, who stayed with the group on tour for much of 1973. DeLisle Harper also came in for the touring version of the band, replacing Tony Williams. With a viable performing unit backing it, the Stealers Wheel album began selling and made number 50 in America, while "Stuck in the Middle with You" became a million-selling single.
As all of that was happening, the group's management persuaded Rafferty to come back, whereupon Grosvenor, Coombes, and Pilnick left. Having been through a dizzying series of changes the previous year, Stealers Wheel essentially ended up following a strategy -- employed for very different reasons -- that paralleled Walter Becker and Donald Fagen in the American band Steely Dan. Egan and Rafferty became Stealers Wheel, officially a duo, with backing musicians employed as needed in the studio and on tour.
There was pressure for more hits. "Everyone Agreed That Everything Will Turn Out Fine" was a modest chart success but the midtempo, leisurely paced "Star" was somewhat more widely heard, cracking into the Top 30 on both sides of the Atlantic. A second album, Ferguslie Park (named for a district in Paisley), completed with session players as per the duo's plan, barely cracked the Top 200 album chart in America (although it was somewhat more popular than that number would indicate, among college students), and that would lead to a poisonous internal situation for the duo, as the pressure on them became even greater. In fact, the record was first-rate, made up of lively, melodic, inventive pop/rock songs.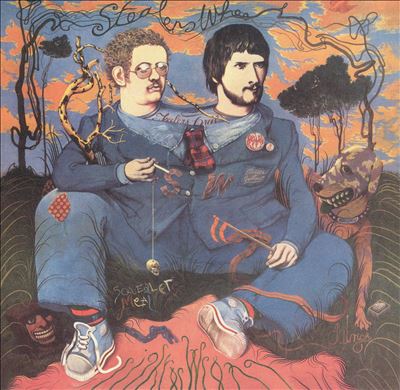 The commercial failure of the second album created a level of tension that all but destroyed the partnership between Egan and Rafferty. Coupled with the departure of Leiber & Stoller, who were having business problems of their own, and the inability of the duo to agree on a complement of studio musicians to help with the next album, Stealers Wheel disappeared for 18 months. Ironically, the contractually mandated final album, Right or Wrong, which emerged at that time, came out a good deal more "right" than anyone could have predicted, given the circumstances of its recording. The group had ceased to exist by the time it was in stores.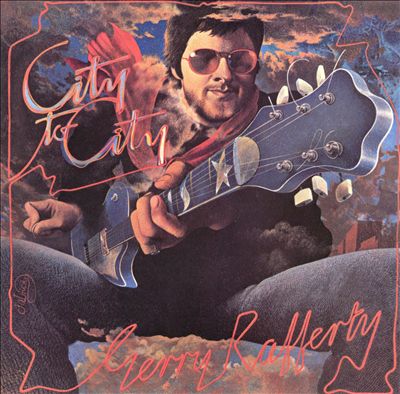 The break-up of Stealers Wheel blighted Rafferty's and Egan's careers for the next three years, as legal disputes with their respective managements prevented either man from recording. After these problems were settled, Egan made a pair of albums for the European-based Ariola label. Rafferty, in the meantime, emerged as a recording star with a mega-hit in 1978 in the form of "Baker Street" and the album City to City.
Stealers Wheel disappeared after 1975, its name and identity retired forever by its two owners (although, ironically, Rafferty did an album in the mid-'90s, Over My Head, on which he reinvented several Stealers Wheel-era song that he'd co-written with Egan). He and Egan have both made records that refer in lyrics to the troubled history of Stealers Wheel, immortalizing their acrimonious history even as at least three best-of European collections of Stealers Wheel material immortalize their music, and "Stuck in the Middle with You" remains a popular '70s oldie, revived on the soundtrack of Quentin Tarantino's movie Reservoir Dogs, and was recut by the Jeff Healey Band.