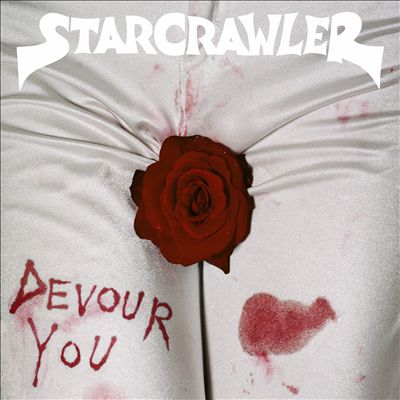 Punk rockers Starcrawler formed in 2015 in Los Angeles, California and quickly formed a sound and attitude that placed them somewhere between the punk/hard rock of fellow L.A. natives the Runaways and the shock tactics of legendary metal band Black Sabbath. With crunchy guitars, melodies that boast a bit of glam-influenced swagger (even when they're in a minor key), and a heavy rhythmic stomp, Starcrawler established their raunchy sonic template on their self-titled 2018 debut album, and upped the ante on 2019's Devour You, which sounded bigger and more aggressive while also boasting a glossier sound. The band expanded from four to five members with 2022's She Said, which boasted a tighter sound and hookier melodies.
The seeds of Starcrawler were sown at Grand Arts High School when Arrow de Wilde met Henri Cash and he asked her to join the fledgling music project he'd started with Austin Smith. As the daughter of musician Aaron Sperske (Beachwood Sparks, Ariel Pink) and photographer Autumn de Wilde -- along with her experience as a model for Teen Vogue and a spot in a Lena Dunham-directed Bleachers video -- her popular culture credentials were already established. Taking up lead vocal duties, she, along with Cash (guitar) and Smith (drums), swiftly recorded the first Starcrawler single, "Ants." Tim Franco was enlisted on bass shortly thereafter, and the single was picked up by Elton John for his Beats 1 radio show.
Cash and de Wilde became the band's primary songwriters, and they gigged extensively across L.A. with psych-rock revivalists the Lemon Twigs. Starcrawler rapidly built a reputation for their wildly campy and theatrical performances. De Wilde made prolific use of fake blood on-stage -- no doubt a nod to her hero Ozzy Osbourne -- and often donned a hospital gown or a straitjacket for shows. At an in-store set at Amoeba Music, the band was introduced to Beck's ten-year-old daughter Tuesday, who would later appear in the cover art for Starcrawler's debut record in a blood-stained dress. They spent 2017 touring hard, appearing at the Foo Fighters' Cal Jam in San Bernardino, Echo Park Rising in L.A., and the Joshua Tree Happening Desert Daze. Their live performances caught the eyes and ears of Ryan Adams, who went on to record the band's first album to analog tape at his own Pax-Am Studio. Their self-titled debut long-player was released by the independent label Rough Trade in January of 2018.
After a long round of touring in North America, Europe, and the United Kingdom, Starcrawler headed back to the studio to cut their second album. Produced by Nick Launay, Devour You was issued in October 2019 and featured a bigger and more robust sound that matched the bombast of their songs. In October 2020, Starcrawler released a limited edition single, "Lizzy" b/w "Bet My Brains," that was recorded live to tape at Third Man Records in Nashville and issued by the same label. That same month, drummer Austin Smith left the group. Starcrawler expanded to a five-piece, replacing the departing Smith with drummer Seth Carolina, and adding Bill Cash, who doubled on guitar and pedal steel. Starcrawler were featured on the soundtrack album for the acclaimed comic book series DC's Dark Nights: Death Metal, released in 2021; they contributed an original song, "Goodtime Girl." In 2022, Starcrawler presented their fans with their third album, She Said. Produced by musician, composer and producer Tyler Bates, She Said was the band's first album for Big Machine Records.