Spirit was a highly regarded rock band that achieved modest commercial success, charting 11 albums in the U.S. between 1968 and 1977. Founded in Los Angeles in 1967 by musicians who had a mixture of rock, pop, folk, blues, classical, and jazz backgrounds, and who ranged in age from 16 to 44, the group had an eclectic musical style in keeping with the early days of progressive rock; they were as likely to play a folk ballad featuring fingerpicked acoustic guitar, a jazz instrumental full of imaginative improvisation, or a driving rhythm tune dominated by acid rock electric guitar playing. The diverse tastes of the original quintet produced a hybrid style that delighted a core audience of fans but proved too wide-ranging to attract a mass following, and at the same time the musicians' acknowledged talents brought them other opportunities that led to the breakup of the original lineup after four years and four albums, then kept them from committing fully to regroupings as their music began to be recognized in later years. While two bandmembers, singer/guitarist Randy California and drummer Ed Cassidy, maintained the Spirit name, the others came and went as their schedules allowed, such that the group never fulfilled its early promise, although, as a vehicle for California's songwriting and guitar playing, it continued to produce worthwhile music until his death.
Randy California was born Randolph Craig Wolfe on February 20, 1951, in Los Angeles, California. His mother, Bernice Pearl, was the sister of Ed Pearl, who owned the Ash Grove, a nightclub in Hollywood, and California, who began playing guitar as a child, grew up listening carefully to the folk, blues, and jazz musicians who performed there. In early 1965, the Rising Sons, a folk-blues group featuring Taj Mahal and Ry Cooder, played the Ash Grove; the band's drummer was Ed Cassidy (born May 4, 1923, in Chicago, Illinois; died December 6, 2012, in San Jose, California), who met and married California's recently divorced mother, becoming his stepfather. Cassidy had been drumming professionally since his teens in almost every conceivable style, though lately largely in jazz groups before he joined the Rising Sons. He left the band after injuring his wrist during a solo.
Meanwhile, California had met two aspiring musicians from the San Fernando Valley, singer/percussionist Jay Ferguson (born John Arden Ferguson, February 5, 1947, in Burbank, California) and bassist Mark Andes (born February 19, 1948, in Philadelphia, Pennsylvania) at a folk music camp, and in September 1965, along with Cassidy and a second guitarist, they formed a band called the Red Roosters that played the Ash Grove.
The Red Roosters broke up when Cassidy moved his family to New York in search of work in the spring of 1966. There California had a fateful encounter with another guitarist at a music store in Manhattan; he met the then-unknown Jimi Hendrix, who was going by the name Jimmy James, and who invited him to join his band, Jimmy James & the Blue Flames, which was appearing at the Café Wha? in Greenwich Village. Since there was already a musician named Randy in the band, bass player Randy Palmer, Hendrix distinguished the two by their home states, calling Palmer "Randy Texas" and Randy Wolfe "Randy California," which he subsequently retained as a stage name. California played with Hendrix that summer, which was when Hendrix was spotted by Animals bassist Chas Chandler, who became his manager and took him to England to form the Jimi Hendrix Experience. Hendrix asked California to go to England with him, but at 15 he was too young. Instead, California moved back to his home state with his mother and stepfather.
After returning west, California and Cassidy formed a band called Spirits Rebellious, after a book by the religious mystic Kahlil Gibran, also featuring pianist John Locke (born September 23, 1943, in Los Angeles, California; died August 4, 2006, in Ojai, California), who had played with Cassidy previously in the New Jazz Trio. In the spring of 1967, California and Cassidy ran into Ferguson and Andes, who had continued to work as musicians while attending UCLA. After the demise of the Red Roosters, they had a band called Western Union, also including Andes' guitar-playing brother, Matt Andes, then Ferguson had tried to launch a solo career while Mark Andes served brief tenures with Yellow Balloon and Canned Heat. They joined Spirits Rebellious, a name soon shortened to Spirit. By June, they were playing gigs and looking for a record contract. With Barry Hansen (later known as Dr. Demento, the novelty-song radio host) producing, they cut a demo tape. They also auditioned for record executive and producer Lou Adler. Adler, best known for his work with the Mamas & the Papas and his company Dunhill Records, had sold Dunhill to ABC Records and formed a new label, Ode Records, which had a distribution deal with Epic Records, an imprint of the major-label CBS Records. Adler signed Spirit to Ode in August 1967.
Adler produced the self-titled debut album Spirit, which was released in January 1968. (Most of the songs were written by Ferguson, though California contributed a delicate instrumental called "Taurus" that would prove inspirational to Led Zeppelin, which based the introduction to the 1971 standard "Stairway to Heaven" on it.) Spurred by the single "Mechanical World," which had some regional success, the LP entered the Billboard chart in April and spent more than six months there, peaking in the Top 40 in September. Spirit toured extensively while working on their second album and preparing a score for French director Jacques Demy's film Model Shop (January 1969), in which they also appeared. (Sundazed Records belatedly released a soundtrack album from the film in 2005.) In October 1968, they issued a single, "I Got a Line on You," a driving rocker written by California. Peaking at number 25 in the Hot 100 in March 1969, it was the group's only Top 40 single. The second album, The Family That Plays Together, followed in December 1968. With the hit single spurring sales, it peaked at number 22 in March 1969. (Ferguson again dominated the songwriting, penning six of the 11 tracks, although California wrote or co-wrote the other five.)
With the accelerated schedules typical of record releases in the '60s, Spirit had to have another album ready quickly, and Clear appeared in July 1969. The album led off with the California/Ferguson composition "Dark Eyed Woman," another rocker in the "I Got a Line on You" mold that was released as a single but did not hit; the LP also contained material written for the Model Shop score that, not surprisingly, sounded like background music. Clear was a disappointment after the success of The Family That Plays Together, peaking at number 55 in October. In December, the band released a one-off single, California's "1984," and it gave early indications of becoming a hit, rising to number 69 by March 1970 before radio became resistant to its ominous lyrics, which referred to the dystopian novel of the same name by George Orwell. Produced by the band itself, it was their last release on Ode. Adler had negotiated a split from CBS in order to move his label to A&M Records, and in so doing he agreed to leave Spirit with Epic. The band then hired David Briggs, who had worked on Neil Young's albums, to produce its fourth LP. Sessions for that album commenced in April 1970, but they were interrupted when California suffered a fractured skull due to a fall from a horse and spent a month in the hospital. A single, Ferguson's "Animal Zoo," emerged in July and grazed the bottom of the charts, but it ultimately took six months to complete the LP, released as Twelve Dreams of Dr. Sardonicus in November.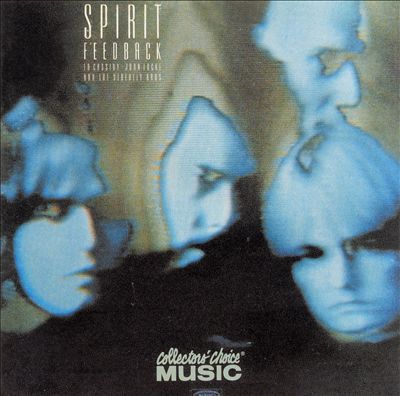 Spirit toured in support of the album during the winter and spring of 1971, but Epic failed to break a successful single from the LP, and it peaked at number 63 in February. Ferguson and Andes, frustrated at the band's lack of broad commercial success, quit Spirit to form a new band, Jo Jo Gunne, with Matt Andes and drummer Curly Smith. Initially, Spirit hired bassist John Arliss and played as a quartet. Then, California quit to launch a solo career. Remaining members Cassidy and Locke brought in two new musicians, brothers Al Staehely (bass) and Chris Staehely (guitar), and in November they began recording a new Spirit album. It appeared in February 1972 under the title Feedback. Like Twelve Dreams of Dr. Sardonicus, it peaked at number 63 in the charts. When Cassidy left the band, followed by Locke, the Staehely brothers brought in a drummer and briefly toured as Spirit. They didn't get away with that for long, but it was easy to see why promoters were interested in having a Spirit band on the road, no matter who was in it. Twelve Dreams of Dr. Sardonicus, though off the charts, had become an FM radio favorite and a perennial seller (it would be certified as a gold record in 1976), and Epic re-released The Family That Plays Together, which reentered the charts in July 1972.
Meanwhile, California had signed a solo contract with Epic and in the fall of 1972 he released his debut album, Kapt. Kopter and the (Fabulous) Twirly Birds. He reconnected with Cassidy, and the two hired a bass player, Larry "Fuzzy" Knight, to tour Europe during the spring of 1973. They also worked on a concept album called Potatoland, but Epic rejected it, and California temporarily dropped out of the music business and moved to Hawaii. Epic released a compilation album, The Best of Spirit, in the summer of 1973 and saw it reach the charts along with a single release of "Mr. Skin," a song from Twelve Dreams of Dr. Sardonicus that was a sly allusion to Cassidy's shaved head. Epic also released a two-fer LP combination of Spirit and Clear, and it too got into the charts. Responding to the resulting demands for a live act, Cassidy, having reacquired legal right to the name Spirit from the Staehely brothers, teamed up again with Knight and added some side musicians to hit the road from July 1973 to April 1974.
After the dissolution of that unit, Cassidy traveled to Hawaii and got back in touch with California. Joined by Mark Andes, who had left Jo Jo Gunne, they began playing dates by September 1974; Locke also performed with them at the start of 1975, but neither he nor Andes stayed permanently. Instead, California and Cassidy hired another bass player, Barry Keene, and carried on. They recorded an album that they shopped, signing to Mercury Records, which released the double-LP Spirit of '76 in May 1975. It made the lower reaches of the charts. They quickly followed in October with Son of Spirit, another modest seller. For Farther Along, released in June 1976, they were again joined by Andes and Locke, as well as Matt Andes. The album spent several weeks in the charts, and in August Ferguson, who had folded Jo Jo Gunne and was preparing a solo career, rejoined for a few shows, marking the first reunion of the original quintet in five years. He did not stay, however, and Mark Andes, who had already launched his new band Firefall, also departed, as did Locke. Once again California and Cassidy engaged a bassist, John Turlep, to continue as a trio.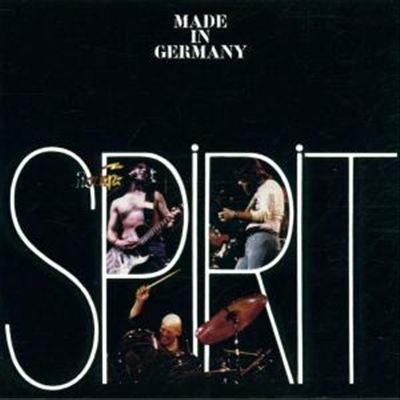 Future Games (A Magical Kahauna Dream), the fourth Spirit album on Mercury, released in January 1977, found California standing alone and bare-chested on the front and back covers, and he played all the instruments on the record. Again, sales again were modest, and the Mercury contract expired. The band toured as a quartet including Locke and Knight, then carried on as a trio when Locke dropped out again. In March 1978, the group toured Europe, and their show at the Rainbow Theatre in London on March 11 was recorded for a live album. The LP appeared that fall on different record labels and in different configurations in different countries. The U.K. version of Live Spirit, released by Illegal Records, contained the Rainbow show; the American version, issued by Spirit's own Potato imprint, substituted some tracks recorded in Florida; and the West German version, titled Made in Germany, included a single track recorded in West Germany.
Spirit became inactive in 1979, as California formed the Randy California Band and Cassidy began playing in a group called the Urge, then joined Rainbow Red Oxidizer. By the fall of 1980, however, they were back together, adding bassist Steve "Liberty" Loria and later keyboardist George Valuck to perform again as Spirit. Spurred by a fan petition sponsored by the British music magazine Dark Star, they found a label, Beggars Banquet, interested in issuing the early-'70s Potatoland project, and they reworked it for release in April 1981, when it appeared under the title The Adventures of Kapt. Kopter and Commander Cassidy in Potatoland and briefly made the U.K. charts. Rhino Records brought the disc out in the U.S. In 1982, California again began performing under his own name, as he released his second solo album, Euro-American, in Europe. The album featured guest performances by the other four original members of Spirit, though they were never all together on one track.
By the end of 1982, however, the quintet did re-form. In the interim since 1976, Ferguson had enjoyed a successful solo career including the Top Ten hit "Thunder Island" and was moving into film soundtrack work; Andes had joined Heart; and Locke had joined Nazareth. Nevertheless, they reunited with California and Cassidy to make a live-in-the-studio recording at the A&M Soundstage in Hollywood that included re-recordings of old Spirit favorites and a few new songs. The album was shopped around and eventually sold to Mercury, which released it in March 1984 in the U.K. under the title The Thirteenth Dream. It appeared that summer in the U.S. renamed Spirit of '84, and the band played a few dates on the West Coast to promote it, but their various commitments made the reunion short-lived. California and Cassidy then recruited keyboard player Scott Monahan and bass player Dave Waterbury and continued to tour into 1985. That spring, California released his third solo album, Restless, again only in Europe, and toured the continent under his own name to promote it. But by late summer, Spirit was again on the road as part of a package tour of '60s acts raising money for the restoration of the Statue of Liberty in a lineup that included California, Cassidy, and Ferguson, along with bassist Freeman James and keyboardist Michael Lewis.
California and Cassidy continued to lead configurations of Spirit over the next few years. After California participated in I.R.S. Records' Night of the Guitar tour, the label signed Spirit for a new album, and Rapture in the Chambers appeared in April 1989 with California, Cassidy, and Locke listed as the bandmembers and Mark Andes, who played bass on two cuts, credited as a guest artist. A year later, Spirit released another new album, Tent of Miracles, on its own Dolphin label with a lineup consisting of California, Cassidy, and Mike Nile. By now, the band had become an established U.S. club act that also undertook yearly tours of Europe. In July 1991, Epic/Legacy released the two-disc retrospective Time Circle (1968-1972), and two months later, Spirit issued its own complementary collection, Chronicles (1967-1992), consisting of previously unreleased recordings, on its own W.E.R.C. C.R.E.W. Records label. In October, the original lineup of California, Cassidy, Ferguson, Andes, and Locke played two concerts opening for the Doobie Brothers, their first appearances together in seven years and the last time that the group was reunited. But California and Cassidy continued to lead other configurations as Spirit for the next five years, releasing Live at La Paloma in 1995 and completing California Blues in 1996. On January 2, 1997, California was swimming with his family off the coast of Molokai, Hawaii, when he and his 12-year-old son Quinn were caught in a riptide. California succeeded in pushing his son to shore, but he was swept out to sea, and his body was never recovered.
Randy California's death meant the end of Spirit, of course, although the indefatigable Cassidy, by now in his seventies, toured with a band called Spirit Revisited. Music journalist Mick Skidmore, while working on a Spirit biography, began to assemble collections of unreleased recordings from California's extensive archives, which were issued in the first decade of the 21st century. These included Cosmic Smile (2000) (on the Phoenix Rising label, produced by Bruce Gary, with liner notes by Skidmore), Sea Dream (2002), Blues from the Soul (2003), Live from the Time Coast (2004), Son of America (2005), The Original Potato Land (2006), Salvation...the Spirit of '74 (2007), and Rock and Roll Planet: 1977-1979 (2008), the last seven put out by the British Acadia label. Meanwhile, Sundazed Records released LPs containing outtakes from Spirit's Ode/Epic discs, Now or Anywhere and Eventide, in 2000, before issuing Model Shop in 2005. Ode/Epic/Legacy had reissued Spirit, The Family That Plays Together, Clear, and Twelve Dreams of Dr. Sardonicus, each with bonus tracks, in 1996, and Mercury had California compile the two-disc The Mercury Years just before his death.
Spirit's catalog was regularly reissued in various editions over the first decade of the 21st century, but it wasn't until 2018 that they received a proper box set treatment. In March, Esoteric Recordings released It Shall Be: The Ode & Epic Recordings 1968-1972; The five-disc set gathered their first five albums (including both mono and stereo mixes of their self-titled debut), and the soundtrack to the 1968 film The Model Shop. Each disc was packed with outtakes, demos, and alternative mixes from 1991's Time Circle compilation. It also included a booklet with a critical and historical essay by Malcolm Dome, as well as archival interviews with California and Cassidy.