During the course of her career, Australian singer/songwriter Sia swiftly ascended from being a guest vocalist to a solo artist and accomplished hitmaker for the likes of Beyoncé, Celine Dion, Kanye West, Eminem, and countless others. On albums such as 2001's Healing Is Difficult and 2004's Colour the Small One -- which featured one of her definitive songs, "Breathe Me" -- Sia established herself as an inimitable presence with a distinctively vulnerable voice, one that would soon crossover into the pop mainstream. As time went on, she expanded her range to include the livelier fare of 2010's We Are Born and 2014's 1000 Forms of Fear, which included her signature Grammy-nominated song "Chandelier." In addition to these solo efforts, she also became an in-demand pop songwriter, with Rihanna's 2013 single "Diamonds" among the biggest hits she wrote for other artists. She penned so many songs for others that the ones left unused were reclaimed and recorded by the artist herself, landing on 2016's This Is Acting, home to "Cheap Thrills," her first single to top the Billboard 100 chart. By 2021, she'd branched out to filmmaking, directing and co-writing Music, which was accompanied by a soundtrack of the same name.
The Adelaide-born Sia Furler was raised in an artistic household by a musician father and art lecturer mother. Influenced by Aretha Franklin, Stevie Wonder, and Sting, she started performing on the local jazz circuit in the '90s as a vocalist for the band Crisp. An attempt to launch a solo career in 1997 didn't pan out, however, and she eventually hopped on a plane to London. While there, she landed a gig as a backup singer for Jamiroquai and inked a solo contract with DancePool, a sublabel of Sony. Sia released her first single "Taken for Granted" in early 2000. Although the song only peaked at number 100 on the Australian charts, it rose to number ten in the U.K. and increased European demand for her debut album, Healing Is Difficult, which followed in 2001. At the same time, a string of high-profile names in the British music scene began asking for Sia's services; offers from Zero 7 and William Orbit ensued. Although some projects only called for Sia to sing on one song, her association with Zero 7 proved to be a recurring event. She ultimately remained with Zero 7 for three albums, serving as the group's go-to vocalist while also furthering her own career with solo releases like Colour the Small One and Some People Have Real Problems.
Meanwhile, Sia also began building an audience in America. One of the songs from Colour the Small One, "Breathe Me," gained attention when it was used in the elaborate final scene of the Six Feet Under series, and the resulting buzz allowed her to enjoy a successful stateside tour. That tour was documented on her first live release, Lady Croissant, in 2007. By the following year, Sia's American audience had increased to the point that Some People Have Real Problems, her third album, debuted at number 26.
Zero 7 began working on another album in 2009, but Sia had already shifted most of her attention to furthering her own career, and the band hired another singer in her place. Working alongside bassist Sam Dixon, she boosted her songwriting cred by writing several songs for Christina Aguilera, who put the songs on her 2010 release, Bionic. Sia also continued writing songs for herself, and We Are Born marked her most upbeat album to date in 2010. It also went on to become very successful, charting around the world and going to number two in Australia. Additionally, she took further steps into the mainstream with a string of hit collaborations with Flo Rida ("Wild Ones") and David Guetta ("Titanium"), the latter of whom became a key artistic partner in the years to come.
As the spotlight grew hotter and brighter, Sia -- whose shy and withdrawn personality was at odds with her public persona -- began to struggle with the pressures of fame. She spent the next few years out of the spotlight, continuing her parallel career as a backroom songwriter for the likes of Madonna, Britney Spears, Beyoncé, Celine Dion, and Rihanna, for whom she wrote the worldwide number one smash hit "Diamonds." In 2013, she started on a new album, working once again with producer Greg Kurstin.
Wary of further emotional anguish brought upon by her newfound level of public exposure, she negotiated a near-unprecedented contract with RCA stipulating that she would not have to tour or do press; her first public appearance to promote the album on The Ellen DeGeneres Show saw her perform her single "Chandelier" with her back to the audience. She also began donning an oversized wig that obscured most of her face, inadvertently creating her own signature look. "Chandelier" was a hit, landing on her sixth full-length album 1000 Forms of Fear, which arrived in July 2014. The LP promptly hit number one in several countries, including the U.S. and Australia, and spawned additional hits "Big Girls Cry" and "Elastic Heart." Furler and Kurstin also reworked existing music and wrote three new songs for the 2014 adaptation of the Broadway musical Annie; one of their new compositions, "Opportunity," was nominated at the 72nd Golden Globe Awards for Best Original Song. At the 77th Annual Grammy Awards, "Chandelier" scored nominations for Record of the Year, Song of the Year, Best Pop Solo Performance, and Best Music Video.
Empowered by the acclaim earned by 1000 Forms of Fear, Sia began work on its follow-up in early 2015. Late that year, the singles "Alive" (which Furler co-wrote with Adele) and "Bird Set Free" heralded the January 2016 release of This Is Acting, a pop-oriented set of previously unrecorded songs she wrote for artists such as Katy Perry, Rihanna, and Adele. In July, "Cheap Thrills" -- the second official single, originally intended for Rihanna -- became Sia's first Billboard 100 chart-topper and was certified platinum around the world. A deluxe edition of the album arrived soon after, bolstered by "The Greatest" featuring Kendrick Lamar.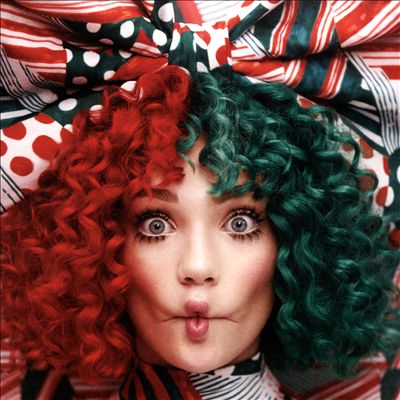 The following year, Sia released several non-album tracks, including the Zayn duet "Dusk 'Til Dawn," the Stargate and P!nk collaboration "Waterfall," and soundtrack contributions for films such as Wonder Woman and My Little Pony. By the end of 2017, she and Kurstin reunited for Everyday Is Christmas, a set of original holiday songs including the single "Santa's Coming for Us." The album was released on Sia's Monkey Puzzle imprint that November. In 2018, Sia teamed up with Labrinth and Diplo under the moniker LSD and issued the single "Thunderclouds," while also contributing the song "Helium" (her sixth collaboration with David Guetta) to the soundtrack for Fifty Shades Darker. The LSD project continued to expand with additional singles "Genius," "Audio," and "No New Friends," with a full-length effort landing in April 2019. The island-kissed psychedelic dance-pop of Labrinth, Sia & Diplo Present LSD included all previously released singles, as well as a remix with Lil Wayne.
In January 2020, she contributed the song "Original" to the Doolittle soundtrack. Later that year, she issued "Together," the first single from her forthcoming film 2021's Music: Songs from and Inspired by the Motion Picture, which she directed and co-wrote. The soundtrack was further promoted with the singles "Courage to Change," the Burna Boy-featuring "Hey Boy," and yet another joint Guetta track, "Floating Through Space."