Projecting a maturity beyond her years, blues singer Shemekia Copeland began making a splash in her own right before she was even out of her teens. Copeland fashioned herself as a powerful, soul-inflected shouter in the tradition of Koko Taylor and Etta James, yet also proved capable of a subtler range of emotions. Her 1998 Alligator debut, Turn the Heat Up!, featured a career-elevating version of "Ghetto Child," a classic by her father, renowned Texas blues guitarist Johnny Copeland, that has been part of her performance repertoire ever since. She released three more acclaimed rough-and-rowdy recordings that decade before revealing a more nuanced, slow-burning persona on Never Going Back in 2009. Over her next two albums, 2012's 33 1/3 and 2015's Outskirts of Love, she not only became a formidable singer but an influential stylist. With 2018's America's Child, she transformed herself into an artist capable of inhabiting any genre of music. She followed with the equally topical Uncivil War in 2020 and Done Come Too Far in 2022.
Copeland was born in Harlem in 1979, and her father encouraged her to sing from the start, even bringing her up on-stage at the Cotton Club when she was just eight. She began to pursue a singing career in earnest at age 16, when her father's health began to decline due to heart disease; he took Shemekia on tour with him as his opening act, which helped establish her name on the blues circuit. She landed a record deal with Alligator, which issued her debut album, Turn the Heat Up!, in 1998 when she was just 19 (sadly, her father didn't live to see the occasion).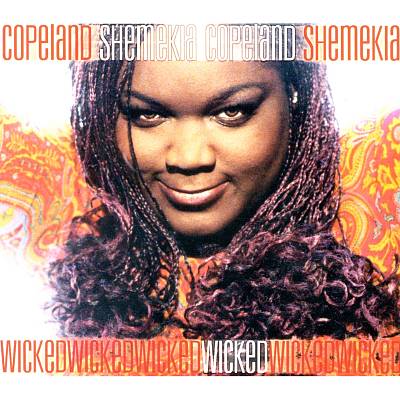 While the influences on Copeland's style were crystal clear, the record was met with enthusiastic reviews praising its energy and passion. Marked as a hot young newcomer to watch, she toured the blues festival circuit in America and Europe, and landed a fair amount of publicity. Her second album, Wicked, was released in 2000 and featured a duet with one of her heroes, early R&B diva Ruth Brown. Wicked earned Copeland a slew of W.C. Handy Blues Award nominations and she walked off with three: Song of the Year, Blues Album of the Year, and Contemporary Female Artist of the Year. The follow-up record, Talking to Strangers, was produced by legendary pianist Dr. John and featured songs that she proudly claimed were her best yet. The Soul Truth, produced by Steve Cropper, was issued by Alligator Records in 2005. Never Going Back followed in 2009 from Telarc Blues and was produced by the Wood Brothers' Oliver Wood. 33 1/3 appeared in 2012 and was again produced by Wood and issued by Telarc.
Copeland returned to Alligator for the release of 2015's Outskirts of Love, which featured guest appearances from Robert Randolph, Alvin Youngblood Hart, and Billy Gibbons of ZZ Top. The album was nominated for a Grammy in the Best Blues Album category. In 2017, Copeland gave birth to a son and, deeply inspired by the experience, she shifted direction. She chose to record in Nashville and enlisted producer/guitarist Will Kimbrough -- who in turn enlisted guests who included John Prine, Mary Gauthier, Emmylou Harris, Steve Cropper, and more. With guidance from Kimbrough, Copeland dug deep and completed a resonant program of soul, Americana, blues, and country with 2018's America's Child. Kimbrough returned as producer for 2020's Grammy-nominated Uncivil War, 12 songs that mixed political and social commentary with more personal themes; guest artists included Jason Isbell, Steve Cropper, and Duane Eddy.
In 2022, Copeland issued Done Come Too Far. Recorded in Nashville with producer Will Kimbrough the set was staffed by an A-list guest roster that included Sonny Landreth, Cedric Burnside, and Kenny Brown, Charles Hodges, Oliver Wood (Wood Brothers), Aaron Lee Tasjan, and Pat Sansone (Wilco). Topically, the songs balanced the themes on her previous two outings, completing an unofficial topical trilogy.