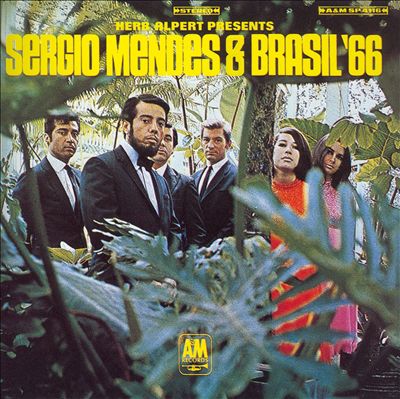 One of the biggest crossover Brazilian pop artists of his generation, Sergio Mendes helped define the sound of Latin pop and dance music in the 20th century. For most of the second half of the '60s, Mendes was the top-selling Brazilian artist in the United States, charting huge hit singles like "Mas Que Nada" and LPs like Herb Alpert Presents Sergio Mendes & Brasil '66 that regularly made the Top Five. His records with his group Brasil '66 regularly straddled the domestic pop and international markets in America, getting played heavily on AM radio stations, both rock and easy listening, and he gave his label, A&M, something to offer light jazz listeners beyond the work of the company's co-founder, Herb Alpert. During this period, he also became an international music star and one of the most popular musicians in South America. Ever evolving, Mendes has continued to develop his sound, including re-exploring Bahian rhythms on 1993's Grammy-winning Brasileiro, and even embracing new sounds including electronic dance music and hip-hop, as he did on 2008's will.i.am-produced Encanto and 2014's Magic.
Born the son of a physician in Niteroi, Brazil, Mendes began studying music at the local conservatory while still a boy, with the intention of becoming a classical pianist. He was living in Rio de Janeiro as the bossa nova craze hit in the mid- to late '50s, and at age 15, he abandoned classical music in favor of bossa nova. Mendes began spending time with other young Brazilian musicians in Rio de Janeiro, absorbing the musical ferment around him in the company of such figures as Antonio Carlos Jobim and João Gilberto. Their company was augmented by the periodic visits of American jazz giants such as Stan Getz, Dizzy Gillespie, Charlie Byrd, Paul Winter, Roy Eldridge, and Herbie Mann. Mendes became the leader of his own group, the Sexteto Bossa Rio, and was heard with them by many visiting musicians. He made his first recording, Dance Moderno, in 1961 on the Philips Records label. By 1962, Mendes and his band were playing at Birdland in New York in an impromptu performance with Cannonball Adderley (who was officially on the bill). Mendes and Adderley cut an album together for Capitol that was released later that year.
His early music, represented on albums like Bossa Nova York and Girl from Ipanema, was heavily influenced by Antonio Carlos Jobim, on whose recordings Mendes worked. Mendes liked what he saw on his visit to New York, and in 1964 he moved to the United States, initially playing on albums with Jobim and Art Farmer, and forming Brasil '65 the following year. The group recorded for Capitol without attracting too much notice at first. In 1966, however, Mendes and his band -- renamed Brasil '66 -- were signed to A&M Records and something seemed to click between the group and its audience.
Brasil '66, consisting in its first A&M incarnation of Mendes on keyboards, Bob Matthews on bass, João Palma on drums, Jose Soares as percussionist, Lani Hall (A&M's co-founder) on vocals, and Janis Hansen on vocals, was successful upon the release of its first album for the label, with its mix of light jazz, a bossa nova beat, and contemporary soft pop melodies. Their self-titled debut LP rose to number six nationally, propelled by the presence of the single "Mas Que Nada." Their second album, Equinox, yielded a trio of minor hits, "Night and Day," "Constant Rain (Chove Chuva)," and "For Me," but their third, Look Around, rose to number five behind a number three single of the group's cover of the Beatles' "Fool on the Hill" and an accompanying hit with "Scarborough Fair," based on the Simon & Garfunkel version of the folk song. Crystal Illusions, from 1969, featured a version of Otis Redding's "(Sittin' On) The Dock of the Bay" and the hit single "Pretty World." Depending upon one's sensibilities, these covers -- especially "Fool on the Hill" and "Scarborough Fair" -- were either legitimate, internationalized pop versions of the originals, or they were "elevator music."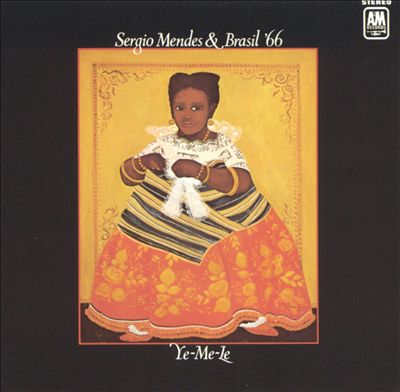 During this period, Mendes also made several recordings for Atlantic, principally aimed at a light jazz audience, and several of them in association with Jobim. Art Farmer, Phil Woods, Hubert Laws, and Claire Fisher were among the jazz figures who appeared on these records, which never remotely attracted the same level of interest or sales as his records with Brasil '66. Mendes successfully walked a fine line between international and domestic audiences for most of the late '60s until the end of the decade. Ye-Me-Le was notably less successful than its predecessors, and its single, "Wichita Lineman," was only a minor hit. Mendes seemed to lose his commercial edge with the turn of the decade, and his next two A&M albums -- Stillness, a folk-based collection that contained covers of Joni Mitchell's "Chelsea Morning" and Stephen Stills' "For What It's Worth" and Primal Roots, an album of traditional Brazilian music -- failed to make any impression on the charts whatsoever.
The group moved to the much smaller Bell Records label in 1973, and then Mendes jumped to Elektra for his first official solo album, Sergio Mendes. He relaunched his recording career two years later with Sergio Mendes & Brasil '77 to little avail, and then, after a five-year layoff from the public eye, Mendes returned to A&M in 1982. His 1983 comeback album, Sergio Mendes, was his first Top 40 album in nearly a decade-and-a-half, and was accompanied by his biggest chart single ever, "Never Gonna Let You Go," which hit number four. Since then, Mendes has had limited chart success with the single "Alibis" and the LP Confetti. He remained a popular figure internationally, even when his record sales slumped in America, as evidenced by the fact that his entire A&M catalog (and much of his Atlantic work) from the '60s has been reissued on CD in Japan. Indeed, his popularity in the rest of the world, versus America, was even the basis for a comic vignette in one episode of the television series Seinfeld.
Well into his fourth decade as a performer, Mendes continued to work at a steady pace, assembling groups like Brasil '99 and Brasil 2000, and integrating the sounds of Bahian hip-hop into his music. In 1997, A&M's British division released a remastered double-CD set of the best of Mendes' music from his first seven years on the label. Most of Mendes' back catalog was reissued as the 21st century dawned, and in 2006, Concord Records released Timeless, his first album of newly recorded material in eight years. A mere two years later, Encanto appeared, including co-productions from will.i.am of Black Eyed Peas. A third album on Concord, Bom Tempo, was released in 2010.
After appearances at numerous festivals and a global tour, Mendes took a short break before beginning to record again. He signed to Sony's revived OKeh imprint and cut a completely new set of songs in Los Angeles, Salvador, and Bahia, with a host of special guests and old friends, including John Legend, will.i.am., and Brazilian artists such as Carlinhos Brown, with whom he cut the first single, "One Nation," issued on One Love, One Rhythm: The 2014 FIFA World Cup Official Album. Magic was released that September. In 2019, he issued the studio album In the Key of Joy, which was released in conjunction with a documentary film about his life. Included on the album were guest appearances by Common, Hermeto Pascoal, João Donato, and others.