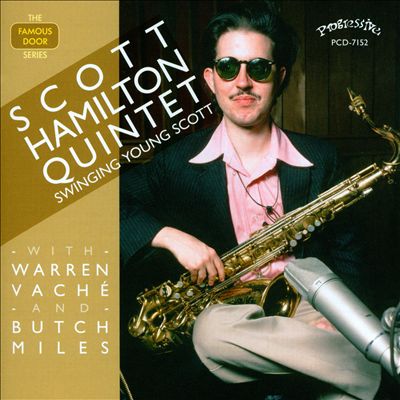 A swinging tenor saxophonist with a warm tone and supple feel, Scott Hamilton first emerged in the '70s playing a style that hearkened back to the pre-bebop sound of artists like Ben Webster and Zoot Sims. It was a style that helped Hamilton stand out from his contemporaries, especially during the electrified era of fusion jazz. Signed to Concord, he issued a string of celebrated albums for the label, like 1977's Swinging Young Scott, 1979's Tenorshoes, and 1986's The Right Time, all of which showcased his knack for acoustic jazz, blues, and standards. He gained respect from both contemporary players and veterans, famously touring as a member of legendary clarinetist and bandleader Benny Goodman's small group. Along with contemporaries like cornetist Warren Vache, saxophonist Harry Allen, and saxophonist Scott Robinson, he has continued to keep older jazz traditions alive, playing with swing veterans like guitarist Bucky Pizzarelli, as he did on 1998's Red Door: Remember Zoot Sims, and issuing elegant sessions from his adopted home of Italy, like 2019's Danish Ballads & More.
Born in 1954 in Providence, Rhode Island, Hamilton first became interested in jazz while listening to his father's record collection. Initially starting out on drums at age five, he also played piano, harmonica, and clarinet before settling on tenor saxophone at around age 16. Influenced by players like Johnny Hodges, Ben Webster, Coleman Hawkins, and Zoot Sims, he progressed quickly and by the time he graduated high school, was already playing gigs and sitting in at clubs. It was during these early years that he met and sat in with legendary swing trumpeter Roy Eldridge at a club in Boston. Eldridge encouraged the up-and-coming saxophonist to move to New York, which Hamilton did in 1976 at the age of 22. There, he picked up a six-week stint playing at Michael's Pub, and was able to meet and work with other veteran jazz luminaries like Hank Jones, Vic Dickenson, Anita O'Day, and Illinois Jacquet, among others.
In 1977, he made his recorded debut for Concord with Scott Hamilton Is a Good Wind Who Is Blowing Us No Ill, featuring trumpeter Bill Berry, pianist Nat Pierce, bassist Monty Budwig, and drummer Jake Hanna. More albums followed on the label, including Scott II, Scott Hamilton and Warren Vache (With Scott's Band in New York), and 1979's Tenorshoes. Also during this period, he joined Benny Goodman's small group, playing with the legendary bandleader as well as Vache, guitarist Chris Flory, and others throughout the late '70s and early '80s. Hamilton kept the traditional jazz torch burning through the '80s, issuing albums like 1982's Close Up, 1985's First Up with cornetist Ruby Braff, and 1986's Major League with Jake Hanna and Dave McKenna. There were also dates with Flip Phillips, Benny Carter, and the Concord All-Stars. In 1986, he earned a Grammy nomination for his contribution to Gerry Mulligan's album Soft Lights & Sweet Music.
In the '90s, Hamilton moved to England, settling in London and forming a quartet with pianist John Pearce, bassist Dave Green, and drummer Steve Brown. Nonetheless, he remained connected to Concord, releasing albums like 1993's East of the Sun, 1995's My Romance, and 1997's After Hours. He also paired for albums with guitarist Bucky Pizzarelli, guitarist Jimmy Bruno, and vocalist Rosemary Clooney. Jazz Signatures arrived in 2001 and featured songs by some of Hamilton's favorite artists like Illinois Jacquet, Benny Carter, and Don Byas. He paired with fellow saxophonist Harry Allen for 2004's Heavy Juice and joined pianist Bill Charlap, bassist Peter Washington, and drummer Kenny Washington for 2005's Back in New York.
Sometime in the late 2000s, Hamilton moved to the Tuscany region of Italy where he remained active touring. He also rounded out his long association with Concord by releasing 2006's Nocturnes & Serenades and 2008's Across the Tracks. Following his move to Italy, Hamilton issued a string of albums on smaller labels including 2010's Midnight at NOLA's Penthouse with pianist Rossano Sportiello, 2011's A Splendid Trio with guitarist Howard Alden, and 2012's 'Round Midnight with saxophonist Harry Allen. He also recorded projects with Jan Lundgren, Karin Krog, and Andrea Pozza. He collaborated with pianist/vocalist Champian Fulton for 2017's Things We Did Last Summer, and returned the following year with the quartet date Moon Mist, featuring pianist Dena DeRose, bassist Ignasi Gonzalez, and drummer Jo Krause. Another quartet date, Danish Ballads & More, arrived in 2019.