A truly singular figure in rock music, Robert Fripp is a guitarist, composer, and bandleader who has brought a unique, strikingly intelligent perspective to his work. One of the most technically gifted guitarists in rock, Fripp is the thinking-person's guitar hero, showing no interest in shredding but eager to challenge himself and blaze new trails with unusual techniques, unique group configurations, and collaborations with other open-minded talents. Capable of arena-filling bombast and intimate improvised meditations, the unifying elements in Fripp's style are his highly textured melodic sense, at once jagged and fluid, and a tone that embraces the possibilities of sustain and non-conventional picking and tuning systems. Most comfortable working outside the mainstream of the music industry, Fripp has described himself as "a small, independent, mobile, and intelligent unit," and he's applied his gifts to a diverse range of projects -- the adventurous prog rock of his various incarnations of King Crimson, his solo recordings based on his "Frippertronics" and "Soundscapes" looping methods, collaborations with the likes of Brian Eno, David Bowie, Peter Gabriel, and David Sylvian, production work for the Roches and Daryl Hall, leading his forward-thinking acoustic ensemble the League of Crafty Guitarists, playing on sessions for Talking Heads and Blondie, and writing about the challenges and rewards of life as an independent musician on his website and in magazines.
Robert Fripp was born on May 16, 1946 in Wimborne Minster, Dorset, Essex, England. Fripp got his first guitar as a Christmas present when he was 11 years old, and while the cheap acoustic instrument wasn't especially good, he quickly took to it and was soon taking lessons to improve his technique. Initially interested in rock & roll, young Fripp became passionate about jazz as his technique improved, though he continued to listen to rock and in 1961 formed a band known as the Ravens with his friends. The band broke up after a year, and after he completed his O levels, Fripp worked in his father's office for a spell before deciding he wanted to pursue a career in music. He played in a jazz combo called the Douglas Ward Trio as well as forming a rock band called the League of Gentlemen, but in 1965 he put the band on hold and went to college to study economics and history. While at Bournemouth College, he met other aspiring musicians, including Greg Lake and John Wetton, and landed another gig with a jazz group. As psychedelia began making itself known, Fripp embraced the adventurous sounds of the Beatles and Jimi Hendrix, as well as the classical compositions of Béla Bartók and Antonín Dvořák, and he became increasingly convinced he was meant to be a musician.
In 1967, Fripp answered an ad from a pair of musicians, bassist Peter Giles and drummer Michael Giles, who were looking for a keyboard player who could sing. While Fripp fell into neither category, the Giles Brothers liked his guitar work, and they soon formed a trio, Giles, Giles and Fripp. With a playful mixture of folk, rock, and psychedelia, the trio soon landed a deal with Deram Records, issuing the album The Cheerful Insanity of Giles, Giles and Fripp in 1968. The album was a critical success but a commercial failure, and Fripp, Michael Giles, and multi-instrumentalist Ian McDonald (who had worked with GG&F) left to form their own group. Fripp brought in his friend Greg Lake to play bass and sing lead, while Peter Sinfield wrote lyrics and created visuals for the new group. They took the name King Crimson, and their debut album, 1969's In the Court of the Crimson King, was an immediate success; its blend of heavy rock, jazz, and classical elements represented one of the first salvos in what would come to be known as progressive rock. King Crimson quickly made Fripp a rock star, but as his contributions came to dominate the group's creative approach, their membership changed frequently, and by 1971's Islands, Fripp was the only original member still in the band, as well as their only songwriter. With 1974's Red, King Crimson was reduced to a trio of Fripp, bassist John Wetton, and drummer Bill Bruford, joined by a handful of session musicians on wind instruments. While many believed the album would revive King Crimson's commercial prospects, Fripp had soured on the project, and in October 1974, shortly before Red was released, he pulled the plug on the band. A collection of live recordings from KC's final year, USA, followed in 1975.
In the later years of King Crimson, Fripp had begun working with former Roxy Music keyboardist Brian Eno, and Eno introduced Fripp to a method of using tape loops with a pair of reel-to-reel decks to build musical foundations that he could add to or solo over. Calling the technique "Frippertronics," their experiments with the method would be at the heart of two albums Fripp and Eno made together, 1973's (No Pussyfooting) and 1975's Evening Star. Fripp also became a key contributor to Eno's albums Here Come the Warm Jets (1974) and Another Green World (1975), and when Eno was producing David Bowie's 1977 album Heroes, he called upon Fripp to add a memorable guitar line to the title track, as well as the impressionistic suite of songs that formed the LP's second side. As the '70s wore on, Fripp found a receptive audience for his music among the fans of the burgeoning new wave, with many leading artists on the scene influenced by Fripp's collaborations with Eno. In 1978, he appeared on Blondie's breakthrough album Parallel Lines, and in 1979 he guested on Talking Heads' celebrated third album, Fear of Music. Fripp also added guitar work to the first three self-titled albums by another prog rock figure who was finding favor with new music fans, Peter Gabriel.
In 1979, Fripp released his first solo album, Exposure, where he embraced adventurous and stripped-down rock, Frippertronics guitar pieces, and pop sounds in one eclectic package; the album also featured guest vocals from Gabriel, Terre Roche, and Daryl Hall. (Fripp produced Hall's first solo album, Sacred Songs, which was recorded in 1977 but went unreleased until 1980, and he also produced two albums for Terre's group the Roches, their self-titled 1979 debut and 1982's Keep on Doing.) A second solo set from Fripp, God Save the Queen/Under Heavy Manners, followed in 1980, with one side devoted to Frippertronics improvisations and the other featuring a more danceable variant he called Discotronics. Another Frippertronics album, Let the Power Fall, came in 1981. That same year, Fripp recruited keyboard man Barry Andrews, bassist Sara Lee, and drummer Johnny Toobad for what he called a "second-division touring new wave instrumental dance band." He called the quartet the League of Gentlemen (no relation to his group of the '60s), and they released a studio album and toured extensively.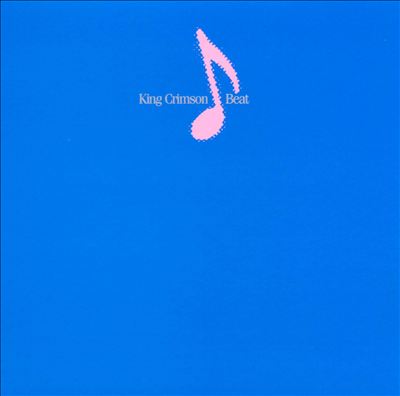 The year 1981 also saw Fripp forming another new group with former King Crimson drummer Bill Bruford, guitarist Adrian Belew (who had worked with Frank Zappa and Talking Heads), and bassist/Chapman stick player Tony Levin. The new band was originally named Discipline, but Fripp found the group's way of working was consistent with that of King Crimson, and he gave the new quartet the name of his best-known project. The second edition of King Crimson debuted with the 1981 album Discipline, followed by 1982's Beat and 1984's Three of a Perfect Pair; the wiry melodic approach appealed to Fripp's new wave fans, while the combo's impressive instrumental skills pleased prog-rock adherents, and the three albums were critical and commercial successes. During this period, Fripp also recorded a pair of collaborative albums with an old friend from his days playing jazz, Andy Summers, who was enjoying major success with the group the Police (1982's I Advance Masked and 1984's Bewitched).
In 1985, Fripp was invited to teach a course at West Virginia's American Society for Continuous Education, and he designed a course for acoustic guitar he called Guitar Craft. Combining music with personal development, Guitar Craft found Fripp introducing his students to new tuning systems and more ergonomically friendly ways of picking and holding the instrument in addition to basic technique. Fripp formed an ensemble with a number of his students, the League of Crafty Guitarists, who released the first of four albums in 1986. (Members of the League of Crafty Guitarists would go on to form the offshoot project the California Guitar Trio.) In 1985, Fripp also played on Alchemy: An Index of Possibilities, an album by former Japan frontman David Sylvian. Fripp went on to become a frequent guest on Sylvian's recordings, and they would create three fully collaborative efforts, 1993's The First Day, 1993's Darshan (The Road to Graceland), and 1994's Damage: Live.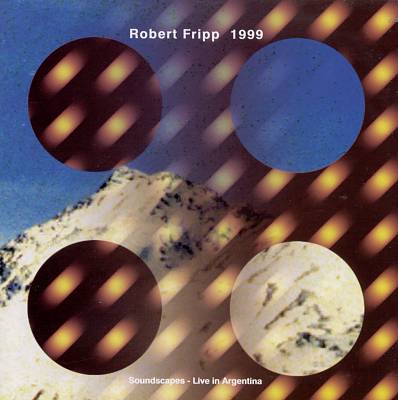 Fripp had long been outspoken regarding what he believed to be the unfair manner in which major record labels treated their artists, and in 1992, in tandem with David Singleton, he formed his own label, Discipline Global Mobile, an independent imprint that would release material by Fripp, King Crimson, and related artists, with the creators having full control of their work and owning their own copyrights. In 1994, Fripp delivered the first in a series of Soundscape releases, 1999 Soundscapes: Live in Argentina, in which he adapted his Frippertronics style to digital looping devices. 1994 also saw Fripp once again resurrect King Crimson, this time in a "double trio" format, with Fripp, Belew, Levin, and Bruford joined by Trey Gunn on Warr guitar and Chapman stick and Pat Mastelotto on drums. This version of King Crimson debuted with an EP, 1994's Vrooom, followed by a full-length album, 1995's Thrak. Keeping the double trio together proved logistically difficult, and Fripp began performing with various members of the band in configurations he called ProjeKcts, usually in improvisational performances documented on a series of live albums. By 2000, Fripp had reconfigured King Crimson into a quartet featuring Fripp, Belew, Gunn, and Mastelotto, releasing the studio albums The ConstruKction of Light in 2000 and The Power to Believe in 2003. The double trio was revived in 2007 with the addition of Tony Levin and drummer Gavin Harrison, and this lineup toured the United States in 2008. However, in 2010, Fripp announced that King Crimson was once again on pause.
During the third era of King Crimson, Fripp also had a number of other irons in the fire. He was part of a 2004 concert tour with Steve Vai and Joe Satriani titled G3, and he joined drummer Bill Rieflin's improvisational ensemble Slow Music for tours in 2005 and 2006. In 2008, Fripp recorded an album with saxophone player Theo Travis entitled Thread, and the pair eventually released two more albums in 2012, Follow and Discretion. In August 2012, Fripp revealed in an interview that he had retired as a musician, citing his frustrations with the music business. (He was mired in a long-standing lawsuit with Universal Music Group relating to King Crimson's former association with the label and management firm EG Music.) Thankfully, Fripp soon reached a satisfactory settlement with UMG, and in September 2013, he unveiled yet another incarnation of King Crimson, this time in a truly unusual format that featured three drummers -- Pat Mastelotto, Gavin Harrison, and Bill Rieflin -- along with Fripp, Tony Levin, Mel Collins on flute and saxophone, and Jakko Jakszyk on guitar and vocals. The seven-piece King Crimson toured extensively, with their work documented on the concert albums Live at the Orpheum (2015) and Radical Action to Unseat the Hold of Monkey Mind (2016).
Fripp is the primary producer of King Crimson's touring and self-released compilations -- including the voluminous King Crimson Collector's Club archival releases that started in 2017 and number more than 50 volumes in 2021 -- as well as shows collected in the various Elements tour box sets. In 2018, Fripp issued Between the Silence in collaboration with Theo Travis. In 2021, he released series of archival Frippertronics performances as Music for Quiet Moments, and Leviathan, an album-length collaboration with electronic group the Grid.