Steel-string guitarist, singer, and composer Robbie Basho was an enigma. Dubbed by fans the "Father of American Raga," he classified his music as "Zen Buddhist cowboy songs." Easily as proficient on 12-string guitar as on six-string, his playing and singing were deeply influenced by and reflective of East Indian, Asian, and 20th century classical musics, harmonic and dissonant improvisation, Persian modalism, Native American chants, and modal blues. A member of Takoma Records' "Big Three" with John Fahey and Leo Kottke, Basho was easily the most challenging to listen to and easily the most obscure. After his strange death in 1986, he was almost totally forgotten for a decade. A renewal of interest by other musicians and record collectors in the '90s paved the way for a true resurgence of his influence. His earliest Takoma dates, including 1965's The Seal of the Blue Lotus and 1966's The Grail & The Lotus, are considered classics of the American Raga style. With 1967's Falconer's Arm I and 1968's Falconer's Arm II, the guitarist stretched himself to explore the primitive roots of raga, Persian folk, flamenco, and North American Indian traditions. His early-'70s albums for Vanguard -- The Voice of the Eagle and Zarthus -- showcased a devotion to Native American culture and silent guru Meher Baba. Basho's late period was difficult: He had trouble finding gigs or a record deal. His first offering for the Windham Hill label was the widely celebrated Visions of the Country in 1978. It arrived after a four-year period without a contract. His final album, Twilight Peaks in 1984, was initially released on his own Basho Productions label.
Basho's life was as steeped in mystery and myth as his music. He was born in Baltimore and orphaned as an infant. His vital statistics remain sealed. He was adopted by the Robinson family and named Daniel Robinson, Jr., after its patriarch. As a youth he sang in ensembles and played the euphonium in his high school band. As a pre-med student at the University of Maryland he became interested in folk music and the acoustic guitar. There he met John Fahey, a philosophy and religion major, ED Denson, who was studying physics, and Max Ochs, who knew Denson from a creative writing class. Fahey, Ochs, and Basho became professional musicians, and Denson and Fahey founded Takoma Records. In an interview, Leo Kottke cited Basho as an early influence. He admitted to following Basho and his guitar around from place to place as a high school student, fascinated by his eccentricity and his playing. Basho moved to Berkeley, California in the early '60s to attend graduate school.
His personal and musical journeys were filled with intense experiences. In Fahey's liner notes to the Bashovia compilation in 2000, he claimed Basho received his stage name "…after spending a night on a mountaintop and ingesting a great deal of peyote." When he came down in the morning, he claimed to be the reincarnation of 15th century Japanese poet Matsuo Basho. He began performing in folk music in clubs and bars in and around Berkeley, but, after hearing Ravi Shankar, his musical interests quickly broadened. Grounded in western folk and fingerpicking techniques, he began to incorporate Eastern modes and scales into long, raga-like epic songs and improvisations that combined his love of raga, koto music, and European classical techniques (in particular the piano music of Bela Bartok) with Western guitar tunings, emerging with an ever-evolving American raga improvisational style on the acoustic steel-string guitar. Basho signed on to Takoma and released his debut offering, The Seal of the Blue Lotus, in 1965, which was deeply indebted to the influence of Shankar. Its follow-up, The Grail & the Lotus, recorded the same year but released in 1966, included six extended pieces that blended American, Asian, and Indian folk styles and improvisations. In 1967, in a direct attempt to widen his appeal, he issued Basho Sings, a semi-typical mid-'60s folk outing. His complex and seductive guitar lines were scaled back as he juxtaposed Middle Eastern-themed singing and middle-of-the-road blues. There are some hints as to his later vocal stylings, but other songs sound a little too reminiscent of Tim Buckley's early period.
Basho began studying with Indian Hindustani sarod master Ali Akbar Khan, who was in the U.S. at the time, and consequently his music began to expand even further. He returned with the two volumes of Falconer's Arm in 1967 and 1968, respectively. Playing mainly 12-string, these outings were deeply satisfying continuations of the explorations on his earlier records, with tinges of flamenco and Spanish medieval modalism. The tunes were denser and more complex. His guitar indulged unusual tunings of his own devising. The second of these outings featured vocals and included the classic "Song of the Snowy Ranges."
In 1969, Basho recorded Venus in Cancer for Blue Thumb Records. Split between fiery instrumentals and otherworldly vocal tracks, it was somewhat savaged upon reception, given the general public's ignorance of his Sufi-inspired singing. While his playing grounded itself in Appalachian folk roots, its speed and complexity contrasted with his use of Far Eastern classical stasis. It flopped. Tompkins Square remastered and reissued it in the 21st century to great acclaim. Basho renounced drugs after becoming a follower of silent Persian mystic Meher Baba and joined Sufism Reoriented; the institution still owns several of his written scores and poems. He adhered to Baba's consistent practices for sleep, diet, exercise, and work. He also experimented with Chinese medicine, acupuncture and massage, and tried several diets such as macrobiotics and vegetarianism. In 1971, Basho issued Song of the Stallion, his final album for Takoma. It was the first time that the enigmatic quality of his singing matched the intense technique in his playing. It explored modern Western classical music transfigured by roots-folk sounds and minor-key modal explorations with great speed. The album included three of his best-known compositions "North American Raga," "Hajj," and the title track.
The guitarist signed to Vanguard for 1972's The Voice of the Eagle, "dedicated to Avatar Meher Baba, and in the spirit of love and respect to the American Indian." All but one of its nine songs are vocal. The tunes were mostly inspired by Native American music and culture. He took great pains to explain the Native American elements in his music in the set's liner notes. The song structures are sometimes more like indigenous chants and ceremonies than conventional folk numbers. Entwined with his voluminous vibrato singing, the record proved puzzling to fans at the time. He followed it with Zarthus in 1974. He described the album in his liner essay as "…an album of Persian, Arabic, Westerns Themes (sic), woven together into a single '"Fabric D'Amour" to cover the barren manekin (sic) of modern times." It is perhaps the recording that most indulges his obsessions with Eastern modal scales, odd meters, and Western classical music. Its title track and "Khoda é Gul é Abe" are driving 12-string numbers, possessed as much by the rhythm of the mridingham as they are the guitarist's open-tonal wandering on the fretboard. On "Mehera" and "Khalil Gibran," Basho employs the use of a piano as well as guitars and voice. For those put off by the singing on The Voice of the Eagle, this set is easier to take in because of a more consciously melodic, if oddly constructed melodies accompanied by spiritually inspired lyrics. The album's capper is the 19 minute "Rhapsody in Druz.," arguably, Basho's most highly regarded composition. Its first half is a love song to a spiritual master, while the latter half is an exercise in droning strings from both piano and guitars; they rumble microtonally against one another in tandem.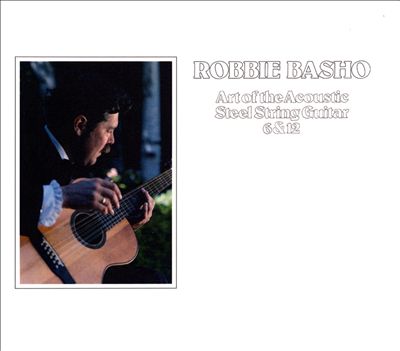 The record didn't sell, and Basho left Vanguard. He was without a label for four years. With no new product, and virtually all of his albums out of print, it became increasingly difficult to find gigs. In 1978, former student and guitarist Will Ackerman signed Basho to his burgeoning Windham Hill label. He released Visions of the Country as its fifth release. Though its reissue in the 21st century is regarded as a lost classic, it died on the vine at Windham Hill; it was deleted shortly thereafter, perhaps due to the use of vocals -- not something normally associated with Windham Hill. He cut a follow-up for Lost Lake Arts -- a cassette subsidiary -- The Art of the Steel String Guitar 6 & 12 (his first complete instrumental outing since his Takoma days). Due to poor distribution, it sank from sight. In 1981, Basho delivered Rainbow Thunder: Songs of the American West on his own Silver Label Recordings. It included reworkings of three songs from his Vanguard period, as well as a slew of new ones, often with accompaniment from drums, and piano. It included only one instrumental selection. While Lost Lake Arts reissued Art of the Steel String Guitar 6 & 12, Basho founded Basho Productions and released the obscure Bouquet in 1983, featuring songs, instrumentals, and poetry. He also self-issued his final album, the instrumental solo outing Twilight Peaks. Initially released by the cassette-only the Relaxation Company, it was subsequently issued on LP in Belgium by Smeraldina-Rima.
On February 26, 1986, Basho was getting worked on by his regular chiropractor, whom he had been seeing for a decade. When the doctor shifted Basho's head back, a vertebral artery in his neck accidently ruptured. Basho had a massive stroke. He was rushed to Alta Bates Hospital in Berkeley confused and disoriented with slurred speech. In the exam room the doctors discovered the musician's artery was torn. Basho subsequently fell into a coma and was put on a respirator. He passed away on February 28, 1986, aged 45.
At the time of his death, Basho was quite obscure and essentially forgotten by music fans in general. His memory and example were remembered by some musicians, however. He had been influential on guitarists Glenn Jones, Henry Kaiser (who had been the sole audience ember for one concert), Richard Osborn, and Kyle Fosburgh, proprietor of Grass-Tops Recordings. East German guitarist Steffen Basho-Junghans also issued the live Bonn Ist Supreme on Bo' Weavil. While 2000 saw the Bashovia compilation released, it wasn't until years later that Tompkins Square took on the remastered reissue of Venus in Cancer. Vanguard re-released his period recordings with them as well. Arborea's Buck Curran issued a pair of tribute outings in We Are All One, in the Sun (2010) and Basket Full of Dragons (2016), both featuring his works by contemporary artists. British director Liam Barker completed the documentary Voice of the Eagle: The Enigma of Robbie Basho and premiered it in London in 2015. It was shown in the U.S. at San Francisco's Roxie Theater in April 2018 and nominated for the Jury Award at the Santa Barbara International Film Festival. The documentary traces Basho's life with previously uncovered archive material and interviews with Townshend, Ackerman, Kaiser, Jones, Country Joe McDonald, Basho-Junghans, and Ochs. Fosburgh's Grass-Tops has also released authorized live recordings from the '70s and '80s, including the widely acclaimed Live in Forli, Italy 1982. In early 2020, Voice of the Eagle: The Enigma of Robbie Basho was released on DVD and Blu-Ray. In April, Real Gone Music released Songs of the Great Mystery. In 2009, Vanguard contacted Jones (the archivist of many of Basho's tapes) to let him know that an undocumented tape of Basho's had been discovered. 12 years later, during his research for the set's liner essay, Jones discovered that not only the mysterious tape, but both The Voice of the Eagle and Zarthus were cut during a single marathon session in 1971 or 1972 in New York City by Vanguard engineer Jeffrey Zaraya. Songs of the Great Mystery: The Lost Vanguard Sessions, is the third of the triumvirate of albums Basho recorded for the label; it explores some of the Native American themes found on The Voice of the Eagle while other tunes from the collection showed up on Basho's later albums in different forms. Vanguard briefly issued these sessions digitally as Indian II, but this marks their first physical release (an alternate take of "A Day in the Life of Lemuria" was never issued in any form).