Of all the country music superstars to emerge during the 1980s, Reba McEntire has carved out an enduring place in the pop mainstream, becoming as well known for her acting as she is for music. So great was her popularity, she entered the rarefied air of stars who would be identified by only their first name, joining the ranks of Dolly, Tammy, Merle, and Madonna. McEntire worked for this crossover success just as hard as she worked for her place within the country music firmament. It took her six years of touring and recording before she scored her first number one hit with 1982's "Can't Even Get the Blues," but she gained momentum when she signed with MCA Records in the mid-'80s. McEntire pushed her label to allow her to join the emerging new traditionalist movement with 1984's My Kind of Country, a shift in direction that jump-started her career. Stripping away lingering country-pop artifacts from her music, McEntire sang hard country and sounded like a kindred spirit to George Strait, a move that gave her two number one hits -- "How Blue" and "Somebody Should Leave" -- and set the stage for the career-making 1986 album Whoever's in New England. For nearly a decade, McEntire remained a fixture in the Country Top Ten, frequently reaching the top of the charts. Such sustained success required subtle evolution on McEntire's part, and she proved adept in navigating shifting fashions, slowly threading pop elements into her music while courting an audience outside of country with roles on the screen (1990's Tremors) and stage (a 2001 Broadway revival of Annie Get Your Gun). Despite these wanderings, McEntire has always seemed quintessentially country, achieving the right balance between down-home authenticity and Music City glitz.
The foundation of Reba McEntire's stardom rests within the rodeo circuit that runs through Oklahoma. She was born in McAlester on March 28, 1955, the third child and second daughter of schoolteacher Helen Florida McEntire and Clark Vincent McEntire, a World Champion steer roper whose career reached its apex in the late '50s; Clark himself was the son of a champion roper named John. Music was a big part of the McEntire household. Helen had aspirations of being a country singer, so she encouraged her children to sing, with Reba, her sister Susie and brother Pake forming the group the Singing McEntires while they were kids. Reba was the ringleader of the Singing McEntires, playing guitar and writing songs, including one commemorating their grandfather's achievements. Called "The Ballad of John McEntire," the tune was pressed as a 7" single by a local label called Boss in small numbers, a vanity release that nevertheless would earn historical significance as the first recording by country superstar Reba McEntire.
After graduating high school in 1973, McEntire enrolled in Southeastern Oklahoma State University with plans of following in her mother's footsteps. As she studied education, she played music on the side, appearing in local clubs and rodeos. She caught the attention of hardcore country singer Red Steagall when they shared a bill at a concert at Oklahoma City's National Rodeo Finals in 1974. Steagall encouraged Reba to pursue a career in Nashville. During her spring break in 1975, she recorded some demos in the Music City, recordings which landed her a contract with Mercury Records that November.
"I Don't Want to Be a One Night Stand," McEntire's debut single for Mercury, entered Billboard's Country charts in May 1976, climbing its way to a peak of 88 that summer. Her second single, "(There's Nothing Like the Love) Between a Woman and a Man," debuted on Billboard in February 1977. Like its predecessor and its successor -- "Glad I Waited Just for You," which arrived in August, the same month her eponymous full-length debut LP hit the stores -- the single didn't break out of the '80s on Billboard's Country charts. McEntire didn't score a genuine hit until she teamed with her labelmate Jacky Ward for the double-sided single "Three Sheets in the Wind"/"I'd Really Love to See You Tonight," which reached 20 in the summer of 1978. The duets with Ward -- which included "That Makes Two of Us," another modest hit in 1979 -- raised McEntire's profile, and in the fall of 1979 she had her first solo hit: a cover of Patsy Cline's "Sweet Dreams," which reached 19. "(You Lift Me) Up to Heaven" became her first Top Ten hit in the summer of 1980.
McEntire appeared poised for stardom, but her career proceeded with halting momentum during the early '80s. While she continued to place on the singles charts -- "I Can See Forever in Your Eyes" and "I Don't Think Love Ought to Be That Way" hovered in the teens in 1980 and 1981 -- she didn't appear on Billboard's Country Albums chart until 1981's Heart to Heart. During this time, the singer was at odds with her record label, arguing over promotion and material; the label steered McEntire toward softer, pop-oriented music. Despite this, she began to reach Billboard's Country Top Ten with regularity in 1982, beginning with "I'm Not That Lonely Yet," which led to the back-to-back number one singles "Can't Even Get the Blues" and "You're the First Time I've Thought About Leaving." In the wake of this success, McEntire was in the position to negotiate an exit from Mercury, leaving the label in 1983 and signing with MCA Nashville in 1984.
"Just a Little Love" kicked off McEntire's contract with MCA, becoming the first of many Top Ten singles she'd have at the label over the next 20 years. Initially, MCA wanted to position McEntire as a country-pop act, but the vocalist appealed to the label's president Jimmy Bowen to let her sing harder country material. Bowen acquiesced and McEntire recorded a bunch of country classics for her second MCA album, pointedly titled My Kind of Country. This shift in direction brought McEntire into alignment with such new traditionalists as Randy Travis and George Strait, a move that helped My Kind of Country become her breakthrough album; it reached 13 on Billboard's Country charts, with its singles "How Blue" and "Somebody Should Leave" both topping the charts. Its success helped McEntire win Female Vocalist of the Year from the Country Music Association in 1984, a sign that the Nashville establishment endorsed her creative makeover.
Have I Got a Deal, co-produced by the singer and Jimmy Bowen, gave McEntire two additional Top Ten hits in its title track and "Only in My Mind" upon its 1985 release, but it was 1986's Whoever's in New England that established her as a superstar: both its title track and "Little Rock" reached number one, the same position achieved by the proper album. "Whoever's in New England" won the Grammy for Best Female Country Vocal Performance and the awards and accolades didn't stop there: its parent album was her first to earn a gold certification by the RIAA, the CMA named her Entertainer of the Year, and 1986 was the year she became a member of the Grand Ole Opry.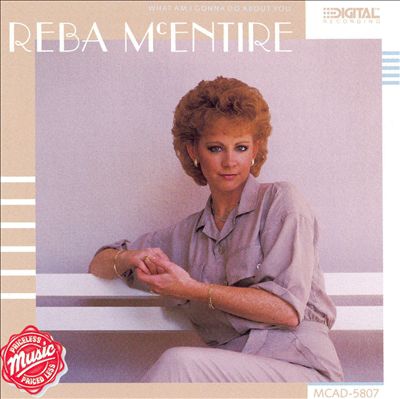 By most measures, McEntire was the biggest star in country music in the mid-'80s, and she continued to gain momentum through 1987, racking up her fourth CMA award for Female Vocalist of the Year -- an unprecedented streak -- and issuing three albums in quick succession. Released just eight months after Whoever's in New England, What Am I Gonna Do About You reached number one after its October 1986 release, with its title track and "One Promise Too Late" both topping the singles chart. April 1987 brought McEntire's Greatest Hits, which chronicled her recent rapid rise and would become one of her most enduring catalog items, and she followed it quickly with The Last One to Know, which had two number one hits in its title track and "Love Will Find Its Way to You." Two months after its September release came Merry Christmas to You, Reba's first holiday album; it would later be certified double platinum.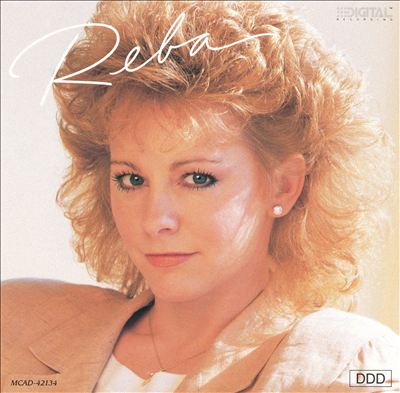 In 1988, McEntire shored up her success. The previous year, she'd divorced her first husband -- rodeo star Charlie Battles -- and moved from Oklahoma to Nashville. Once she settled in the Music City, she married steel guitarist Narvel Blackstock and launched Starstruck Entertainment -- a multifaceted organization that wound up covering every aspect of the entertainment industry, including publishing, management, and booking. She eased herself into softer, pop-oriented territory with the Reba album. Preceded by a cover of Jo Stafford's chestnut "A Sunday Kind of Love" -- a single that broke her streak of number ones -- Reba also contained the singles "I Know How He Feels" and "New Fool at an Old Game," which both reached the top of the charts. McEntire remained at the top of the country charts through the dawn of the '90s, making inroads into the mainstream all the while. Sweet Sixteen, her 1989 album, reached number one on Billboard's Country charts, followed by the concert album Reba Live later that year. Rumor Has It cracked the Top 40 on Billboard's Top 200 upon its September 1990 release. That year, McEntire made her silver screen debut, acting in the big-budget exploitation flick Tremors.
Tragedy struck McEntire's camp on March 16, 1991, when members of her touring entourage were killed in a plane crash following a concert in San Diego. For My Broken Heart, her next album, was dedicated to the departed. Despite this loss, McEntire's career rolled on uninterrupted. For My Broken Heart was a smash upon its October 1991 release, achieving her best placement to date on the pop album chart when it peaked at 13; the album would eventually be certified platinum four times, making it her best-selling studio album. Arriving in 1992, It's Your Call cracked the Top Ten on Billboard's Top 200, peaking at eight, a reflection of her increasing mainstream popularity as well as the publication's shift to tallying charts via the accurate sales estimator SoundScan.
McEntire stayed at the top of the charts throughout the '90s. Her albums often reached the Top Ten on Billboard's pop charts and number one on their country chart, while she remained a strong presence on the singles charts, frequently hitting number one. A couple of hiccups happened along the way -- Starting Over, a 1995 return to country roots, didn't produce any big hits -- but she remained a reliable success as a singer, regularly going platinum and racking up Top Ten hits.
During the 2000s, McEntire concentrated on acting over recording. She had acted throughout the '90s -- of particular note was the 1995 miniseries Buffalo Girls, plus two TV movies based on her songs: 1994's Is There Life Out There? and 1998's Forever Love -- but when she appeared in the title role of Annie Oakley in the Broadway revival of Annie Get Your Gun in 2001, the emphasis of her career started to shift. That October, she received her own sitcom on the WB network. Entitled Reba, the show would later be aired on the CW, and wound up running for six seasons, during which time McEntire received a Golden Globe nomination for Best Comedy Actress. With her energy focused on acting, McEntire's recordings slowed. She didn't release an album between 1999's So Good Together and 2003's Room to Breathe -- two records that went into Billboard's Country Top Five on their way to platinum certification -- and 2005's double-disc collection Reba: #1's kept her on the charts while she was starring in Reba and performing in South Pacific, which aired on PBS's Great Performances series in 2005.
The sitcom Reba went off the air after its February 18, 2007 finale. Not long afterward, McEntire resumed her recording career, releasing Reba: Duets, which was her last new studio album for MCA Nashville. The label closed out her contract with another compilation -- the triple-disc 50 Greatest Hits -- in October 2008, and McEntire quickly reappeared on the Valory/Starstruck imprint with Keep on Loving You. Upon its August 2009 release, Keep on Loving You debuted at number one on the Billboard Top 200; it went gold and had a number one single in "Consider Me Gone." The Dann Huff-produced All the Women I Am followed in 2010. The album generated her last big hit with "Turn on the Radio," which topped Billboard's Country Airplay charts. McEntire was inducted into the Country Music Hall of Fame in 2011. She spent 2012 and 2013 starring in the ABC sitcom Malibu Country, which was canceled after a season.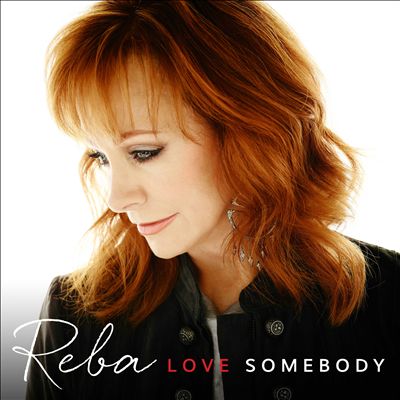 McEntire made a number of big changes in the middle of the 2010s. She divorced Narvel Blackstock, then signed with Big Machine's new imprint Nash Icon -- a subsidiary designed to showcase veteran artists -- and released Love Somebody in 2015; it entered Billboard's Country Albums chart at number one. A holiday album, My Kind of Christmas, appeared in 2016 through Cracker Barrel. Capitol Christian issued Sing It Now: Songs of Faith & Hope in 2017; the double album debuted at number one on the Billboard Country Album charts and won the Grammy Award for Best Roots Gospel Album. McEntire teamed with producer Buddy Cannon for 2019's Stronger Than the Truth, a return to her hard country roots; it earned her a Grammy nomination for Best Country Album.
McEntire returned to MCA Nashville in 2020, releasing the ambitious Revived Remixed Revisited in October 2021. A triple-disc set containing a disc of re-recordings where Reba was supported by her touring band, a disc of remixes, and a disc of stripped-down re-recordings produced by Dave Cobb, Revived Remixed Revisited debuted at 12 on Billboard's Country Charts. In 2022, McEntire released My Chains Are Gone, a collection of gospel music featuring guest appearances by Kelly Clarkson and Trisha Yearwood.