In a career spanning over seven decades, Quincy Jones has earned his reputation as a renaissance man of American music. Since entering the industry as an arranger in the early 1950s, he has distinguished himself as a bandleader, solo artist, sideman, songwriter, producer, film composer, and record label executive. A quick look at a few of the artists he's worked with -- Miles Davis, Frank Sinatra, Count Basie, Lesley Gore, Michael Jackson, Peggy Lee, Ray Charles, Paul Simon, and Aretha Franklin -- reveals the remarkable diversity of his career. He has been nominated for a record 80 Grammy awards, and has won 27 in categories including Best Instrumental Jazz Performance for "Walking in Space" (1969), Producer of the Year (1981), and Album of the Year for Jackson's Thriller (1983) and his own Back on the Block (1990). Outside recording studios, he has produced major motion pictures, helped create television series, and written books, including Q: The Autobiography of Quincy Jones (2001). An inductee into the Rock and Roll Hall of Fame (2013), he has continued producing and recording, contributing the song "Keep Reachin'" for the documentary Quincy: A Life Beyond Measure (2018).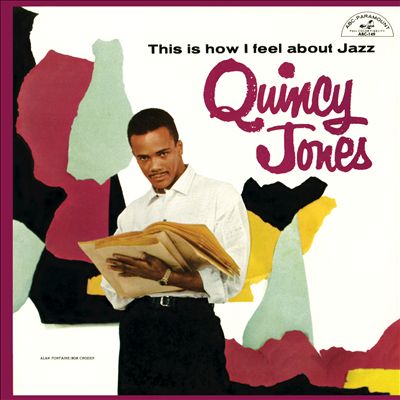 Quincy Delight Jones, Jr. was born in Chicago, Illinois on March 14, 1933. While still a youngster, his family moved to Seattle, Washington and he soon developed an interest in music. In his early teens, Jones began learning the trumpet and started singing with a local gospel group. By the time he graduated from high school in 1950, Jones had displayed enough promise to win a scholarship to Boston-based music school Schillinger House (which later became known as the Berklee School of Music). After a year at Schillinger, Jones relocated to New York City, where he found work as an arranger, writing charts for Count Basie, Cannonball Adderley, Tommy Dorsey, and Dinah Washington, among others. In 1953, Jones scored his first big break as a performer when he was added to the brass section of Lionel Hampton's orchestra alongside jazz legends Art Farmer and Clifford Brown. Three years later, Dizzy Gillespie tapped Jones to play in his band, and later in 1956, when Gillespie was invited to put together a big band of outstanding international musicians, Diz chose Quincy to lead the ensemble. Jones also released his first album under his own name that year, a set for ABC-Paramount titled This Is How I Feel About Jazz.
In 1957, Jones moved to Paris in order to study with Nadia Boulanger, an expatriate American composer with a stellar track record in educating composers and bandleaders. During his sojourn in France, Jones took a job with the French record label Barclay, where he produced and arranged sessions for Jacques Brel and Charles Aznavour, and traveling American artists like Billy Eckstine and Sarah Vaughan. Jones' work for Barclay impressed the management at Mercury Records, an American label affiliated with the French imprint, and in 1961 he was named a vice-president of Mercury, the first time an African-American had been hired as an upper-level executive by a major U.S. recording company. Jones scored one of his first major pop successes when he produced and arranged "It's My Party" for teenage vocalist Lesley Gore, which marked his first significant step away from jazz into the larger world of popular music. (Jones also freelanced for other labels on the side, including arranging a number of memorable Atlantic sides for Ray Charles.) In 1963, Jones began exploring what would become a fruitful medium when he composed his first film score for Sidney Lumet's controversial drama The Pawnbroker; he would go on to write music for 33 feature films.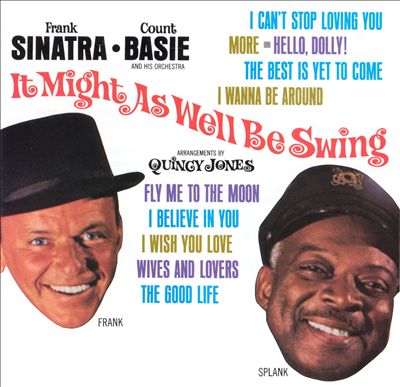 In 1964 work with Count Basie led him to arrange and conduct sessions for Frank Sinatra's album It Might as Well Be Swing, in collaboration with Basie and his orchestra; he also worked with Sinatra and Basie again as an arranger for the award-winning Sinatra at the Sands set, and would produce and arrange one of Sinatra's last albums, L.A. Is My Lady, in 1984.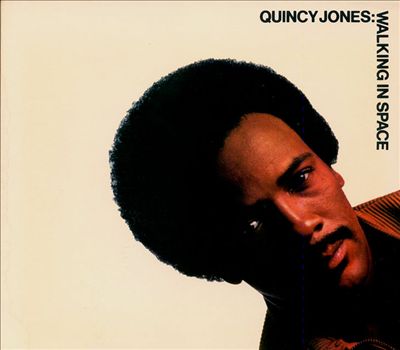 While Jones maintained a busy schedule as a composer, producer, and arranger throughout the '60s, he also re-emerged as a recording artist in 1969 with the album Walking in Space, which found him recasting his big-band influences within the framework of the budding fusion movement and the influences of contemporary rock, pop, and R&B sounds. The album was a commercial and critical success -- the title song won a Grammy award for Best Instrumental Jazz Performance, Large Group or Soloist with Large Group -- and kickstarted Jones' career as a recording artist. At the same time, he began working more closely with contemporary pop artists, producing sessions for Aretha Franklin and arranging strings for Paul Simon's There Goes Rhymin' Simon. While Jones continued to work with jazz artists, many hard-and-fast jazz fans accused him of turning his back on the genre, though Jones always contended his greatest allegiance was to African-American musical culture rather than any specific style. (Jones did, however, make one major jazz gesture in 1991 when he persuaded Miles Davis to revisit the classic Gil Evans arrangements from Miles Ahead, Sketches of Spain, and Porgy and Bess for that year's Montreux Jazz Festival; Jones coordinated the concert and led the orchestra, and it proved to be one of the last major events for the ailing Davis, who passed on a few months later.)
In 1974, Jones suffered a life-threatening brain aneurysm, and while he made a full recovery, he also made a decision to cut back on his schedule to spend more time with his family. While Jones may have had fewer projects on his plate in the late '70s and early '80s, they tended to be higher profile. He produced major chart hits for the Brothers Johnson and Rufus & Chaka Khan, and his own albums grew into all-star productions in which Jones orchestrated top players and singers in elaborate pop-R&B confections on sets like Body Heat, Sounds...And Stuff Like That!!, and The Dude, the last of which resulted in a Grammy for Producer of the Year. Jones' biggest mainstream success, however, came with his work with Michael Jackson. Jones produced his breakout solo album, Off the Wall, in 1979, and in 1982 they teamed up again for Thriller, which went on to become the biggest-selling album of all time. Jones was also on hand for Thriller's follow-up, 1987's Bad, and the celebrated USA for Africa session which produced the benefit single "We Are the World" (written by Jackson and Lionel Richie), and he produced a rare album in which Jackson narrated the story of the film E.T.: The Extra-Terrestrial. Jones' own Back on the Block, released in 1989, hit the pop Top Ten and led to five more Grammy awards, most prominently Album of the Year.
Having risen to the heights of the recording industry, Jones moved from scoring films to producing them in 1985. His first screen project was the screen adaptation of Alice Walker's novel The Color Purple, directed by Steven Spielberg. In 1991 he moved into television production with the situation comedy The Fresh Prince of Bel Air, which gave Will Smith his first starring role. Jones' production company also launched several other successful shows, including In the House and Mad TV. He produced a massive concert to help commemorate the 1993 inauguration of president Bill Clinton, and at the 1995 Academy Awards won the Jean Hersholt Humanitarian Award. In 1996 Jones performed at the Montreux Jazz Festival to celebrate his 50th anniversary in the music business. The concert was captured on video and released as a DVD.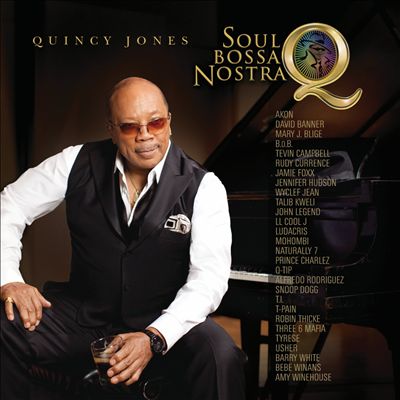 Jones spent the rest of the '90s and first decade of the new century concentrating on his music publishing business, completing Q: The Autobiography of Quincy Jones, and being an "unofficial" cultural ambassador for the United States. In 2004 he helped to launch the We Are the Future (WAF) project, benefiting children in conflict-inhibited situations all over the globe. In 2010, Jones released Q: Soul Bossa Nostra, his first album in 15 years. As with many of his previous solo albums, the set featured appearances by popular vocalists like Amy Winehouse and Usher. Three years later, he was inducted into the Rock & Roll Hall of Fame as a recipient of the Ahmet Ertegun Award. He continued working with artists including Emily Bear, Nikki Yanofsky, and Terrace Martin, and released the Chaka Khan collaboration "Keep Reachin'," recorded for Quincy: A Life Beyond Measure, a 2018 documentary about his illustrious career.