Multimedia collective and experimental rock group Psychic TV were Genesis P-Orridge's main outlet following the dissolution of industrial pioneers Throbbing Gristle in 1981. Continuing that band's shock-oriented approach to music and performance art, the group regularly incorporated subversive, sometimes obscene video elements and hallucinogenic lighting into their confrontational live gigs. Drawing much of their inspiration from the literary underground, including situationist philosophy, William Burroughs (a professed fan), and Philip K. Dick, the group was responsible for co-founding a quasi-religious organization called Thee Temple Ov Psychick Youth. Musically, the band explored nearly every permutation of psychedelic and experimental music imaginable. Early albums, such as 1982 debut Force the Hand of Chance, encompass melodic pop, barely listenable white noise, gentle ballads, industrial found-sound collages, spoken word pieces, and experiments with ethnic instruments and world music, all tied together with a Dadaist sensibility. The band was one of the first U.K. acts to embrace the Chicago acid house sound in 1988, resulting in albums such as Jack the Tab: Acid Tablets, Vol. 1, often designed to look like various-artist compilations. Since 1996's aptly titled Trip Reset, the ever-morphing group generally focused more on psychedelic rock than house or industrial, and they frequently recorded covers of classic '60s and '70s tracks by artists such as Pink Floyd and Funkadelic. Since 2003, drummer and producer Edley O'Dowd was a significant part of the group (often billed as PTV3), performing with them and contributing to albums such as Hell Is Invisible...Heaven Is Her/e (2007) and Alienist (2016).
Psychic TV was formed by P-Orridge and Alternative TV's Alex Fergusson in 1981. The "TV" was a reference to both Alternative TV, as well as the visual aesthetic of the group (with a logo resembling an "As Seen on TV" image). Peter Christopherson, also formerly of Throbbing Gristle, joined in 1982, and the band made their live debut that year as a part of Final Academy, an event dedicated to William Burroughs. Debut album Force the Hand of Chance arrived later in the year, with initial copies containing a bonus album called Themes. Dreams Less Sweet (featuring input from Geoff Rushton, aka John Balance) arrived the following year. During the '80s, Psychic TV's prodigious output totaled over 20 albums. Much of this stemmed from a publicity stunt beginning in 1986 for which the group attempted to release one live album, each from a different nation, on the 23rd of each month for 23 months. Even though the group didn't quite achieve its goal, the 14 albums Psychic TV released in 18 months were enough to get the group into The Guinness Book of World Records. Christopherson and Rushton both left the group rather early on to form Coil, and Psychic TV have since become an open-ended collective. They scored a minor U.K. pop hit in 1986 with "Godstar," a tribute to Rolling Stones guitarist Brian Jones, and 1988 saw the group's first album release in America with Allegory and Self.
Also in 1988, Psychic TV began experimenting with acid house, as records from the Chicago house scene by Frankie Knuckles and Farley Jackmaster Funk made their way to London, and P-Orridge picked up on the psychedelic qualities of the music. Fergusson left the band and several other producers, including Fred Giannelli, Dave Ball (of Soft Cell), and Richard Norris (who later formed the Grid with Ball), came aboard. Jack the Tab: Acid Tablets, Vol. 1 and Tekno Acid Beat were both billed as compilation albums, but were actually created by the members of Psychic TV under various pseudonyms. 1990's Towards Thee Infinite Beat and 1992's Beyond Thee Infinite Beat, however, were credited as Psychic TV releases.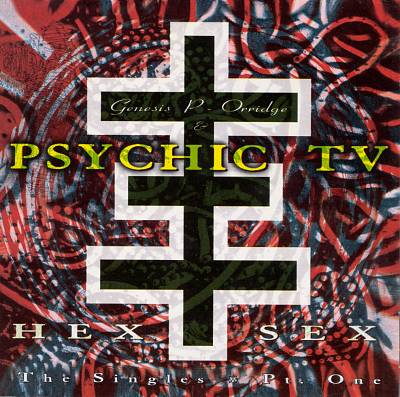 P-Orridge has been branded a dangerous deviant in several publications, and police raided their home in 1992, seizing videos, books, and magazines following a television show concerning child abuse in which a Psychic TV performance art video was shown out of context. After a "self-imposed exile" in which P-Orridge and family fled England and moved to California, Larry Thrasher (of Thessalonians) joined Psychic TV, and the group began to return to its previous psychedelic pop-influenced sound. In addition to studio albums such as Trip Reset (1996), several Psychic TV collections, as well as new material, appeared in the '90s; the best of the retrospectives are the two singles compilations Hex Sex and Godstar, and the 1999 overview Best Ov: Time's Up. P-Orridge and Thrasher also formed a related group called Splinter Test.
New Psychic TV material took a back seat as P-Orridge's commitment to his spoken word project Thee Majesty and a philosophy dubbed "Pandrogeny" occupied their time. It was the latter that had them going under the knife for breast implants and enforcing the use of the pronoun s/he. Psychic TV work began again in 2003 (as PTV3), with two years of touring leading to studio work. A new album was delayed when Throbbing Gristle reunited for a short time, but work resumed in 2006. The finished product, Hell Is Invisible...Heaven Is Her/e, arrived a year later. P-Orridge's wife and bandmate, Lady Jaye Breyer P-Orridge, died of heart failure a few months after its release. A tribute to her, Mr. Alien Brain vs. the Skinwalkers, was released near the end of 2008, featuring versions of Syd Barrett's "No Good Trying" and the Velvet Underground's "Foggy Notion."
Numerous live albums recorded throughout Psychic TV's history continued to appear on labels such as Cold Spring and Vinyl-On-Demand. Singles also appeared on Vanity Case and Angry Love Productions, including a 2010 take on Funkadelic's classic "Maggot Brain." The studio album Snakes, simply credited to Psychic TV, appeared on Angry Love in 2014. The album fused the group's heavy psychedelic rock sound with themes relating to voodoo culture. In 2015, Dark Entries released a single featuring Psychic TV's 1988 acid house track "Alien Be-In," including new mixes by Giannelli, Silent Servant, and John Tejada. Following a limited mixtape-style LP titled Fishscales Falling released on Record Store Day in April of 2016, Psychic TV's Alienist album appeared in September. Fishscales Falling, Vol. 2 was released in 2017, again for Record Store Day. In 2018, PTV's 1989 album Kondole was reissued as Kondole/Dead Cat, featuring the rare film Dead Cat included on the DVD, as well as its full 48-minute soundtrack, which was previously excerpted on Kondole. The Evening Sun Turns Crimson, a recording of the band's live score for a 2017 screening of Derek Jarman's In the Shadow of the Sun, was released in 2019. Genesis P-Orridge died on March 14, 2020 in New York City after a two-and-a-half year struggle with leukemia.