Phil Collins' status as one of the most successful pop and adult contemporary singers of the '80s and beyond was probably as much a surprise to him as it was to many others. Balding and diminutive, the Genesis drummer-turned-vocalist was almost 30 years old when his first solo single, "In the Air Tonight," became a number two hit in his native U.K. (the song was a Top 20 hit in the U.S.). Between 1984 and 1990, Collins had a string of 13 straight U.S. Top Ten hits.
Long before any of that happened, however, Collins was a child actor/singer who appeared as the Artful Dodger in the London production of Oliver! in 1964. (He also has a cameo in A Hard Day's Night, among other films.) He got his first break in music in his late teens, when he was chosen to be a replacement drummer in the British art rock band Genesis in 1970. (Collins maintained a separate jazz career with the band Brand X as well.)
Genesis was fronted by singer Peter Gabriel. They had achieved a moderate level of success in the U.K. and the U.S. with elaborate concept albums, before Gabriel abruptly left in 1974. Genesis auditioned 400 singers without success, then decided to let Collins have a go. The result was a gradual simplifying of Genesis' sound and an increasing focus on Collins' expressive, throaty voice. And Then There Were Three... went gold in 1978, and Duke was even more successful.
Collins made his debut solo album, Face Value, in 1981, which turned out to be a bigger hit than any Genesis album. It concentrated on Collins' voice, often in stark, haunting contexts such as the piano-and-drum dirge "In the Air Tonight," which sounded like something from John Lennon's debut solo album, John Lennon/Plastic Ono Band.
During the '80s, Collins was enormously successful in balancing his continuing solo work with his membership in Genesis. In 1992, Genesis released We Can't Dance and began an extensive tour. Upon its completion, Collins released Both Sides in 1993, and the record became his first album not to produce a major hit single or go multi-platinum. In 1995, he announced that he was leaving Genesis permanently. The following year, he released Dance Into the Light. Although the album didn't chart highly, its subsequent supporting tour was a success. The Hits collection followed in 1998, and a year later Collins made his first big-band record, Hot Night in Paris. The song cycle Testify arrived in 2002, and his next studio-recorded solo release was 2010's Going Back, which saw him revisiting the Motown hits that so influenced him, and featured three of the surviving Funk Brothers -- guitarists Eddie Willis and Ray Monette, and bassist Bob Babbitt.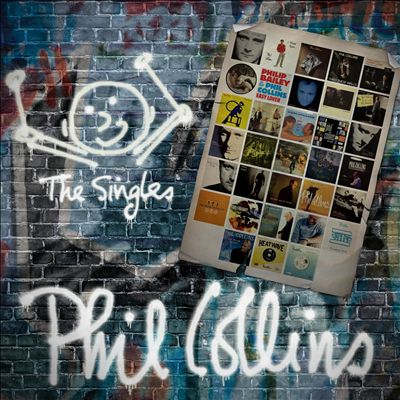 After some time out of the spotlight, much of it spent recovering from physical ailments, Collins returned in 2014 to play a couple of songs at his sons' school and to write songs with Adele. Soon after, he began work on reissuing his solo albums, sorting through the archives for demos and live recordings to flesh them out. In early 2016, Warner Music began releasing the discs in pairs, with new portraits of Collins on the covers in place of the original images. Collins returned to the stage in March of 2016, performing at the Little Dreams Foundation Benefit Gala in Miami. He published his autobiography, Not Dead Yet: The Memoir, in October of that year, and the double-disc compilation The Singles appeared during the same month. 2017 saw the release of Take a Look at Me Now: The Complete Studio Collection, chronicling all of Collins' studio album work from 1981 to 2010. He followed that compilation with a similarly expansive collection in 2018, Plays Well with Others, featuring various collaborations that took place over his career.