Singer, musician, composer, and rebel Peter Tosh cut a swathe through Jamaican music, both as a founding member of the Wailers and as a solo artist. He helped reggae cross over to mainstream audiences in the late '70s, touring with the Rolling Stones and scoring an international hit with a duet with Mick Jagger. Tosh was an outspoken Rastafarian, and some of his most popular music explored Rasta culture and politically charged anti-war sentiments. His 1976 solo breakout album Legalize It and its title track centered around demands for the reform of laws pertaining to marijuana, and the cover art featured Tosh puffing away in a field of ganja. He was killed in 1987, but left behind a wealth of music -- both with the Wailers and his ample body of solo work -- that made him one of reggae's preeminent greats.
Tosh was born Winston Hubert McIntosh on October 19, 1944, in Grange Hill, Jamaica. At age 15 he moved to Kingston, were he would meet fellow aspiring musicians Bunny, Bob Marley, and Junior Braithwaite. The four, buttressed by backing vocalists Cherry Green and Beverley Kelso, initially joined forces as the Teenagers before eventually settling on the moniker the Wailers.
Their debut single, "Simmer Down," was an instant hit, and the band's career was off and running. Throughout the remainder of the decade, Tosh lent his nimble guitar playing, singing, and occasional songwriting talents to different iterations of the Wailers, as the group evolved from ska into instrumental tracks and eventually took on more of a rocksteady sound.
In 1971, Tosh began pursuing a solo career in conjunction with his work with the Wailers. His debut single, "Maga Dog," was cut with producer Joe Gibbs. The single was a major hit and became a DJ favorite, and a series of additional Gibbs-produced Tosh tracks followed. As the Wailers' international breakthrough started, Tosh had less and less time to devote to his solo career. At the end of the Wailers' 1973 touring cycle, amid high tensions with Marley, Tosh quit the Wailers. There would be several reunion concerts over the next few years, but by 1975 the band was effectively over.
Tosh's first post-Wailers solo single, "Brand New Secondhand," was a new version of a song initially recorded by the Wailers for Lee Perry. However, it was Tosh's follow-up, "Legalize It," that packed the greatest punch and swiftly becoming a ganja anthem even though the single was slapped with a radio ban.
In 1975, Tosh signed to the Columbia label in the U.S., and began work on his first solo album. Sessions were held in Kingston, at Treasure Isle studio, Miami, and even in Tulsa, Oklahoma. The resulting album, Legalize It, arrived in 1976 to acclaim both at home and abroad. With interest running high, Tosh set off on tour, accompanied by a band comprised of the Sly & Robbie rhythm section, keyboardists Earl "Wire" Lindo and Errol "Tarzan" Nelson, and guitarists Donald Kinsey and American Al Anderson. Sony/Legacy's Live & Dangerous album captured one of the band's steaming shows in Boston during this tour. Like Marley, Tosh was moving effortlessly into a hybrid style that paid homage to American rock, but was still shot through with strong Jamaican roots. However, Tosh's lyrical vision was much darker than his former bandmate's. Sophomore album Equal Rights was even more uncompromising. Recording began just a few months after its predecessor was completed, and again featured the deep dread rhythms of Sly & Robbie, Earl Lindo's atmospheric keyboards, and Anderson's funky rock guitar, among a host of other guest Jamaican sessionmen. Bunny Livingston also joined his former bandmate on backing vocals; Tosh himself had guest starred on Livingston's own solo album, 1976's Blackheart Man. More focused than Legalize It, Equal Rights revolved around the themes of the plight of Black people around the world, and particularly in South Africa and Rhodesia. This would be Tosh's final album for Columbia. He signed on with the Rolling Stones' label, and that summer toured the States opening for the band. Mick Jagger and Tosh joined forces on a cover of the Temptations "(You Gotta Walk And) Don't Look Back," a song Tosh had previously recorded with the Wailers. Next album, Bush Doctor, was co-produced with Robbie Shakespeare and featured the Tamlins on backing vocals along with some of Jamaica's top session men and Keith Richards playing guitar on two tracks. Mystic Man arrived in 1979, and again featured a lighter touch, although songs like "Rumours of War" and "Jah Seh No" were as tough as anything Tosh had offered up in the past. Tosh returned in 1981 with Wanted Dread & Alive, which shot into the lower reaches of the U.S. chart, and he toured both the U.S. and Europe. After all that activity, the artist took the next year off, returning in 1983 with a cover of "Johnny B. Goode" that landed in the U.S. Top 50. The single was a taster for his new album, Mama Africa, which also arrived that year. Tosh then disappeared from the musical map for the next three years, and it wasn't until 1987 that a new single, "In My Song," appeared. In September, it was joined by the album No Nuclear War.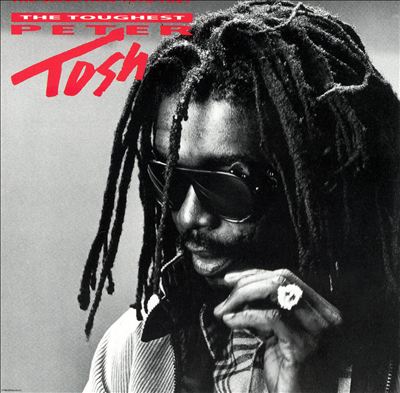 Staying at Tosh's home during this time was an old friend of the Wailers, Dennis Lobban. He left in a fury, however, after an argument with Tosh's girlfriend, Marlene Brown, returning a few days later on September 11 with a gang of friends. Lobban later claimed he had merely intended to threaten the artist, and perhaps rob him, but panicked. The end result was that Tosh and all six of his friends who were hanging out in the room were shot in the head. Tosh was killed, as was radio DJ Jeff "Free I" Dixon, and a third friend. Marlene Brown, ex-Soul Syndicate drummer Carlton "Santa" Davis, and two other friends miraculously survived. Lobban was arrested and sentenced to death. Jamaica had forever lost one of its most talented artists and eloquent spokesmen. Tosh's legacy, however, remains undiminished, and since his death a number of compilations have appeared to safeguard his memory. Heartbeat's The Toughest focuses exclusively on early recordings with Dodd and Lee Perry, while Trojan's Arise Black Man picks up the story with cuts for Bunny Lee, Perry, and Gibbs. Columbia remastered both of Tosh's albums for release in 1999, and two years earlier had compiled the Honorary Citizen three-CD box set, which boasts a disc devoted to singles released only in Jamaica, a second disc of songs recorded live, and a third of hits and favorites. Scrolls of the Prophet, released in 1999, is a compilation drawn from Tosh's major-label recordings between 1976 and 1987. His back catalog with the Wailers is equally well-served, and his influence, even in death, remains strong.