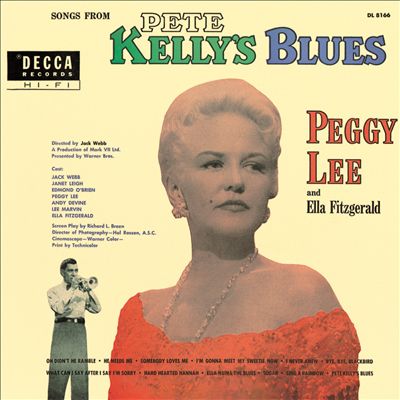 Peggy Lee's alluring tone, distinctive delivery, breadth of material, and ability to write many of her own songs made her one of the most captivating artists of the vocal era, from her breakthrough on the Benny Goodman hit "Why Don't You Do Right" to her many solo successes that showed her bewitching vocal power, a balance between sultry swing and impeccable musicianship. Lee started out in the early '40s as the vocalist for the Goodman band, and shortly thereafter became a star in her own right. Though she had numerous pop hits, she constantly crossed the line between pop and jazz, and was hailed by numerous critics as one of America's finest singers in either genre. In addition, Lee was involved in the film world as both an actress and a composer, most actively in the '50s (she received an Academy Award nomination for her role in Pete Kelly's Blues). She was a pioneer of the cool vocal style, and best-known for her hit version of the Little Willie John tune "Fever," off 1958's Sea Shells. A tireless artist, she continued working until her health gave out in the '90s.
Born Norma Egstrom in Jamestown, North Dakota, she suffered the death of her mother at the age of four and endured a difficult stepmother after her father remarried. Given her sense of swing by listening to Count Basie on the radio, she taught herself to sing and made her radio debut at the age of 14. She made the jump to Fargo (where she was christened Peggy Lee), then to Minneapolis and St. Louis to sing with a regional band. Lee twice journeyed to Hollywood to make her fortune but returned unsuccessful from both trips.
She finally got her big break in 1941, when a vocal group she worked with began appearing at a club in Chicago. While there, she was heard by Benny Goodman, whose regular vocalist Helen Forrest was about to leave his band. Lee recorded with Goodman just a few days later, debuting with the popular "Elmer's Tune" despite a good deal of nerves. That same year, several songs became commercial successes including "I Got It Bad (And That Ain't Good)" and "Winter Weather." In 1943, "Why Don't You Do Right" became her first major hit, but she left the Goodman band (and the music industry altogether) later that year after marrying Goodman's guitarist, Dave Barbour.
After just over a year of domestic life, Peggy Lee returned to music, first as part of an all-star jazz album. In late 1945, Capitol signed her to a solo contract and she hit the charts with her first shot, "Waitin' for the Train to Come In." Lee continued to score during the late '40s, with over two-dozen chart entries before the end of the decade, including "It's a Good Day," "Mañana (Is Soon Enough for Me)" -- the most popular song of 1948 -- and "I Don't Know Enough About You." Many of her singles were made in conjunction with Barbour, her frequent writing and recording partner.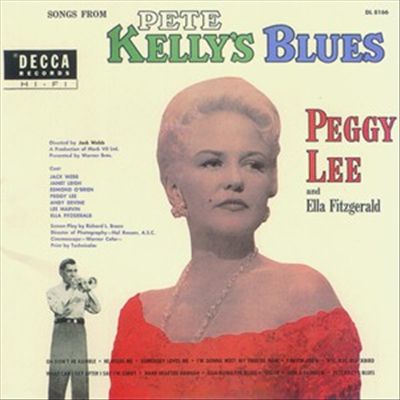 After moving to Decca in 1952, Peggy Lee scored with the single "Lover" and an LP, Songs from Pete Kelly's Blues recorded with Ella Fitzgerald (both singers also made appearances in the film). It was also during the early '50s that she hosted her own radio show, often showcasing composers she loved, including Johnny Mercer, Hoagy Carmichael, Matt Dennis, and others. She spent only five years at Decca, however, before moving back to Capitol. There, she distinguished herself through recording a wide variety of material, including songs -- and occasionally, entire LPs -- influenced by the blues, Latin, cabaret, and pop. Lee also used many different settings, like an orchestra conducted by none other than Frank Sinatra for 1957's The Man I Love, the George Shearing Quintet for 1959's live appearance Beauty and the Beat, Quincey Jones as arranger and conductor for 1961's If You Go, and arrangements by Benny Carter on 1963's Mink Jazz. Barbour's problems with alcoholism ended their marriage, though they remained good friends until his death in 1965.
Peggy Lee was an early advocate of rock and made a quick transition into rock-oriented material. Given her depth and open mind for great songs no matter the source, it wasn't much of a surprise that she sounded quite comfortable covering the more song-oriented end of late-'60s rock, including great choices by Jimmy Webb, Buffy Sainte-Marie, Burt Bacharach, Randy Newman, Goffin & King, and John Sebastian. She nearly brushed the Top Ten in 1969 with Leiber & Stoller's "Is That All There Is?" She continued recording contemporary material until 1972's Norma Deloris Egstrom from Jamestown, North Dakota brought her back to her roots. It was her last LP for Capitol, however. Lee recorded single LPs for Atlantic, A&M, Polydor UK, and DRG before effectively retiring at the beginning of the '80s. She returned in 1988 with two LPs for Musicmasters that revisited her earlier successes. Her last album, Moments Like This, was recorded in 1992 for Chesky. Her voice was effectively silenced after a 1998 stroke, and she died of a heart attack at her Bel Air home in early 2002.