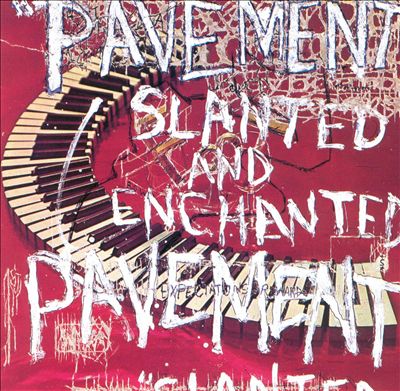 Pavement is perhaps the defining American indie rock band of the 1990s, the group that captured the slacker zeitgeist of the alt-rock era. Standing detached from the tumult of grunge, Pavement seemed laconic, sometimes lazy, as they threaded their love of underground American rock and British post-punk, dressing their winding melodies with squalls of feedback and shambolic rhythms. Initially conceived as a studio project between guitarists/vocalists Stephen Malkmus and Scott Kannberg in 1989, Pavement released a series of EPs that were foundational texts in the lo-fi movement of the '90s before breaking through to the college rock mainstream with their 1992 debut album, Slanted & Enchanted. Shortly after that record became an indie sensation, the band's classic lineup featuring Malkmus and Kannberg, along with bassist Mark Ibold, percussionist Bob Nastanovich, and drummer Steve West gelled, and they debuted on the 1994 album Crooked Rain, Crooked Rain. Buoyed by the alt-rock explosion of the '90s, the release gave Pavement their lone modern rock hit with "Cut Your Hair," but the band always felt more at home on the fringes of the mainstream, indulging in their odd obsessions on Wowee Zowee (1995), then trying to tie up loose ends on Brighten the Corners (1997). Pavement called it a day after 1999's Terror Twilight, but their deep influence was apparent in generations of indie rock bands in the 21st century, a legacy the group celebrated with archival releases and the occasional reunion tour.
Stephen Malkmus (vocals, guitar) had finished studying history at the University of Virginia and returned to Stockton, California, when he formed Pavement with childhood friend Scott Kannberg (guitar, vocals) in 1989. Pavement had released their first 7" EP, Slay Tracks: (1933-1969), by the summer of 1989. Recorded for 800 dollars at the small local studio Louder Than You Think -- which was owned by Gary Young, a fortysomething drummer who appeared on the EP -- and released on the duo's own indie label, Treble Kicker, Slay Tracks demonstrated sonic debts to the Fall, R.E.M., the Pixies, and Sonic Youth. While there were only a couple hundred copies pressed of the EP, it managed to work its way to several influential people within the underground industry, including British DJ John Peel. Furthermore, the EP, which was credited only to "S.M." and "Spiral Stairs," became something of an enigma, since it was supported by no press releases or information about the band. By the 1990 release of Demolition Plot J-7, the group had begun to forge these influences into their own signature sound. Pavement moved to Drag City Records and added Young as a member during the recording of Demolition Plot J-7, but the band didn't perform any concerts until after the 1991 release of Perfect Sound Forever.
During preparation for their first concerts in 1991, Pavement added bassist Mark Ibold and, in order to bolster Young's shaky timekeeping, a second drummer named Bob Nastanovich, who had attended college with Malkmus. The new lineup appeared on the band's first full-length album, Slanted & Enchanted, although the group didn't record any of the album as a full band; instead, it was pieced together by Malkmus and Kannberg. Prior to its release on Matador Records in the spring of 1992, Slanted & Enchanted created extremely good word-of-mouth praise; before the album was even available promotionally, critics were lavishly praising it in the press. Initially, the band's following was based upon critics and fellow musicians, but soon word began to spread on the street as well. Pavement supported the album with their first national tour, and while it didn't reach many cities, it became notorious for the band's sloppy sound and Young's grandstanding. He would greet the audience at the door, shake their hands, perform handstands during the show, hand out salads, and occasionally collapse drunk. Young was asked to leave the band during 1993; his last release with the group was the EP Watery, Domestic, which came out in the fall of 1992. He was replaced by Steve West, a friend of Nastanovich. After West joined the band, their early EPs were compiled on Drag City's 1993 collection Westing (By Musket and Sextant).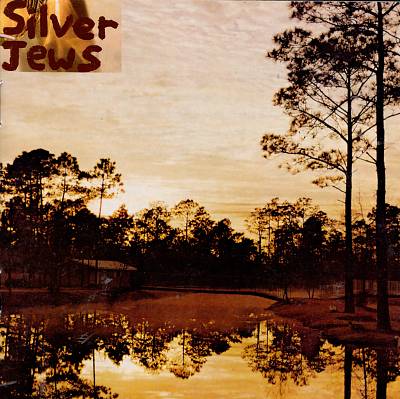 Pavement's sound was cleaned up somewhat after Young's departure; it was a combination of having a steady drummer and recording in real studios. Some pundits predicted that Crooked Rain, Crooked Rain, the 1994 follow-up to Slanted & Enchanted, would be Pavement's breakthrough into the mainstream. To a certain extent, it was. The album debuted on the U.S. charts at 121, and "Cut Your Hair" became a Top Ten modern rock and MTV hit. But despite the LP's overwhelmingly positive reviews, Crooked Rain simply expanded Pavement's cult dramatically, confirming their status as underground, not mainstream, stars. Following the release of Crooked Rain, the band recorded sporadically in 1994; Malkmus and Nastanovich also contributed to Starlite Walker, the full-length debut by the Silver Jews, which was led by their college friend David Berman.
Pavement returned with their third album, Wowee Zowee, in the spring of 1995. More sprawling and eclectic than either of its predecessors, the record proved once again that Pavement was a leader of the underground instead of alternative rock's Next Big Thing. Despite the mixed response Wowee Zowee received from critics -- which sparked a Pavement backlash in the press that continued for the next two years -- most of the group's die-hard fans embraced the album. The band also landed a spot on the fifth Lollapalooza tour, which featured likeminded artists such as Beck and Sonic Youth. Though it may have been financially lucrative, the gig proved frustrating for the band; sandwiched in the middle of the main stage's bill, Pavement found themselves playing to fewer people than they might have had they headlined the second stage.
The group began 1996 with the release of the Pacific Trim EP and spent the rest of the year recording their fourth album with producer Mitch Easter. Released in early 1997, Brighten the Corners was seen as a return to the group's more accessible, Crooked Rain-like sound; it was greeted with positive reviews and debuted at number 70 on the American charts. After extensive touring in the U.S. and worldwide, Pavement took a break for the first half of 1998. That summer, among the bandmembers' off-duty activities, both Malkmus and Kannberg performed solo gigs: Malkmus introduced new Silver Jews and Pavement songs at the two L.A. dates he played with Scarnella (Nels Cline and the Geraldine Fibbers' Carla Bozulich's side project), while Kannberg played drums with Half Five Quarter to Six (an impromptu '80s cover band featuring other San Francisco-based musicians) at a charity event called One Night Stand. Kannberg also started his own label, Pray for Mojo (later renamed Amazing Grease), which featured bands like the psych-pop combo Oranger.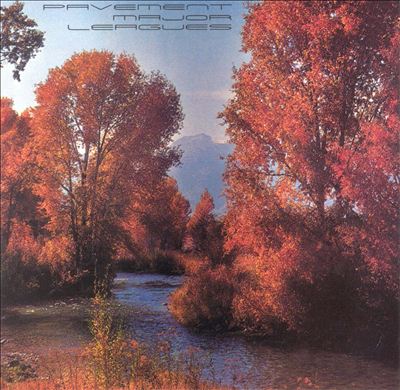 That fall, Pavement regrouped and recorded Terror Twilight with producer Nigel Godrich, whose intricate, polished style graced albums by Natalie Imbruglia, Beck, and, most famously, Radiohead. That group's guitarist, Jonny Greenwood, played harmonica on the album's sessions. When Terror Twilight arrived in the summer of 1999, it won uniformly positive reviews, but its bigger, cleaner sound and lack of any Kannberg songs made it feel suspiciously like a disguised Stephen Malkmus solo album. The Major Leagues EP did feature songs from Kannberg -- which he recorded with Gary Young at Louder Than You Think -- but this did little to dispel the breakup rumors Pavement had been dodging since Malkmus' solo gigs, during which he admitted that the bandmembers' desires to live outside of Pavement could spell the group's end. He announced that the band was indeed finished at their November 20, 1999, date at the London Brixton Academy: with a set of handcuffs hanging from his mike stand -- which he said symbolized being a part of a band -- Malkmus thanked Pavement's fans "for coming all these years."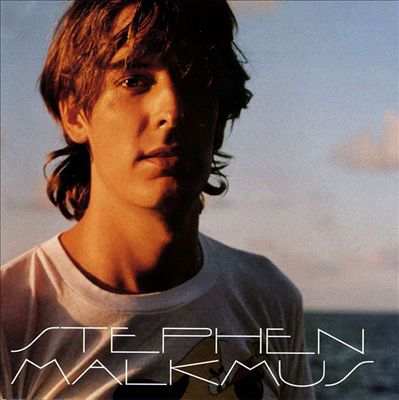 However, the official word from the band and Matador Records was that Pavement were merely on hiatus. But, in the spring of 2000, word got out that both Kannberg and Malkmus were readying solo projects: Kannberg's, named the Preston School of Industry, reunited him with Gary Young; Malkmus' was initially called the Jicks, then rechristened Stephen Malkmus & the Jicks, and included drummer John Moen, formerly of the Dharma Bums and the Fastbacks, and bassist Joanna Bolme, who had also worked with the Minders. An interview with Malkmus in the November 2000 issue of Spin confirmed Pavement's breakup for once and all. Ibold, West, and Nastanovich also stayed busy during the group's "hiatus": Ibold started his own label, West toured and recorded with his project Marble Valley, and Nastanovich maintained his horse-racing tip sheet Lucky Lavender. Late in 2000, it was announced that Malkmus' solo album -- which had the working title of Swedish Reggae -- would be known simply as Stephen Malkmus, and that he and the Jicks would tour in the spring of 2001 with Elastica's Justine Frischmann joining as an additional guitarist and Nastanovich as their road manager. Kannberg and his group also began playing dates in early 2001.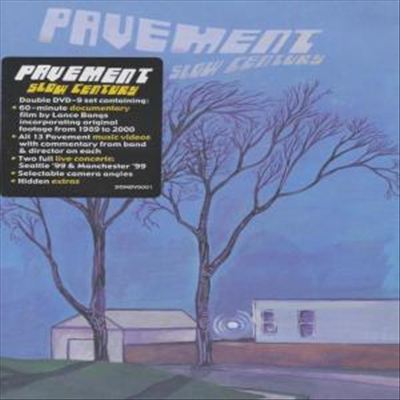 Despite the band's somewhat confusing and frustrating end, Pavement helped steer the course of '90s indie rock in a consistently intelligent, unpredictable -- and even fun -- direction. In late October 2002, Matador released a massively expanded version of the seminal Slanted & Enchanted. The version contained an astounding 36 bonus tracks ranging from an entire live performance to revealing B-sides. A retrospective double-DVD set entitled Slow Century was welcomed concurrently. Matador then released a similarly expanded edition of Crooked Rain, Crooked Rain in 2004 and Wowee Zowee in 2006, all the more confirming Pavement's legacy as indie rock trailblazers. In 2009, the band announced a series of 2010 benefit shows in New York City's Central Park and the U.K. that evolved into a full-fledged reunion tour in 2010. That year also saw the release of a compilation album called Quarantine the Past: The Best of Pavement. Following this burst of activity, the bandmembers once again went their separate ways.
In 2015, Pavement reactivated their archival project with the release of Secret History, Vol. 1, a compilation that issued rarities from the 2002 Slanted & Enchanted [Luxe & Reduxe] reissue on vinyl. The band planned to mount a second reunion tour in 2020, but plans were scrapped thanks to the COVID-19 pandemic. The group were finally able to hit the road in 2022, the same year they released an expanded version of Terror Twilight subtitled Farewell Horizontal. Upon Young's death in August 2023, Pavement's surviving members paid tribute to their founding drummer.