Parquet Courts' blend of noisy, punk-friendly clatter and snarky, sometimes-serious lyrics delivered in a menacing monotone struck a chord in indie rock circles with their 2012 album, Light Up Gold, and after loads of touring and a series of literate and scrappy albums made for What's Yr Rupture? and Rough Trade, they firmly established themselves as one of their era's marquee groups. As the decade advanced, the band began to experiment with their proven formula, working with rapper Bun B on a 2016 single, collaborating with Italian producer Daniele Luppi on 2017's Milano, and exploring new influences (dance punk, new wave) on the Danger Mouse-produced 2018 record Wide Awake! and its 2021 follow-up, Sympathy for Life.
The Brooklyn-by-way-of-Texas band was formed in 2010 by former Fergus & Geronimo member Andrew Savage on vocals and guitar, guitarist/vocalist Austin Brown, bassist Sean Yeaton, and drummer Max Savage. The band played often in the greater New York area and released its first album, American Specialties, exclusively on cassette in late 2011 (a vinyl release followed in 2012). A more widely distributed full-length, Light Up Gold, was issued on the Dull Tools label in the summer of 2012, and the band's first U.S. tour followed by the end of the year. Light Up Gold quickly caught on and was reissued on Brooklyn label What's Your Rupture? in early 2013 to wider distribution. They became darlings of the indie rock world thanks to the response to the record from the press, constant touring, and their intractable charm.
When not on the road, they spent much of their time in the studio recording songs for their next record, with a five-song EP, Tally All the Things That You Broke, surfacing late in 2013. Their third album, Sunbathing Animal, was released in June of 2014, again on What's Your Rupture?, and again, members of the band followed up with a collection of more slapdash recordings almost immediately, releasing the album-length Content Nausea as Parkay Quarts in November of the same year. In March of 2015, the group's first concert recording, Live at Third Man Records, was issued. That summer, the band released split 7" singles with Big Ups (on Roekie Records) and Joey Pizza Slice (on Wharf Cat Records). Rough Trade signed Parquet Courts and released the experimental, primarily instrumental Monastic Living EP in November.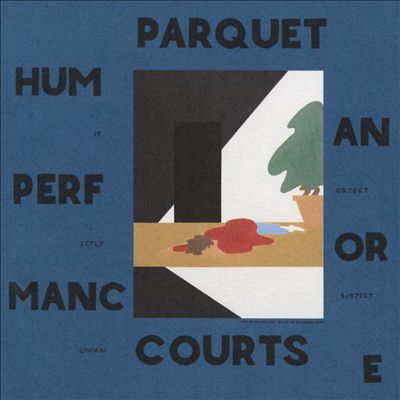 Meanwhile, they were working on their next album, which was the first to have songwriting contributions from all four members. Working at Sonelab studios in western Massachusetts and Wilco's Loft in Chicago, but mostly at Dreamland Studio in upstate New York (where the B-52s recorded "Love Shack"), the bandmembers spent their days writing songs and their nights recording them. The resulting album, early 2016's Human Performance, was somewhat dark and mostly inward-looking, though still full of jumpy punk.
In February 2017, Parquet Courts released a limited-edition 12" single, "Captive of the Sun," which featured the band collaborating with Bun B of the Texas hip-hop crew UGK as well as producers DJ Candlestick and O.G. Ron C. Later that same year, the band was featured on Milano, a collaboration with Italian composer and producer Daniele Luppi that also featured guest vocals from Karen O of the Yeah Yeah Yeahs. Parquet Courts were busy at work on their next album by then, recording in New York and Texas with producer Danger Mouse. The songs written by Andrew Savage and Austin Brown were influenced by a wider range of sounds and artists this time around, with dance-punk, the Specials, folky indie pop, and classic rock all getting a look. Both their expanded approach and Danger Mouse's production finesse led to 2018's Wide Awake! being the band's most diverse and accessible record yet. They continued exploring funk in more cerebral ways on their 2021 album Sympathy for Life. Stitched together from improvised jams and refined with help from Hot Chip producer Rodaidh McDonald, the album implemented touches of dub and ambience, and recalled some of the more abstract dancefloor experiments from Bowie, Primal Scream, and the Talking Heads.