Although Oingo Boingo was often compared to Devo throughout their career (due to both bands' affinity for quirky new wave, goofy stage acts, and most obviously, peculiar yet intriguing band names), Oingo Boingo never obtained the mainstream success that Devo did. But the band did manage to obtain a large and devoted fan base, especially in their hometown of Los Angeles, CA. Oingo Boingo started not as a traditional group per se, as they were originally put together in the '70s by movie director Richard Elfman, who needed music for a whacked-out, John Waters-esque flick he was working on, called Forbidden Zone. Enlisting his younger brother Danny Elfman (vocals, guitar), Steve Bartek (guitar), and Johnny "Vatos" Hernandez (drums), the group originally went by the name Mystic Knights of the Oingo Boingo before shortening it to Oingo Boingo in 1979. Tired of sitting around and waiting for the movie's completion, the group began playing out in the L.A. area, where they built a substantial following with the punk/new wave set (as their lineup would often multiply for performances). But Oingo Boingo had a step or two ahead of the local bands, both musically and visually, as Danny Elfman had spent several years in France working with a theater group and studying orchestra, which reflected in Oingo Boingo's hodgepodge of styles.
The soundtrack to Forbidden Zone was finally issued in 1980, which proved to be a wild, musical roller coaster ride and gave Oingo Boingo their first appearance on record. But by the time a four-track release, 10 Inch EP, was issued the same year (on IRS Records), the group had focused their sound and approach drastically. A recording contract with A&M Records followed shortly thereafter, resulting in some of the early '80s finest new wave releases, 1981's Only a Lad (whose title track received plenty of airplay on the influential L.A. rock radio station KROQ), 1982's Nothing to Fear, and 1983's Good for Your Soul, the latter of which spawned a popular early MTV video hit for "Nothing Bad Ever Happens." Like their live shows, Oingo Boingo's recordings featured a hefty amount of additional members lending a hand, but despite it all, Danny Elfman remained the group's leader and focal point (Elfman even found the time to issue a solo album, So Lo, in 1984). A switch to MCA immediately paid off for the group, as they scored the biggest hit of their career with 1985's Dead Man's Party (eventually earning gold certification in the U.S.), made a cameo appearance in the hit Rodney Dangerfield comedy Back to School, and scored a moderate hit with the theme song to John Hughes' teen comedy Weird Science. But despite their commercial success, Oingo Boingo was unable to sustain it, as such further releases as 1987's Boi-ngo, 1988's Boingo Alive, 1990's Dark at the End of the Tunnel, and 1994's Boingo failed to storm the charts, yet managed to retain the group's cult following.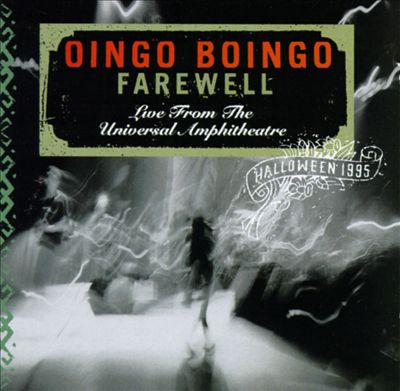 But during the mid- to late '80s, Elfman struck up a friendship with director Tim Burton and began contributing music to Burton-directed movies on a regular basis, first with the major comedy hit Pee-Wee's Big Adventure, and then later Beetlejuice, Big Top Pee Wee, Batman, Edward Scissorhands, The Nightmare Before Christmas, Mars Attacks!, Sleepy Hollow, and the remake of Planet of the Apes, among others. In return, Elfman became one of Hollywood's most in-demand film composers, providing music for countless films and TV programs (receiving Grammy, Golden Globe, Emmy, and Oscar nominations for his work). With Elfman primarily focusing on film composing by this point, Oingo Boingo was laid to rest in 1995 after a farewell performance at L.A.'s Universal Amphitheatre, which was issued a year later as a CD and video, appropriately titled Farewell. A pair of Oingo Boingo collections surfaced during the '90s, 1992's Best O' Boingo and 1999's double-disc Anthology, as were a pair of anthologies of Elfman's film scores: 1990's Music for a Darkened Theater, Vol. 1: Film & Television Music and 1996's Music for a Darkened Theater, Vol. 2: Film & Television Music.