Impeccable musicianship displayed through slinky, horn-augmented grooves, combined with animated vocals and eye-popping album covers, made the Ohio Players one of the most distinctive and striking funk bands of the '70s. Although the Daytonians formed in the late '50s as the backing band for the Falcons, and scored their first charting single in 1968, it wasn't until they were over a decade into their existence before they truly hit their stride both creatively and commercially. Starting with Pain (1972), the Ohio Players put together five gold or platinum studio albums in the '70s, including the platinum trilogy of Skin Tight (1974), Fire (also 1974), and Honey (1975). They topped the R&B chart during this period with "Funky Worm," "Fire," "Sweet Sticky Thing," "Love Rollercoaster," and "Who'd She Coo," a diverse assortment of indelible smashes full of humor, romance, and dancefloor-igniting energy. Since releasing their last album near the close of the '80s, the Players have remained active on-stage.
Emerging from Dayton in 1959, the group was originally dubbed the Ohio Untouchables and initially comprised singer/guitarist Robert Ward, bassist Marshall "Rock" Jones, saxophonist/guitarist Clarence "Satch" Satchell, drummer Cornelius Johnson, and trumpeter/trombonist Ralph "Pee Wee" Middlebrooks. In late 1961, a relative of Ward's founded the Detroit-based Lu Pine Records, and the group traveled north to the Motor City to back the Falcons on their hit "I Found a Love." The Ohio Untouchables soon made their headlining debut with "Love Is Amazing," but when Ward subsequently exited for a solo career, the group essentially disbanded.
At that point, the nucleus of Middlebrooks, Jones, and newly added guitarist Leroy "Sugarfoot" Bonner returned to Dayton, where they recruited saxophonist Andrew Noland and drummer Greg Webster. By 1967, with the subsequent addition of singers Bobby Lee Fears and Dutch Robinson, the newly rechristened Ohio Players were signed as the house band for the New York-based Compass Records, backing singer Helena Ferguson on her lone hit "Where Is the Party" before issuing their solo debut, "Trespassin'," which hit the R&B chart in early 1968, peaking at number 50.
Although the Players' trademark bottom-heavy, horn-driven sound was already blossoming, their follow-up, "It's a Cryin' Shame," didn't move them forward, and as Compass teetered on the brink of bankruptcy they exited the label. (Their early Compass sides were packaged as First Impressions, released on the Trip label in 1972.) The Players then landed on Capitol, where they released Observations in Time, a 1969 album with covers of "Summertime" and "Over the Rainbow" offering strong hints of the stylistic detours to follow. In 1970 the group disbanded, however; Fears and Robinson both mounted solo careers, while the remaining members again decamped to Dayton, eventually re-forming later in the year with keyboardist, vocalist, and songwriter Walter "Junie" Morrison, trumpeter Bruce Napier, trombonist Marvin Pierce, and another vocalist, Dale Allen.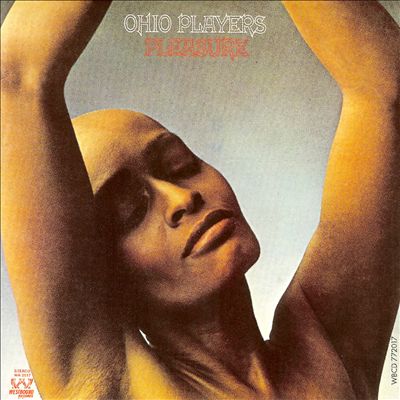 Influenced by the groundbreaking funk of Sly & the Family Stone, the new Ohio Players lineup made their debut with the Morrison-fronted single "Pain," issued on the small local label Rubber Town Sounds. It was soon picked up for distribution by the Detroit-based Westbound label, reaching the R&B Top 40 -- and cracking the pop chart -- in late 1971. A gold-selling LP, also titled Pain, appeared that same year, and was followed in 1972 by the Top Ten R&B album Pleasure, which launched "Funky Worm," an absurdist smash -- number one R&B, number 15 pop -- featuring Morrison's "granny" character and uncommonly high-pitched synthesizer. (The latter would be sampled on dozens of rap songs, most commonly on West Coast G-funk productions.) Ecstacy, featuring the Top 20 R&B title track, appeared in 1973. The Players then signed to Mercury. The label change heralded yet more lineup changes, with keyboardist Billy Beck replacing Morrison (who signed on with Parliament) and drummer Jimmy "Diamond" Williams taking over for Webster.
At Mercury, the Ohio Players enjoyed their greatest success. Not only did their sound coalesce, but they became notorious for their sexually provocative LP covers, a tradition begun during their Westbound tenure. Their 1974 Mercury debut, Skin Tight, was their first unequivocal classic, launching the hit title track (number two R&B, number 13 pop) as well as "Jive Turkey" (number six R&B). Its follow-up, Fire, remains the Players' masterpiece, topping the pop charts on the strength of its bone-rattling title cut, a number one hit on the R&B and pop charts. "I Want to Be Free," one of the band's biggest ballads, became their fifth Top Ten R&B single. 1975's Honey -- which featured the Players' most controversial and erotic cover to date -- was another monster, generating the chart-topping masterpiece "Love Rollercoaster" in addition to the hits "Sweet Sticky Thing" and "Fopp."
The insistent "Who'd She Coo?" from 1976's Contradiction, was the Players' last number one R&B hit. "O-H-I-O," from 1977's Angel, was their last major hit on any chart. 1979's Jass-Ay-Lay-Dee was the Players' final Mercury effort. Upon signing to Arista, the Players returned later in 1979 with Everybody Up. This was followed by a pair of releases for Boardwalk, 1981's Tenderness and 1982's Ouch! After 1984's Graduation (Air City), four years passed before the release of their next effort, Back.
Although the Ohio Players haven't recorded a studio album since the late '80s, they have continued touring into the 2020s, with Billy Beck and Jimmy Williams remaining from the core lineup. Bandmates and former bandmates the linchpins have lost along the way include Clarence Satchell (December 30, 1995), Ralph Middlebrooks (November 15, 1997), Robert Ward (December 25, 2008), and Cornelius Johnson (February 1, 2009), followed by Leroy Bonner (January 26, 2013), Marshall Jones (May 27, 2016), Junie Morrison (February 21, 2017), and Greg Webster (January 14, 2022).