Nick Brignola's 45-year career brought him into contact with many of the most accomplished mainstream improvisers of his generation. Primarily identified with the baritone saxophone, he also performed and recorded using alto and soprano as well as flute and clarinet. Never exactly famous in the U.S. yet greatly appreciated by jazz lovers at home and by the international jazz community at large (especially during his final decade of activity), Brignola cut more than 20 albums as a leader and worked steadily as a respected sideman and featured guest soloist until shortly before his death in 2002. Born in Troy, NY, on July 17, 1936, he took up the clarinet when he was 11, and also experimented with alto and tenor saxophones and flute. Legend has it the baritone entered his life when he took his alto to a music store for repair and was lent the only member of the saxophone family that they had on hand. Brignola's first major influence on the big horn was Duke Ellington's esteemed anchor man Harry Carney, a Boston native who personally tutored and encouraged the aspiring musician, who had grown up on big bands and bebop.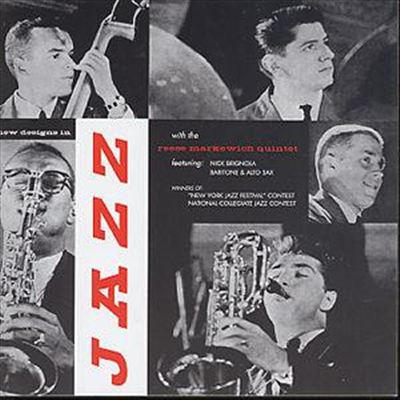 What appears to be the earliest example of Nick Brignola on record is New Designs in Jazz, an album by the Reese Markewich Quintet dating from 1957. This band grew out of Markevich's Mark V, a university group that Brignola joined while studying music at Ithaca College and performed with at the Café Bohemia in Greenwich Village. Largely autodidactic, young Brignola earned a Benny Goodman scholarship at Boston's Berklee College of Music in 1958. During that year he recorded with trumpeter Herb Pomeroy in Boston and initiated a lifelong friendship with drummer Dick Berk while sitting in with vibraphonist Cal Tjader at the Blackhawk in San Francisco. Brignola blew his horns with Woody Herman & His Swingin' Herd in a performance that was taped for Canadian television in 1964 and released on DVD in 2005. His first album as a leader, This Is It!, recorded in 1967 and released on his own Priam label, has since become a collector's item. Brignola worked a lot with ex-Mingus trumpeter Ted Curson. They toured Europe in 1967 and appeared at the Newport and Monterey Jazz Festivals. In 1969, Brignola led an electric jazz fusion band that opened for Blood, Sweat & Tears and Cat Stevens. He is also known to have gigged with musicians as stylistically diverse as pianist Thelonious Monk; guitarist Wes Montgomery; drummers Elvin Jones and Buddy Rich; clarinetist Barney Bigard; saxophonist Dewey Redman; and trumpeters Miles Davis, Clark Terry, Doc Cheatham, and Chet Baker.
Brignola made his first substantial appearance in a recording studio in 1976 when he was heard as a member of Curson's seven-piece unit on the Inner City album Jubilant Power. Equally as impressive was Baritone Madness, recorded in December 1977 in tandem with his idol Pepper Adams along with Curson, pianist Derek Smith, bassist Dave Holland, and drummer Roy Haynes. During the year 1978 Brignola collaborated with guitarist Sal Salvador and tenor saxophonist Sal Nistico; the following year he masterminded Burn Brigade, a three-baritone blowing session with Ronnie Cuber and Cecil Payne, and recorded with trombonist Bill Watrous. The early '80s saw Brignola working with the Doug Sertl Big Band and trumpeter Bobby Shew. In August 1987 he joined his longtime friend Dick Berk's Jazz Adoption Agency for a tribute album to Tin Pan Alley songwriters Richard Rodgers and Lorenz Hart. This was followed by the first of several collaborations with alto saxophonist Phil Woods, an appearance with the Big Band Charlie Mingus live at the Theatre Boulogne-Billancourt in Paris, and a pair of amazing quartet albums featuring pianist Kenny Barron with bassists Dave Holland and George Mraz and drummers Jack DeJohnette and Billy Hart.
It wasn't until the 1990s that Brignola began to achieve recognition commensurate with his abilities and accomplishments. Two thrilling quartet sets were recorded live at Sweet Basil in New York City, several projects involved trumpeters Claudio Roditi and Randy Brecker, and tribute albums were dedicated to Gerry Mulligan and Lee Morgan. In 1993 he revisited the plugged-in textures of his erstwhile fusion band by forming a group called Endangered Species (no relation to the similarly named Chicago-based rappers). After sitting in with Frank Mantooth's big band, a visit to Europe in March 1994 enabled Brignola to record live in Munich with Chris Barber's Jazz & Blues Band (a Continental edition largely comprised of Dutchmen), and to be featured with Ronnie Cuber in a group led by Netherlandish pianist Rein de Graaff on the album Baritone Explosion!
Brignola recorded with singing guitarist Michael Jerling, cabaret-style jazz vocalist Spider Saloff, vibraphonist Dave Pike, and guitarist Randy Johnston. He was heard on guitarist Tony Purrone's salute to saxophonist Jimmy Heath and another Gerry Mulligan tribute album, this time by the Three Baritone Saxophone Band featuring Brignola, Cuber, and Gary Smulyan. Nick Brignola's final accomplishments included writing supportive liner notes for Latina by Proxy, an album by Seattle-based soprano and baritone saxophonist Wenda Zonnefeld, and cutting an album with Toronto jazz trio D.E.W. East (Alex Dean, Barry Elmes, and Steve Wallace). On the album Tour de Force, destined to be his last recording, Brignola was backed by guitarist Chuck D'Aloia, bassist Eddie Gomez, drummer Bill Stewart, and a percussionist identified only as Café. Nick Brignola taught music theory and jazz history at colleges within commuting distance of his home in Eagle Mills, not far from his birthplace in Troy, NY. He lost his battle with cancer on February 8, 2002, in Albany. The College of Saint Rose, where he helped to establish jazz studies in the curriculum, now has a scholarship named after him.