Like the Velvet Underground, Sonic Youth, and the Jesus and Mary Chain, My Bloody Valentine redefined what noise meant within the context of pop music. Led by guitarist Kevin Shields, the group started out as a doomy post-punk outfit but gradually added more melody to their sound by the time of 1988's Isn't Anything, an album that merged the ethereal approach of Cocteau Twins with crushingly loud, shimmering distortion. Though My Bloody Valentine 's notorious lack of movement onstage was branded "shoegazing" by the British music press, soon legions of other shoegazers -- Ride, Lush, the Boo Radleys, Chapterhouse, Slowdive -- dominated late '80s and early '90s British indie along with the rolling dance-influenced Madchester scene. As shoegazing reached its peak in 1991, My Bloody Valentine released Loveless, which broke new sonic ground and was hailed as a masterpiece. Loveless was such a towering achievement that following it proved difficult for the band, but even in their decades-long absence, they were profoundly influential. My Bloody Valentine's dreamy sensuality seeped into the music of acts like Smashing Pumpkins and Hole later in the '90s, and provided the foundation for the subsequent generations of shoegazers that sprung up in the 2000s and beyond. When they returned with 2013's mbv, it reaffirmed that no matter how many bands they influenced, My Bloody Valentine's beauty and mystique was theirs alone.
Born in Queens, New York, Kevin Shields' family moved to Dublin, Ireland, when he was six years old. In his teens, he became obsessed with pop music, eventually playing in the punk rock band the Complex with his childhood friend Colm O'Ciosoig, whom he met in 1978 at a karate match. The group, whose repertoire consisted of Sex Pistols and Ramones covers, broke up when another of the band's members, Liam Ó Maonlaí, left to form Hothouse Flowers. Shields and O'Ciosoig then formed the short-lived post-punk trio A Life in the Day. The pair formed My Bloody Valentine in 1983 with lead vocalist David Conway, taking the name from a 1981 Canadian horror film. With guitarist Stephen Ivers, in March 1983 Shields and Conway recorded the band's first demo in Shields' parents' home on a four-track recorder, with Shields and O'Ciosoig overdubbing rhythm tracks at Litton Lane Studios. On the strength of the demo, My Bloody Valentine signed with Tycoon Records. Ivers left the band soon after recording the demo, with Conway's girlfriend Tina Durkin joining as keyboardist. Finding Ireland's music scene unreceptive to their style, My Bloody Valentine moved to the Netherlands after playing a show there, then headed to Berlin, where they released 1985's Birthday Party-influenced EP This Is Your Bloody Valentine.
In mid-1985, My Bloody Valentine moved to London. Not long after that, Durkin left the band, and the rest of the band started searching for a bassist. They found Debbie Googe through one of Shields' contacts, and the band rehearsed at Salem Studios, which was owned by Fever Records. The label's owners were impressed by the band, and that December, Fever released Geek!, another EP that went largely ignored. In October 1986, The New Record by My Bloody Valentine EP appeared on Kaleidoscope Sound, the label of Creation Records co-founder Joe Foster. Foster also produced the EP, which bore a Jesus & Mary Chain influence and reached number 22 on the U.K. Indie Chart. The EP's success led to more frequent gigs for the band and a following outside of London.
Early in 1986, My Bloody Valentine signed to the Primitives' label Lazy Records and issued the single Sunny Sundae Smile. The first of the band's releases to mesh airy melodies with grinding guitars, it was a Top Ten hit on the U.K. Indie Singles Chart. During the tour supporting the single's release, Conway left the group to become a writer. Lacking a lead vocalist, My Bloody Valentine auditioned several singers before finding Bilinda Butcher, who had played classical guitar as a child and sang mostly for fun, in April 1987. Butcher's breathy vocals fit the group's evolving sound and featured prominently on that November's Strawberry Wine EP, which reached number 13 on the U.K. Indie Singles chart. Released at the end of that month, the mini-album Ecstasy was quickly recorded, but provided the band its first opportunity to record in a studio properly and capture some of the innovative guitar techniques Shields had developed. Folding in elements of the Byrds and Love as well as the Jesus and Mary Chain into My Bloody Valentine's sound, Ecstasy reached number 12 on the U.K. Indie Albums Chart.
After My Bloody Valentine played a January 1988 show with Biff Bang Pow!, the band of Creation Records founder Alan McGee, he offered the band the chance to release a single on the label. Recorded in less than a week in an East London studio, that August's You Made Me Realise EP reflected the changes in the group's approach: Along with borrowing some of the noisy, feedback-laden sounds of American indie rockers such as Sonic Youth and Dinosaur Jr., Shields' use of reverse reverb, alternate tunings, tremolo arm manipulations, and copious effects helped define the band's style. Peaking at number two on the U.K. Indie Chart, You Made Me Realise was soon followed by October's Feed Me with Your Kiss EP, another harbinger of the mix of ear-splitting noise and seductive melodies My Bloody Valentine presented on their debut album, November 1988's Isn't Anything. The band holed up in rural Wales to record the album, which topped the U.K. Indie Chart and was greeted with enthusiastic reviews in the U.K. music press.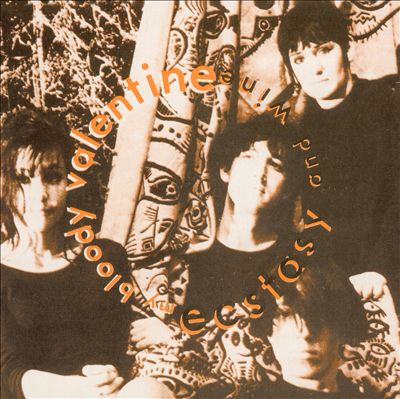 My Bloody Valentine's reputation had become large enough to attract the attention of Sire/Warner Bros. in the U.S., who became the group's American label. By the beginning of 1989, bands that based their sound on My Bloody Valentine's droning swirl began to appear. That February, the group retreated to the studio to record Isn't Anything's follow-up. Shields' exacting standards and experimental recording techniques, technical difficulties, and ailments the band struggled with (Shields and Butcher developed tinnitus, while O'Ciosoig was only able to perform a few drum patterns that were sampled to create rhythm tracks) resulted in a creative process that lasted over two years, involved 19 studios, and counted Alan Moulder, Anjali Dutt, and Laika's Guy Fixsen among the engineers who worked on it. Around the time the lengthy sessions started, Lazy Records issued Ecstasy and Wine, a compilation of Strawberry Wine and Ecstasy, without My Bloody Valentine's consent. In April 1990, the band resurfaced with Glider, an EP that hinted at the innovative sounds the band was creating, such as digital sampling and "glide guitar," Shields' term for his tremolo technique. Featuring the track "Soon," Glider reached number two on the U.K. Indie Chart, and the band took a break from recording to tour in support of the EP in the middle of 1990. The following February, My Bloody Valentine emerged again with the Tremolo EP, a number one hit on the U.K. Indie Chart.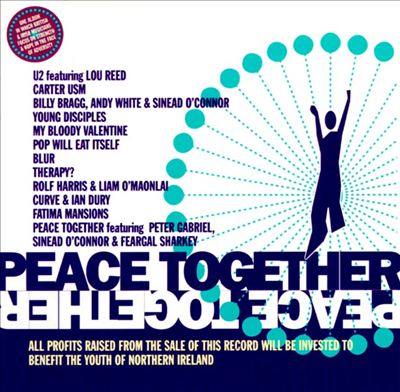 When My Bloody Valentine's second album, Loveless, finally appeared in November 1991, it was greeted with uniformly excellent reviews and became a hit within the U.K., reaching number 24 on the charts. In America, the group made significant inroads, particularly by supporting Dinosaur Jr.; the band's European dates became known for their intense volume. Though it was soon regarded as a classic,Loveless didn't sell in numbers to recoup its reported 500,000 dollar recording cost and Creation dropped the band from their roster (the label wouldn't fully recover until the 1994 signing of Oasis). In October 1992, My Bloody Valentine signed with Island Records, and Shields built a home studio with the advance that was completed in April 1993. That year, the band contributed a cover of Louis Armstrong's "We Have All the Time in the World" to Peace Together, a charity compilation that benefitted an organization working for peace in Northern Ireland. However, technical difficulties and creative blocks hampered the group. Though Shields reportedly completed two separate albums, including pieces inspired by the U.K.'s thriving electronic music scene, My Bloody Valentine's only other output during the '90s was a 1996 cover of Wire's "Map Ref. 41°N 93°W" for Whore: Various Artists Play Wire. O'Ciosoig and Googe departed in 1995, with the former moving to America and joining Hope Sandoval & the Warm Inventions and the latter forming Snowpony with Katharine Gifford after spending a year driving a cab. In 1997, Butcher left following another attempt to record My Bloody Valentine's third album. Shields spent several years collaborating with Dinosaur Jr. and Yo La Tengo among others, became a touring member of Primal Scream, and contributed songs to the soundtrack for Sofia Coppola's 2003 film Lost in Translation.
In the late 2000s, My Bloody Valentine reunited to play their first live shows in over 15 years. These dates included a five-night residency at London's Roundhouse venue in June 2008; later that year, they played the European festival circuit as well as major North American cities and the All Tomorrow's Parties festival they curated in Monticello, New York. In 2009 they embarked on a smaller round of dates, with dates in the Netherlands as well as the All Tomorrow's Parties "Nightmare Before Christmas" festival that December. May 2012 saw the release of the compilation EPs 1988 - 1991, which gathered all of the band's Creation short-form releases as well as previously unreleased material, as well as remastered editions of Isn't Anything and Loveless. In Februarly 2013 -- the same year Loveless was certified silver in the U.K. -- My Bloody Valentine released their third album, mbv. A surprise release initially available on the band's website (which crashed due to the demand for the album), mbv incorporated recordings from the '90s, 2000s, and 2010s and blended a more electronic approach, as well as more melody, into My Bloody Valentine's signature style. The album was widely acclaimed and reached number six on the U.K. Independent Albums Chart and number 29 on the U.K. Albums Chart. Following a 2020 collaboration with the clothing brand Supreme, My Bloody Valentine signed to Domino Records, which made the band's entire body of work available on streaming services for the first time and reissued their albums and EPs 1988 - 1991 on CD and vinyl.