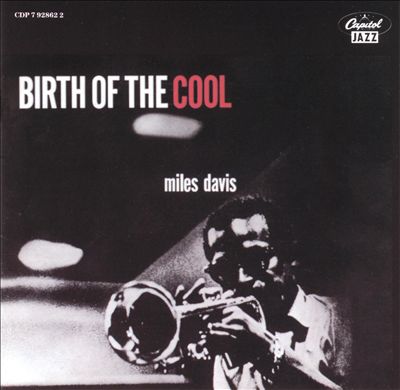 One of the most gifted musicians in jazz history, Max Roach helped establish a new vocabulary for jazz drummers during the bebop era and beyond. He shifted the rhythmic focus from the bass drum to the ride cymbal, a move that gave drummers more freedom. He told a complete story, varying pitch, tuning, patterns, and volume. He was a brilliant brush player, and could push, redirect, or break up the beat. In 1948 he participated in Miles Davis' seminal Birth of the Cool sessions before forming his own quintet with iconic bop trumpeter Clifford Brown. In 1953, he served as drummer in "the quintet" for the historic Jazz at Massey Hall concert, alongside Charlie Parker, Dizzy Gillespie, Bud Powell, and Charles Mingus. Later, the drummer's seminal 1961 We Insist! Freedom Now Suite set the tone for Civil Rights activism among his peers. Throughout the 1970s and '80s, Roach continued breaking new ground. He formed the percussion ensemble M'Boom in 1970, issuing a handful of acclaimed albums including 1973's Re: Percussion, M'Boom in 1979, and To the Max in 1991. He worked with vanguard musicians including storied duos with Anthony Braxton (The Long March) and Cecil Taylor (Historic Concerts). During the '90s Roach taught at the University of Massachusetts and continued to perform. He never stood still musically: he worked in trios, with symphony orchestras, backed gospel choirs, and with rapper Fab Five Freddy. Friendship, his final album in collaboration with trumpeter Clark Terry, was issued in 2002.
Roach was born in rural North Carolina in 1924. His mother sang gospel. His family moved to the Bedford-Stuyvesant section of Brooklyn, New York in 1928. Roach began his musical vocation as a child playing bugle in parades. He started playing drums at seven, and at ten, he was playing drums in gospel bands. He started playing jazz in earnest while in high school. In 1942, as an 18-year-old graduate, he received a call to fill in for Sonny Greer with the Duke Ellington Orchestra at the Paramount Theater in Manhattan. He starting hanging out and sitting in at the jazz clubs on 52nd Street, and at 78th Street & Broadway. His first professional recording took place in December 1943, backing saxophonist Coleman Hawkins. While serving as house drummer at Minton's Playhouse, he fell in with saxophonist Charlie Parker, trumpeter Dizzy Gillespie, and others at the famed locale. He was a frequent participant in after-hours jam sessions. Roach played brief stints with Benny Carter and Duke Ellington's band, then joined Gillespie's quintet in 1943 and served in Parker-led bands in 1945, and from 1947 to 1949. Roach traveled to Paris with Parker in 1949 and recorded there with him and others including Kenny Dorham. He also played with Louis Jordan, Red Allen, and Hawkins. He participated in Miles Davis' historic Birth of the Cool sessions in 1949.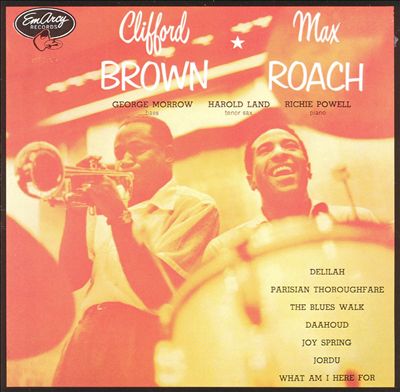 Roach enrolled in a classical percussion degree course at the Manhattan School of Music in 1950. He picked up with Parker again in 1951, and remained with him until he left school in 1953. During that tenure he served as drummer in "the quintet," and played at the historic Jazz at Massey Hall concert in Toronto with Charles Mingus, Bud Powell, Dizzy Gillespie, and Bird. These concerts marked the final time that the latter two would play together. During the early 1950s, Roach also toured with the Jazz at the Philharmonic revue, and recorded with Howard Rumsey's Lighthouse All-Stars, replacing Shelly Manne. During the mid-'50s, he was a sideman with Sonny Rollins for several years and co-led the Max Roach/Clifford Brown orchestra, with Powell's brother Richie on piano and saxophonists Harold Land and later, Rollins. Roach's frenetic, yet precise drumming laid the foundation for Brown's amazing trumpet solos. This group made landmark records during its short tenure, among them Clifford Brown & Max Roach (1954), Study in Brown and Brown and Roach Incorporated (1955), and At Basin Street (1956). Brown and Powell were tragically killed in a car crash on the way to a gig in Chicago in 1956. A devastated Roach tried to keep the group alive with Dorham and Rollins, and later with trumpeter Booker Little and saxophonist George Coleman. He became involved in a record label partnership with Charles Mingus, forming Debut Records in the mid-'50s. The label issued Jazz at Massey Hall in 1958 and Percussion Discussion (considered an avant-garde release at the time). Roach also appeared with Dorham, pianist Ramsey Lewis, saxophonist Hank Mobley, and bassist George Morrow. Later, he led another influential band, this time with Little, Coleman, tuba player Ray Draper, and bassist Art Davis. They cut seminal dates for Riverside and Emarcy, among them Deeds Not Words.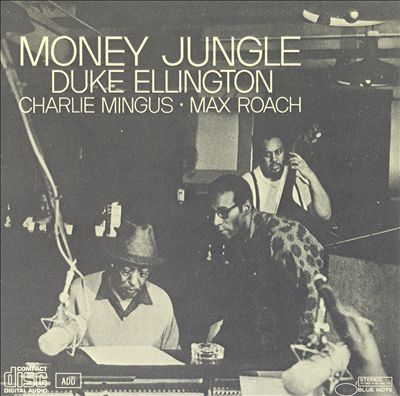 After playing with pianist Randy Weston on Uhuru Afrika, Roach, a deeply committed Civil Rights activist, composed and recorded We Insist! Freedom Now Suite in 1960. A multi-faceted work, it featured vocals by his then-wife Abbey Lincoln and lyrics by Oscar Brown, Jr. It vehemently confronted racial injustice in America, and its influence endures in the 21st century. In 1962, he recorded Money Jungle, a collaborative album with Mingus and Ellington. It is regarded as one of the finest trio albums ever put to tape. Roach and his various bands recorded and toured frequently. He released the collaborative Much Max with Stanley Turrentine in 1964 and the now-classic Drums Unlimited in 1966. In 1968 Roach and the Turrentine Brothers released Let's Groove for Time Records.
In 1970, Roach formed his long-lived percussion ensemble M'Boom. Its original members included Roy Brooks, Warren Smith, Joe Chambers, Omar Clay, Ray Mantilla, and Freddie Waits. The following year, he led a sextet that included saxophonist Billy Harper, trumpeter Cecil Bridgewater, pianist George Cables, electric bassist Eddie Mathias, and percussionist Ralph MacDonald. This group collaborated with gospel singers J.C. and Dorothy White, Ruby McClure, and a 22-voice choir to record the enduring jazz/gospel fusion outing Lift Every Voice and Sing for Atlantic. The six-track set offered sometimes radical rearrangements of gospel standards arranged by William Bell, Lincoln, and Coleridge-Taylor Perkinson.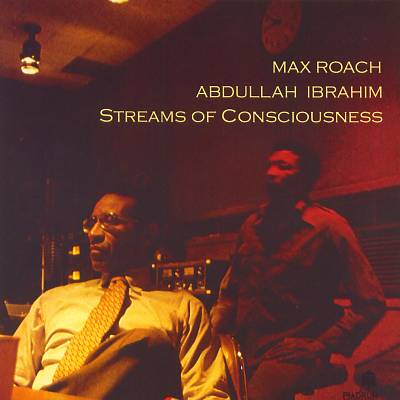 Re:Percussion, the debut album by M'Boom, was released by Strata East in 1973 and reissued by Japan's Baystate the following year. Roach continued recording prolifically for various labels. In 1976, he cut the oft-reissued Force - Sweet Mao - Suid Afrika 76 in a duo with saxophonist Archie Shepp, and a year later released The Loadstar for Italy's Horo label, leading a quartet with Harper, Bridgewater, and bassist Reggie Workman. He cut the duo offering Streams of Consciousness with pianist Abdullah Ibrahim in 1977. The drummer's quartet -- with bassist Calvin Hill in place of Workman -- issued Confirmation in 1978, the same year Roach and Anthony Braxton released the duo offering Birth and ReBirth for Black Saint.
In 1980, Columbia released M'Boom. Recorded the previous year, this eponymously titled offering is regarded by critics and historians alike as foundational in the evolution of jazz and world music as it wove together strands from jazz, salsa, African and European traditions. That same year, the drummer's quartet released Pictures in a Frame for Soul Note, and Roach and Shepp recorded and released the double-live duo album The Long March on Switzerland's Hat Hut label, recorded at their concert at the Willisau Jazz Festival. During the same festival, Roach and Braxton played and recorded a duo concert, releasing it as One in Two-Two in One in 1980. In 1981, the Roach quartet, with saxophonist/flutist Odean Pope replacing Harper, issued the charting Chattahoochee Red for Columbia. The following year that group released the historic In the Light, and the drummer issued Swish, a duo with pianist Connie Crothers. In 1984, a December 1979 duo concert between Cecil Taylor and Roach was released as Historic Concerts on Soul Note. That same year, the drummer released Long as You're Living, his Enja debut, with a new quintet including trombonist Julian Priester, Stanley and Tommy Turrentine, and bassist Bobby Boswell, as well as the quartet recordings Scott Free, It's Christmas Again, and Survivors. 1984 also saw the release of Collage, the third album from M'Boom. During that decade, Roach performed with many ensembles, including a group of break dancers and rapper Fab 5 Freddy in what may be the first fusion of jazz and hip-hop.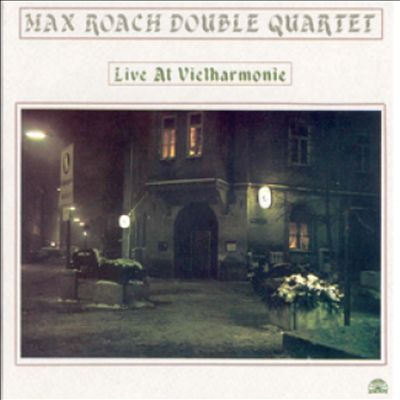 In 1985 he released Live at Vielharmonie Munich featuring the Swedenborg String Quartet; it was billed to the Max Roach Double Quartet. He followed it that year with Easy Winners in collaboration with the Uptown String Quartet that included his daughter, Maxine Roach, on viola. The string group's name morphed into the Max Roach Double Quartet for 1986's Bright Moments. On June 15, 1989 at La Grande Hale, in La Villette, Paris, Roach took part in the Paris All Stars: Homage to Charlie Parker concert alongside saxophonists Jackie McLean, Phil Woods, and Stan Getz, Gillespie, pianist Hank Jones, bassist Percy Heath and vibraphonist Milt Jackson. The set was released by A&M in 1990 alongside a duo recording with Gillespie simply titled Paris 1989. The year also saw the Manhattan School of Music award Roach -- who had begun teaching full time at University of Massachusetts, Amherst -- an honorary doctorate. He also released Drum Conversation, his first solo percussion album. In 1992, M'Boom issued their final offering, Live at S.O.B.'s for the Blue Moon label.
In 1994, he appeared on Rush drummer Neil Peart's Burning for Buddy, performing "The Drum Also Waltzes" Pt. 1 and Pt. 2 on the first of the two-volume tribute set. Roach spent most of his time teaching, but still performed and discovered new directions in jazz. In 1998, he released Beijing Trio, a collaborative date on the Asian Improv label with pianist Jon Jang and famed erhu player Jiebing Chen. The following year, Explorations ... To the Mth Degree, a duo performance with Mal Waldron from the latter's 1995 70th birthday concert, was released by Slam Productions. In 2002, Roach teamed with longtime friend and trumpeter Clark Terry to release Friendship with bassist Marcus McLaurine and pianist Don Friedman for Columbia. It was the drummer's final album. He became less active due to several forms of illness. Roach died in New York of complications related to Alzheimer's in August 2007.