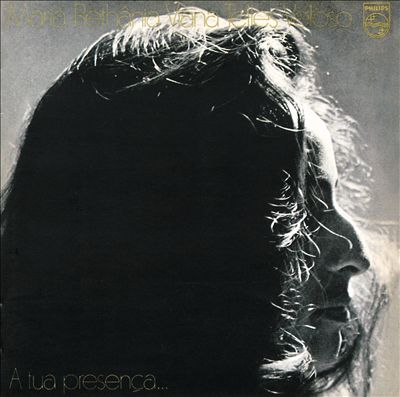 Brazil's Maria Bethânia is one of her country's most famous, gifted, and enduring singers. After releasing her self-titled debut in 1965 for RCA, she became one of the most prominent voices to emerge from the MPB/Tropicalia eras; she has mastered genres ranging from samba, bossa, and pop to jazz, indigenous folk, and even rock. Possessed of a slightly reedy alto that can bend to contralto, Bethânia's background as a theatrical actress infused her recorded and live performances with drama, yet retained a deeply personal, intimate connection to both her material and her audience. She has released more than 60 albums. A slate of popular outings from the 1970s including A Tua Presenca, Drama, Pássaro Da Manhã, Alibi, and Mel expanded her reputation across the globe to Europe and Asia. 1976's Doces Bárbaros documented an MPB supergroup of the same name that included Bethânia, Gilberto Gil, Caetano Veloso, and Gal Costa and become one of the best-selling albums in Brazil's history. 1997's Imitação Da Vida went to the top of the MPB charts and remains one of her best-known albums. In 2003 she released the smash Brasileirinho, a collection of pointedly Brazilian songs and styles, accompanied by Nana Caymmi, Tira Poeira, and Uakti. In 2008 collaborated with Cuban singer Omara Portuondo on Maria Bethânia & Omara Portuondo, which garnered global acclaim. That same year, she was the subject of Georges Gachot's biographical documentary Musica E Perfume. In 2019 she issued Mangueira: A Menina Dos Meus Olhos, a celebration of the Rio samba school.
Maria Bethânia Viana Teles Veloso was born in Santo Amaro da Purificação, in the state of Bahia in 1946, the sixth of eight children. She is the sister of singer/songwriter Caetano Veloso and poet and songwriter Mabel Veloso. Her father was not musically inclined, but loved to listen to Dorival Caymmi and Noel Rosa, while her mother sang almost constantly at home, becoming her daughter's first musical influence. At 13, her family moved to Salvador and she began to frequent the "university circles," intellectual groups gathering around art exhibitions and performances. The access to theater plays strengthened her desire to become an actress. At that time, a novice Caetano Veloso had become the musical partner of the play director Álvaro Guimarães. For Guimarães's short movie Moleques de Rua, Veloso composed a soundtrack which, according to him, should have had his sister singing in it. At 16, Bethânia initially refused, as she had never sung under such pressure. But Guimarães loved her timbre, and included her in his 1963 staging of Nelson Rodrigues' musical Boca de Ouro, where she performed a samba a cappella to introduce the play. The same year, the Velosos became acquainted with Gilberto Gil and Gal Costa. Veloso was invited to organize a Brazilian popular music show at the opening of Salvador's Teatro Vila Velha. The show, Nós, Por Exemplo, included Veloso, Maria Bethânia, Gilberto Gil, and Gal Costa (still using the name Maria da Graça). The show was a success and was re-enacted two weeks later, with the addition of Tom Zé (still using his Antônio José moniker). The success was even bigger, and the group (without Zé) soon presented another show, Nova Bossa Velha, Velha Bossa Nova. That same year, Bethânia acted alone in her musical Mora na Filosofia, directed by Veloso and Gil.
In January 1965, still a school student, she was surprised by the invitation to substitute for Nara Leão (an established young singer who had had a problem with her vocal cords) in her highly successful show Opinião. Bethânia's opening on February 13, 1965, was very successful, and her dramatic performance of "Carcará" (João do Vale/José Cândido) launched her as an overnight national success, repeated during the São Paulo season. Because of the success, Guilherme Araújo, then assistant for Aluísio de Oliveira at the RCA label, invited her, through Veloso, to record for the label. In May of that year, Bethânia recorded her first single, and some months later, her self-titled debut LP. On September 26, 1965, the Vila Velha gang opened the show Arena Canta Bahia, at São Paulo's Teatro de Arena. In April 1966, Bethânia, invited by Guilherme Araújo, opened her show Recital. She also performed at the Barroco nightclub in Rio. Also in 1966, Bethânia performed in the show Pois É, together with Gilberto Gil and Vinícius de Moraes, at the Teatro Opinião. In 1967, she recorded Edu Lobo e Maria Bethânia. Through 1970, she would also be featured in the shows Yes, Nós Temos Maria Bethânia, Comigo Me Desavim, Recital Na Boite Blow Up, and Brasileiro Profissão Esperança.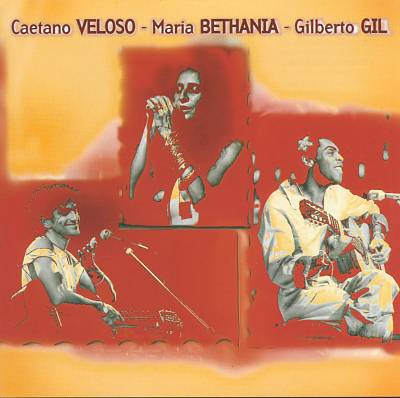 In 1968, as the Tropicalia movement was exploding, Bethânia performed on the LP Veloso, Gil e Bethânia (RCA) and the solo LP Recital na Boite Barroco. In 1969 and 1970, respectively, she released the LPs Maria Bethânia and Maria Bethânia Ao Vivo. Interestingly, she has always regarded herself a "tropicalista" -- given her birth and proximity to its creators, but she also claims she was never part of the movement and her discography lends credence to this assertion.
In 1971, she recorded the LP A Tua Presenca for Philips, the first of her albums to gain notice in Europe. In July, backed by the Terra Trio, she opened her show Rosa Dos Ventos at Rio's Teatro da Praia, which yielded a live album of the same name produced by Roberto Menescal. She traveled to Europe and performed at the MIDEM (Cannes, France), and in Italy, and issued the charting collaborative outing En La Fusa (Mar Del Plata) with Vinicius de Moraes and Toquinho. In 1972 she appeared, together with Chico Buarque and Leão in the film Quando o Carnaval Chegar. The movie's soundtrack was released in 1972 by Philips. Bethânia wrote the lyrics for Caetano Veloso's song "Trampolim," released on her breakthrough 1972 album Drama. produced by Menescal and arranged by Perinho de Albuquerque. Its understated melodies and jazz arrangements succeeded in making it one of her most popular albums. It marked the beginning of a classic run for the singer. She closed the year touring Italy, Germany, Austria, Denmark, and Norway.
In 1973, she recorded her show Drama, Luz da Noite as a live album. In 1974, commemorating the tenth year of her career, she released the live A Cena Muda. On June 6, 1975, Bethânia performed in a live show with Chico Buarque, recorded and released as Chico Buarque e Maria Bethânia Gravado ao Vivo no Canecão. In 1976, she recorded the seminal Pássaro Proibido, co-produced by her brother and Albuquerque. That July, with her sibling, Gilberto Gil, and Gal Costa, she toured Brazil with the show Os Doces Bárbaros, which yielded a film by Jom Tob Azulay and a chart-topping gold-certified double album.
In January of the following year she began touring a show that would become the wildly successful studio album Pássaro da Manhã. It not only registered on the charts in Europe, but earned her another gold record at home. In May 1978, Maria Bethânia e Caetano Veloso ao Vivo appeared and landed inside Brazil's Top Ten. By 1978, Bethânia was riding a wave of popularity that would establish her as a Brazilian music legend. Her classic album Alibi registered so many pre-orders it was certified gold before it even shipped, making Bethânia the first Brazilian female singer to sell one million copies of a recording. It is widely regarded as her masterpiece. In December 1979, she closed out the decade with the best-selling Mel.
The 1980s began with another hit record with the low-key yet elegantly arranged Talismã. In 1981, she, Veloso, and Gil participated with João Gilberto on the latter's album Brasil, showcasing two generations of singers interpreting bossa nova. It too went gold. She also issued the solo album Alteza that stylistically followed in the footsteps of Alibi and Mel, and placed inside the Top Ten. In 1982, Bethânia's career took another turn with the album Ciclo, which branched out of her popular formula and took a new acoustic direction. She also released the best-selling concert outing Nossos Momentos, with Gil serving as musical director.
In 1984, she released A Beira E O Mar, composed of songs written especially for her, and followed with Palco Iluminado to kick-off to her 20th anniversary tour. Bethânia re-signed with RCA for the release of 1986's best-selling, award-winning Dezembros, which contained unpublished songs by Tom Jobim, Chico Buarque, and Caetano Veloso, and the track "Canções e Momentos," written for her by Milton Nascimento. In 1988 she issued Maria, with guest spots by Ladysmith Black Mambazo, Jeanne Moreau, and Gal Costa. In 1989, Memória da Pele was released; it included Jose Galhardo's tango "Confesso," and Buarque's "A Mais Bonito" and was arranged by Jacques Morelenbaum.
In 1990 Bethânia released Cancoes E Momentos and commemorated her 25th career anniversary with the album and show 25 Anos. A year later she issued Canto Do Paje. Arranged by Menescal, it was almost entirely composed of blues, ballads, and torch songs and included guest appearances from Costa, Nina Simone, and João Gilberto. It won critical acclaim in the U.S and Asia and charted in Brazil and Germany.
In 1992, she released Olho D'água; its title track was included in a major soap opera's soundtrack. 1993's As Canções Que Você Fez Pra Mim was a tribute to songwriter Roberto Carlos, and a large-scale production touring show. The album sold more than a million-and-a-half copies, making it Brazil's best-selling album that year. In 1994, she re-recorded it in Spanish as As Canciones Que Tu Hisiste Para Mi.
After live and compilation offerings in 1995 and 1996, respectively (Bethânia has nearly 100 live LPs in addition to her studio catalog), she recorded Ambar for Odeon, followed by the live Imitação da Vida in 1997. Recorded in Los Angeles and London, it featured guest appearances by Zap Mama and Buarque.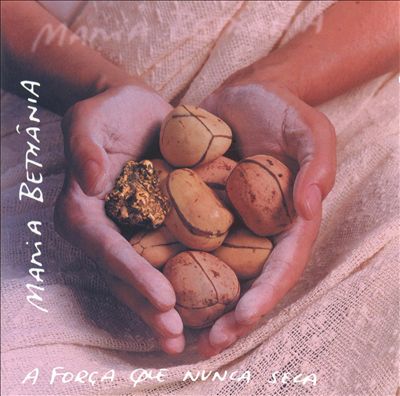 Bethânia closed the decade and the 20th century with A Forca Que Nunca Seca, a primarily acoustic studio album.
2001's Maricotinha showcased the singer delivering 13 intense romantic songs by composers including Adriana Calcanhotto, Chico Cesar, Lenine, and others. Arranged by Jaime Alem and co-produced by him and Guto Graça Mello, it topped the album charts at home and also charted in Asia, Germany, Spain, and Italy. In addition to an all-star cast of instrumentalists who included Marcio Montarroyos, it featured a guest spot by her nephew Moreno Veloso. Its live companion LP, Maricotinha Ao Vivo, was released the following year, marking the restless Bethânia's debut for Biscoito Fino, her non-exclusive label home.
2003's Canticos Preces Suplicas A Senhora Dos Jardins Do Ceu offered an album's worth of songs dedicated to the Virgin Mary by Western composers such as J.S. Bach and Franz Schubert, as well as numerous others in the public domain. They were rearranged to reflect a decidedly Brazilian sound (as they were arranged by Veloso, Gil and others). Though Bethânia's recordings often reflected a spiritual point of view -- thanks to her extremely active participation in the Candomble faith -- this marked her first decidedly religious offering.
She followed it with 2004's Brasileirinho, a collection of songs steeped in Brazilian musical traditions, from samba, Forró, to afoxe to carnival songs, bossa, and Candomble religious sources, with lyrics from João Guimarães Rosa and Mário de Andrade, and a handpicked cast of performers who include Nana Caymmi, Uakti, Miucha, and Tira Poeira, to name a few. It is among her most cherished and enduring albums. It topped the charts at home and achieved sales success across the globe. Its sold-out tour resulted in a live album and a concert film directed by Bia Lessa. In 2005 she issued an album she'd long wanted to record, 2005's full-length Que Falta Voce Me Faz, featuring the songs of Vinicius de Moraes. That year she was the subject of French director Georges Gachot's full-length documentary feature film Musica E Perfume.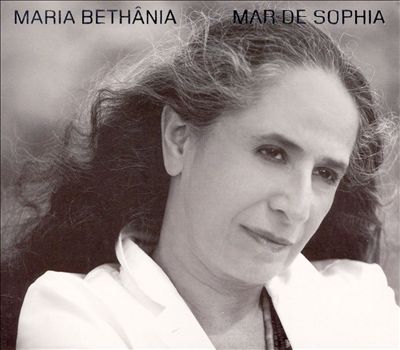 Bethânia released two thematically linked albums in 2005 and 2006: Mar de Sophia was a tribute to Portuguese poet Sophia de Mello Breyner Andresen. Bethânia presented the writer's poems about the sea interspersed with popular Brazilian songs also centered on the sea as their common subject matter. 2006's companion Pirata showcased songs with rivers as their central character. It included Edu Lobo's "O Tempo E O Rio," Veloso's "Os Argonautas," the radio smash hit "Eu Que Nao Sei Quase Nada Do Mar," by Ana Carolina and Jorge Vercilo, and singer Vanessa de Mata's "Sereia De Agua Doce," all of them framed in sparse acoustically arranged charts offering simple instrumentation.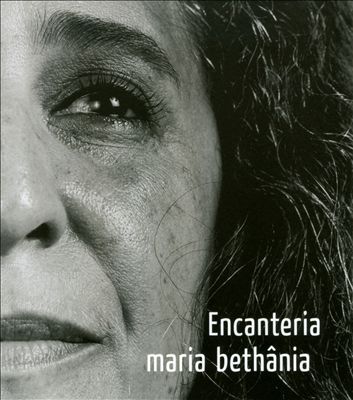 In 2008, Buena Vista Social Club singer Omara Portuando and Maria Bethânia issued a bilingual, self-titled duo outing (and accompanying DVD) featuring an all-star band led by pianist Roberto Fonseca. Along with virtually all of her albums in the 21st century, it drew global acclaim. Two more thematically linked albums closed out the singer's decade in 2009: Encantreria and Tua were both collections of intimate love songs by some of Brazil's greatest writers including Dory Caymmi, Adriana Calcanhotto, Roque Ferreira, Arnaldo Antunes, and many others. Both records landed inside the Top Five and paved the way for a tour that sold out each of its 47 appearances as well as birthing a live album and DVD. My Backyard and Oasis De Bethania both arrived in 2014; both were sets of folk, samba, Fado, torch ballads, and spiritual songs by Brazil's top composers. On both recordings, the singer was accompanied only by piano, acoustic guitar, accordion, and percussion. 2015 saw the release of a live touring version of Brasileirinho, while the 40-track DVD/audio disc box Abraçar E Agradecer appeared the following year.
In 2018 Bethânia teamed with Zeca Pagodinho for the 34-track live outing De Santo Amaro a Xerém, and in 2019 returned to the studio to conceive and record Mangueira, A Menina Dos Meus Olhos, an album-length celebration of songs from the Rio carnival samba school. She toured Brazil and South America with Chico Buarque. In 2020, Bethânia was co-billed as part of the compilation Vinicius de Moraes in Argentina. Further, RCA, EMI/Odeon, and Philips coordinated a remaster and reissue program of her vast catalog for her 75th birthday.