An R&B band that only played pop to get on the charts, Manfred Mann ranked among the most adept British Invasion acts in both styles. The fact that their range encompassed jazz as well as rhythm & blues, coupled with some elements of their appearance and presentation -- co-founder/keyboardist Manfred Mann's bearded, bespectacled presence -- also made the Manfreds more of a thinking person's band than a cute, cuddly, outfit like the Beatles, or sexual provocateurs in the manner of the Rolling Stones. Yet, their approach to R&B was as valid as that of the Stones, equally compelling and often more sophisticated. They charted an impressive number of singles from 1964 through 1969, and developed a large, loyal international fandom that lingers to this day.
South African-born keyboardist Manfred Mann, born Manfred Lubowitz in Johannesburg in 1940, was originally an aspiring jazz player. He performed at dances and local coffee bars in Johannesburg as a teenager, and studied classical music at Witwatersrand University, also playing with Hugh Masekela in a local band. His influences included John Coltrane, Miles Davis, Cannonball Adderley, Ornette Coleman, Bill Evans, and Dave Brubeck. He felt that his musical growth would be stymied by further work in South Africa, however, and decided to move to England in 1961, making his living as a jazz pianist and teacher, and writing articles under the name Manfred Manne, the surname derived from drummer Shelly Manne -- he later dropped the "e" and used "Manfred Mann" as his performing name.
Mann's preference for jazz quickly ran headlong into the growing public taste for rhythm and blues that began sweeping through younger audiences in England during the early '60s. In the course of his playing at the Butlins resort in Clacton during 1962, Mann met percussionist Mike Hugg, and the two soon began playing together in a band that included Graham Bond. Hugg and Mann eventually formed their own band, the Mann Hugg Blues Brothers, which grew into a septet, including two saxmen and a trumpet player. They were successful on the London club scene, playing venues such as the Marquee and other top music spots. The band's membership also grew to include guitarist, flautist, and saxman Mike Vickers.
The group was still lacking a lead singer, but this deficiency was rectified in late 1962 when they added Paul Jones, who had previously worked with guitarist Tom McGuinness, to their lineup. By early 1963, the Mann Hugg Blues Brothers had shrunk back to five members -- Manfred Mann (keyboards), Mike Hugg (percussion), Mike Vickers (guitar, sax, flute), Paul Jones (vocals), and Dave Richmond (bass) -- and also picked up a manager, Kenneth Pitt, who arranged auditions for the group with Pye, Decca, and EMI Records.
The EMI audition in May of 1963 was the one that worked, and they were signed to the latter company's HMV label. The band was assigned producer John Burgess, who was intrigued by the mix of jazz and R&B in their style. It was also Burgess who decided that the group needed a shorter, punchier name and -- against the wishes of the keyboardist himself -- chose Manfred Mann as the band's name.
Paul Jones was one of the best British Invasion singers, and his resonant vocals were the best feature of Manfred Mann's early R&B sides, which had a slightly jazzier and smoother touch than the early work of the Rolling Stones and the Animals. The group's debut single, "Why Should We Not" b/w "Brother Jack," were drawn from their first EMI commercial recording audition, and showed a bit of what the band could do instrumentally -- the A-side was a moody, bluesy original that alternately featured Vickers' sax, Jones' harmonica, and Mann's organ, while the flip was a bouncy jazz variant on "Frere Jacques." If the group's debut showed the Manfreds' virtuosity and cleverness, then the blues-rock follow-up "Cock-A Hoop" heralded the arrival of a major and charismatic singing talent in Paul Jones. Despite a lot of radio play, "Cock-A Hoop" failed to chart. The group's luck changed late in 1963, however, when they were asked to write a new theme song for the British television rock & roll showcase Ready, Steady, Go. The result was "5-4-3-2-1," a catchy, pulsing piece of rock & roll that got to number five on the British charts and became the permanent signature tune for the television series. Shortly after the single was recorded, Dave Richmond exited Manfred Mann's lineup and was replaced by Tom McGuinness, who switched from guitar to bass to join the group.
The chart success of "5-4-3-2-1" and its use on Ready! Steady! Go! gave the band a secure commercial berth in England, and their two follow-up singles charted easily. It was a couple covers of obscure girl group songs, "Do Wah Diddy Diddy" (the Exciters) and "Sha La La" (the Shirelles), that broke the group internationally -- "Do Wah Diddy Diddy" reached number one in the States, and "Sha La La" just missed the Top Ten. The Paul Jones lineup never duplicated this success, although "Come Tomorrow" and "Pretty Flamingo" were smaller hits. From 1964 to 1966, they took the approach of playing gutsy pop/rock on their singles (including the original version of "My Little Red Book") and soul and R&B on their albums, with occasional detours into jazz, Dylan (their cover of his then-unreleased "If You Gotta Go, Go Now" was a big British hit), and competent original material. This sharp difference in the content of their singles and albums resulted in a split in their audience, and occasional confusion on the part of fans, who bought Manfred Mann's albums expecting to hear songs like "Do Wah Diddy Diddy," and, instead, found blues and jazz numbers represented much more than pop-rock. Listeners who paid close attention to "Do Wah Diddy Diddy" might've recognized unusual touches such as the kettle drums over the choruses, and anyone who flipped it over might've gotten the hint from its B-side, a jazz-blues jam called "What You Gonna Do?" An organ and harmonica-driven piece, it was as hard and threatening as "Do Wah Diddy Diddy" was upbeat and cheerful.
Where "Do Wah Diddy Diddy" and the later "Sha La La La" were covers of girl group songs, Manfred Mann's debut long-player, cut in early 1964, had a very different orientation, comprised of songs associated with Cannonball Adderley, Ike & Tina Turner, Muddy Waters, Willie Dixon, and Howlin' Wolf, among others, and hard, bluesy originals such as the Mann-Jones authored "What Are You Gonna Do."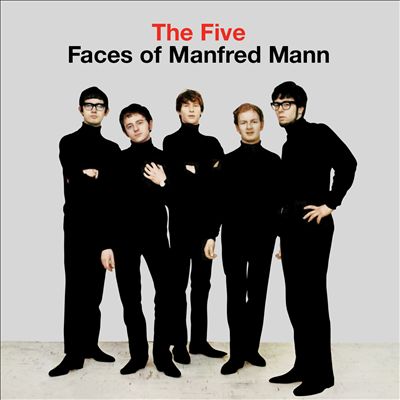 Still, driven by their reputation and some superb R&B singing by Paul Jones -- who was a genuine rival to Mick Jagger in those days -- the group's debut LP, The Five Faces of Manfred Mann made it all the way to number three on the British album chart. The group did seem to make the leap from a single to and album act -- their EMI LPs and EPs all sold well, charting high despite the fact that the sound on them wasn't quite like any other British Invasion act.
Manfred Mann played blues-based rock, but in contrast to most of the other British bands of the era, the guitar didn't always figure prominently in their sound. Mike Vickers was as likely to be playing a sax (and he really played, rather than just honking along in the manner of rock saxmen of the period such as Dennis Payton of the Dave Clark Five), or even a flute as an electric guitar; and Mike Hugg also played the vibraphone, an instrument usually far removed from rock & roll. Yet despite the fact that these guys had obviously all studied music, they made a hard and heavy R&B sound, and flexed their musical muscles accordingly -- check out Vickers' guitar break on their version of Willie Dixon's "Hoochie Coochie Man," or Mann's pounding piano on Muddy Waters' "Got My Mojo Working." What's more, they could write credibly -- not hits in the manner of Mick Jagger and Keith Richards, but album tracks like "I'm Your Kingpin," "Without You," and "Don't Ask Me What I Say" held up very nicely alongside the Howlin' Wolf, Muddy Waters, and Bo Diddley repertory on the album.
One quirk in the group's history was their virtual absence from America, apart from a three-week tour late in 1964, despite their charting four singles (including the number one "Do Wah Diddy Diddy") in the U.S. during 1964-66. The band found America, with its vast distances as well as its distance from England, too wearying a market to deal with for the money being offered, and concentrated instead on Europe. They opened several important doors by touring such Eastern Bloc countries as Czechoslovakia, in a time when American and western European rock & roll was usually considered a prime manifestation of capitalist decadence.
Despite their popularity and a steady stream of successful singles, EPs, and LPs, all wasn't well within the quintet. Each member of the group got to express himself, at least on their EP and album tracks, but by 1965 there was a sense that Vickers, Jones, McGuinness, and Hugg were all becoming known simply as "Manfred Mann," especially on their singles. None of that would have been so bad if the sound on those singles had represented anything other than the group's most commercial manifestation, and Manfred Mann hadn't also been the name of a walking, breathing bandmate -- though Mann himself had never wanted the group to use his name.
Mike Vickers, who'd always desired to expand his talents into work as a composer and arranger, exited in late 1965 -- his later credits, in addition to work on soundtracks and other instrumental material, also included producing and arranging songs for the Zombies and Gentle Giant, among other bands. His announcement was the crack in the wall that allowed Paul Jones -- who had been getting a vast amount of attention anyway (if awkwardly) as the lead singer of Manfred Mann -- to announce his departure in pursuit of careers as a solo performer and actor, although he stayed with the group well into 1966.
The core of the band, consisting of Mann, McGuinness, and Hugg, soon picked up Jack Bruce, then in John Mayall & the Bluesbreakers, on bass, which allowed Tom McGuinness to return to playing guitar. A saxman and trumpet player also came into the lineup around this time. A car accident early in 1966 left Jones sidelined for an extended period, which resulted in the group recording a large number of instrumental numbers, several of which -- including jazzy covers of "Satisfaction," "I Got You Babe," and "Still I'm Sad" -- appeared on the EP Instrumental Asylum. Despite all of its internal problems, the band generated yet another worldwide hit single in "Pretty Flamingo," which reached the number one spot in England and made the Top 30 in America, despite the group's not touring there to promote it. Even this record, and a number one charting EP in England (Machines) failed to stabilize the band's situation -- in the wake of "Pretty Flamingo" in the spring of 1966, Jack Bruce exited the group to join a new kind of rock-blues trio with Ginger Baker and Eric Clapton, to be called Cream. To top matters off, May of 1966 marked the end of the contract that the band had signed with EMI. The label evidently had sufficient doubts about the group's ability to continue, that it hedged its bets by signing Paul Jones as a solo act and, despite a pair of chart-toppers to their credit that year, let Manfred Mann go. Mann and Hugg, as the original co-founders of the band, weren't going to let it disappear, however -- with McGuinness, they still comprised the core of a group, and they surprised a lot of onlookers (and, no doubt, their former label) by forming a new lineup around singer Mike D'Abo. Beatles' friend Klaus Voormann, late of Paddy, Klaus & Gibson also joined in this aggregation on bass. As a backdrop to all of this maneuvering, Mike Hugg suddenly emerged as a successful songwriter in his own right when the Yardbirds, with whom the Manfreds had previously toured, covered "You're a Better Man Than I," a song he'd written in collaboration with his brother Brian Hugg. Ironically, the Manfreds of this period didn't get around to covering the song themselves, which was probably just as well, as the Yardbirds' version, cut at Sun Records in Memphis with legendary producer Sam Philips running the session, became an instant classic and remained in the group's repertory for years. It wouldn't be the last song that members of the Manfreds would provide to the Yardbirds, but it was the best. Manfred Mann signed with Fontana Records, an English off-shoot of the Holland-based Philips label (best known as the home of the Merseybeats and Wayne Fontana & the Mindbenders), in June of 1966. At various times over the next year, EMI would release EPs and LPs of older material by the original band that competed with their new recordings. The advent of a new contract with a new Manfred Mann lineup essentially opened a new, separate phase ("Chapter Two") in the band's career, similar to the post-blues era of Fleetwood Mac. Mike D'Abo, though a good singer, lacked Paul Jones' depth and power, and the group compensated with an approach that was more pop than blues oriented, although at first the differences were very subtle.
The new lineup's first single, a cover of Dylan's "Just Like a Woman," became a Top Ten hit in England during the summer of the 1966, establishing the new lineup's commercial credibility. The big change came with their next single, "Semi-Detached Suburban Mr. James," a song written by Geoff Stevens of the New Vaudeville Band -- a novelty song that marked a major departure for the group, it made number two in England and began the reshaping the band's sound and image. A new album, As Is, followed in October of 1966. It had a cut or two that harked back to their R&B days, as well as the two hit singles, but As Is also contained a fair amount of psychedelic and experimental conceptual music, including the prominent use of an instrument new to their sound -- a Mellotron -- and a solo acoustic guitar piece by Voorman, as well as one track, "Another Kind of Music," that mixed pop and operatic-style choruses.
The group returned to its jazz roots momentarily for an EP, Instrumental Assassination, consisting of instrumental tracks, similar to the earlier Instrumental Asylum on EMI. The group also hit in the spring of 1967 with "Ha! Ha! Said the Clown," a Tony Hazzard song that also got picked up by the Yardbirds in the final phase of their history. During this same period, Mann and Hugg linked up as songwriters and emerged as successful in the field of commercials and, to a lesser degree, soundtracks. Their pop-oriented approach to their singles, with occasional forays into psychedelic and progressive rock, yielded a string of Top Ten hits in England through 1969, although the only one to hit the jackpot in the U.S. was their cover of a then-unreleased Dylan song, "The Mighty Quinn." Mann dissolved the D'Abo lineup in 1969 to form Manfred Mann Chapter Three -- drummer Mike Hugg, who had been in the band since the beginning, took over on piano and vocals, and as principal songwriter, while Mann played the organ and arranged the music. The outfit's early jazz-rock efforts were interesting, but not very popular, and Manfred steered the ship back toward mainstream rock by forming yet another incarnation, Manfred Mann's Earth Band, with Mick Rogers on vocals and guitar. The heavier, more synthesizer-oriented outfit made quite a few albums in the 1970s. Mann also found time for various outside projects, including producing Lo and Behold, an album of Dylan songs that the songwriter had never recorded officially -- and, in that regard, something of an off-shoot of one element of Manfred Mann's history -- cut by Tom McGuinness' then current group, McGuinness Flint, which also included instrumental contributions by Mike Hugg.
The 1976 Earth Band album The Roaring Silence, featuring singer/guitarist Chris Thompson on lead vocals, made the Top Ten, and included the number one hit "Blinded by the Light," a milestone of sorts for Bruce Springsteen as a songwriter, whose work Mann had discovered three years earlier. Mann also made the Top 40 with another Springsteen cover, "Spirit in the Night." The Earth Band, in various configurations and working on different styles, with interruptions (especially by Mann's efforts at solo music), has endured for more than two decades since their last chart hit, finding success in the concert arena when their studio work ceased to catch the public's imagination.
Ironically, despite Mann's oft-proclaimed preferences for serious explorations of jazz, blues, and progressive music, it's his pop/rock recordings that hold up best, and for which he'll be remembered most. The continuing power of that music was illustrated in 1992, when the release of a television-marketed compilation of EMI and Fontana tracks called The Ages of Mann precipitated a reunion of Mike D'Abo and Paul Jones with McGuinness, Hugg, and Vickers, for a tour under the guise of "the Manfreds". Manfred Mann himself, although still heavily involved with his own current projects and never a part of "the Manfreds," participated in some radio appearances by the re-formed group. The Manfreds reunited twice more over the next two years, for tours or Europe and a brief foray into America.