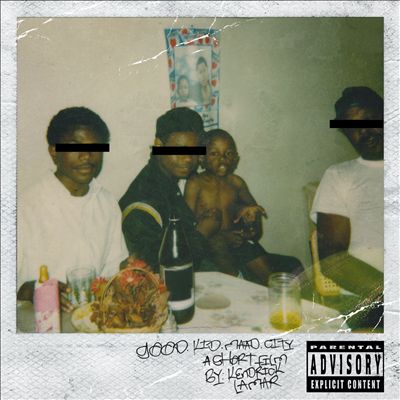 Indisputably the most acclaimed rap artist of his generation, Kendrick Lamar is one of those rare MCs who has achieved critical and commercial success while earning the respect and support of those who inspired him. After several years of development, Lamar hit his creative and chart-topping stride in the 2010s. Good Kid, M.A.A.D City (2012), the Grammy-winning To Pimp a Butterfly (2015), and the Grammy- and Pulitzer Prize-winning DAMN. (2017), his three proper major-label albums, have displayed an unmatched mix of inventive wordplay and compelling conceptual narratives, examining internal conflict, flaunting success, and uplifting his community. The screenplay-level detail of Lamar's writing has been enriched by a collective of producers, instrumentalists, singers, and rappers, a high percentage of whom -- including inspirations Dr. Dre and MC Eiht, and contemporaries Sounwave and Jay Rock -- represent Lamar's native Los Angeles. Lamar's cinematic and collaborative inclinations inevitably attracted the mainstream film industry. Black Panther: The Album (2018) was the source of three of Lamar's Top Ten pop hits. In 2022 he delivered Mr. Morale & the Big Steppers, his fifth studio album and what would be his last with Top Dawg Entertainment.
Compton, California native Kendrick Lamar Duckworth grew up immersed in hip-hop culture and surrounded by gang activity. As a youngster, he gradually discovered an aptitude for writing stories, poems, and lyrics, which naturally led to rapping. He made a name for himself as K. Dot. At the age of 16 in 2003, he issued his debut mixtape, The Hub City Threat: Minor of the Year. While it merely hinted at the potential of the then-teenager, it was impressive enough to catch the attention of Top Dawg Entertainment and led to a long-term association with the label that steadily propelled his career. Training Day, the Jay Rock collaboration No Sleep 'til NYC, and C4, issued from 2005 through 2009, likewise preceded Lamar's decision to go by his first and middle names. The last of the three was issued the same year he became part of Black Hippy, a group whose members -- including fellow TDE artists Ab-Soul, Jay Rock, and ScHoolboy Q -- frequently appeared on one another's mixtapes and albums.
The first tape credited to Kendrick Lamar was Overly Dedicated, released in September 2010. Also the rapper's first commercial release, it reached enough listeners to enter Billboard's R&B/Hip-Hop Albums chart. After XXL magazine selected him for the 2011 Freshman Class feature, Lamar released his first official album, Section.80, that July, and crossed into the Billboard 200, reaching number 113. With deeper conceptual narratives and sharpened melodic hooks, as well as comparative multi-dimensional development from primary producer Sounwave, the set acted as a kind of warning flare for Lamar's mainstream rap dominance. In addition to the dozens of tracks he had appeared on by then, Lamar had the support of veteran West Coast stars as well. During a concert later in 2011, Dr. Dre, Snoop Dogg, and Game dubbed him "The New King of the West Coast," a notion Dre endorsed more significantly by signing Lamar to his Interscope-affiliated Aftermath label.
Good Kid, M.A.A.D City, Lamar's major-label debut, was released in October 2012 and entered the Billboard 200 at number two. Three of its singles -- "Swimming Pools (Drank)," "Poetic Justice," and "Bitch Don't Kill My Vibe" -- reached the Top Ten of Billboard's Hot R&B/Hip-Hop chart and went Top 40 pop. More significantly, the album showcased Lamar as an exceptional storyteller capable of making compelling concept albums. It led to Grammy nominations in four categories: Best New Artist, Album of the Year, Best Rap Album, and Best Rap/Sung Collaboration (for "Now or Never," a deluxe edition bonus cut featuring Mary J. Blige). Miguel's "How Many Drinks?" and A$AP Rocky's "Fuckin' Problems," two tracks on which Lamar made guest appearances, were nominated as well.
Rather than rest, Lamar remained active during 2013-2014, touring as well as appearing on tracks by the likes of Tame Impala, YG, and fellow Top Dawg affiliate SZA. The proud single "i" was released in September of the latter year, became Lamar's fourth Top 40 single, and won Grammys for Best Rap Performance and Best Rap Song. Still rolling, he announced in early 2015 that his third album, To Pimp a Butterfly, would be out in March with tracks featuring Snoop Dogg, Bilal, Thundercat, and George Clinton. A technical error caused the digital version to be released eight days early, but the LP nonetheless topped the Billboard 200 with sales of 325,000 copies within its first week. It made numerous best-of lists at the end of the year and won the Grammy for Best Rap Album. The defiant and life-affirming "Alright," which was quickly adopted by the Black Lives Matter activist movement, along with another single, "These Walls," took awards for Best Rap Performance, Best Rap Song, and Best Rap/Sung Collaboration. Riding high on his wins and a striking Grammy ceremony performance, Lamar followed up in March 2016 with untitled unmastered., consisting of demos recorded during the previous three years. Like the previous release, it debuted at number one, and seamlessly synthesized beatmaking and traditional musicianship from the likes of Sounwave, Terrace Martin, and Thundercat. Within a month, Lamar added to his ever-lengthening discography of featured appearances with his contribution to Beyoncé's "Freedom."
Led by "HUMBLE.," his first number one pop hit, DAMN. arrived in April 2017 and likewise entered the Billboard 200 at the top. Remarkably, all 14 of its songs entered the Hot 100, and it was certified multi-platinum within three months. Among the contributors were Rihanna and U2, but at this point, the supporting roles were beneficial more for the guest artists than they were for Lamar, whose artistic clout was unrivaled. Lamar snagged five more Grammys. DAMN. won Best Rap Album. "HUMBLE." took Best Rap Performance, Best Rap Song, and Best Video. Best Rap/Sung Performance went to "LOYALTY," the Rihanna collaboration. Another number one hit followed in February 2018. The soundtrack Black Panther: The Album featured Lamar on every track. "All the Stars" (with SZA), "King's Dead" (with Jay Rock and Future) and "Pray for Me" (with the Weeknd), its three singles, eventually hit the Top Ten. That April, DAMN. won the Pulitzer Prize for Music. It was the first time the judges recognized a work outside the genres of classical and jazz. Months later, "King's Dead" made Lamar a 13-time Grammy winner. The track took the award for Best Rap Performance. "All the Stars" alone was nominated in four categories, while Black Panther was up for Album of the Year. The film itself was nominated for the Academy Award for Best Picture. After some time away from music that included an acting role on fifth season of the Starz network series Power, Lamar surfaced in 2021 on a series of songs with his cousin Baby Keem. Keem and Lamar's collaborative track "Family Ties," released in August of 2021, won Best Rap Performance at the 2022 Grammys. In February of 2022, Lamar performed at the Super Bowl LVI half time show alongside a crew of rap royalty that included Dr. Dre, Eminem, Snoop Dogg, 50 Cent, Anderson .Paak, and Mary J. Blige. In April of that year he announced his fifth album, Mr. Morale & the Big Steppers, would be arriving the next month. In May he released a new song, "The Heart, Pt. 5," an installment in his ongoing series of The Heart singles that began in 2010. The accompanying video for the non-album track featured Lamar rapping as his face transformed into the likenesses of O.J. Simpson, Kobe Bryant, Nipsey Hussle, Kanye West, Will Smith, and Jussie Smollett, utilizing controversial deepfake technology. Mr. Morale & the Big Steppers was released in May of 2022 and featured guest appearances from Sampha, Kodak Black, Baby Keem, Portishead's Beth Gibbons, and others.