Hemphill was best known for his work with the World Saxophone Quartet -- he was arguably the band's most distinctive writer -- but his work as an improvising saxophonist and composer encompassed a variety of other contexts over the course of his career. Hemphill worked with everything from big bands to duos; he especially excelled at composing for unusual instrumental combinations. Hemphill's primary instrument was the alto; he had a huge, somewhat harsh tone, almost as if he were playing a horn made out of a steel pipe with a sax mouthpiece attached. He possessed a formidable technique and a fertile imagination. The latter probably best manifested itself in his compositions, in which he merged his jazz roots with European classical and African influences.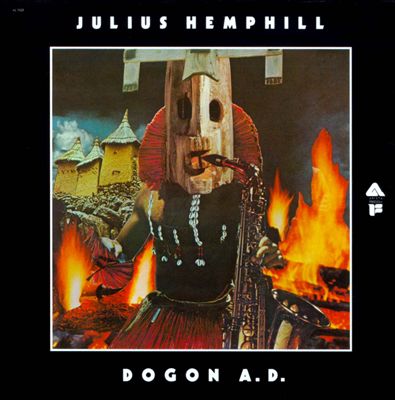 Hemphill's first instrument was the clarinet. He played bari saxophone in high school; purportedly, he fostered a musical infatuation with Gerry Mulligan. In Fort Worth, he studied with the renowned jazz clarinetist John Carter and played with local rhythm & blues bands. Hemphill joined the army in 1964. Upon his discharge, he played for a time with Ike Turner, then moved to St. Louis in 1968. There he became involved with the Black Artists Group, a new music collective that also included Oliver Lake, Hamiet Bluiett, Joseph Bowie, and Baikida Carroll, among others. Hemphill formed his own record company, Mbari, to document his music. His '70s Mbari releases, Dogon A.D. and Blue Boyé, proved to be quite influential, affecting the later work of such disparate artists as Dave Sanborn and Tim Berne.
Hemphill moved to New York in the mid-'70s. There he became active in loft sessions and recorded as a sideman with Anthony Braxton and Lester Bowie. Around this time, he also recorded for the Arista/Freedom label. In 1976, he formed the World Saxophone Quartet with Lake, Bluiett, and David Murray, which would prove to be the most commercially successful and long-lasting of his performing units. In the '70s and '80s, Hemphill played and recorded fairly often for several labels, almost always under his own leadership. His 1980 album, Flat Out Jump Suite (Black Saint), with cellist Abdul Wadud, cornetist Olu Dara, and percussionist Warren Smith, was critically praised, as was his concurrent work with the WSQ. In the late '80s, Hemphill and the WSQ began an association with the Elektra label, which led to a number of well-distributed and aesthetically rewarding albums. In 1988, Hemphill got his one and only chance to record his big band compositions, on the album Julius Hemphill Big Band (Elektra/Musician).
Hemphill left the WSQ in the early '90s, thus weakening the ensemble from a conceptual standpoint. He went on to form his own all-sax group -- a sextet -- which included such players as Marty Ehrlich, Andrew White, and a young James Carter. The band made a pair of albums: Fat Man and the Hard Blues, recorded in 1991, and Five Chord Stud, recorded in 1993. Hemphill's presence on the latter was as a composer only; a worsening medical condition had by this time forced him to stop playing.
Hemphill also had a strong interest in theatre. He incorporated theatrical elements into his 1977 album Roi Boyé and the Gotham Minstrels and in the '80s he composed an extended work entitled Long Tongues, which he called "a saxophone opera." Hemphill's death in 1995 prematurely curtailed the career of one of free jazz's most visionary composers.