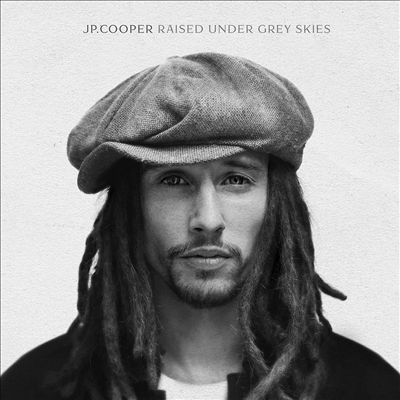 Blending a mix of soulful pop with gospel and R&B, British artist JP Cooper trod the familiar singer/songwriter path of self-released material before inking a deal with Island for his 2017 debut, Raised Under Grey Skies.
John Paul Cooper was born and brought up in Manchester in the north of England. Initially a keen sportsman, he developed an interest in music in his teens after falling in love with grunge, teaching himself to play guitar and forming a rock band while still at school. Later he discovered soul music via artists like Donny Hathaway and Ben Harper, and explored this style by joining a gospel choir. Working in a bar, he started to write his own songs, romantic in tone, with powerful emotional and social lyrical content. Cooper began his recording career in 2012 with a trilogy of numbered, self-released EPs. Recorded acoustically with a backing band, the EPs showcased his smooth, soulful, versatile voice, and fingerpicked guitar skills, and often featured gorgeous arrangements for strings and piano. They sold well, and he built a fan base through steady touring. Cooper's career got a boost when he was tipped as one to watch by the U.K.'s influential MOBO (Music of Black Origin) organization, and was offered the chance to perform with Angie Stone, Mica Paris, and Omar.
In mid-2014, Cooper signed to Island Records. His debut EP for the label, Keep the Quiet Out, was released in July of that year and saw him moving toward a more electronic sound. The EP When the Darkness Comes followed in 2015. His debut full-length album, Raised Under Grey Skies, was released in 2017, and featured the singles "September Song," "She's on My Mind," and "Passport Home." He continued to release singles from the album the following year, including "All This Love" featuring Mali-Koa. In spring 2019, Cooper teamed up with Norwegian pop star Astrid S for the single "Sing It with Me." Over the next couple of years, Cooper focused on writing and recording, releasing a number of singles in 2020, before starting work on his sophomore album. Working with the likes of Matthew Koma, Starsmith, and Kingdoms, Cooper decided to pay tribute to all the women in his life that had inspired him. The resulting album, She, which was preceded by the soulful singles "Call My Name" and "We Cry," was issued in late 2021.