Composer, improviser, and multi-instrumentalist Joshua Abrams has been an integral part of Chicago's thriving independent music scene since relocating there from his hometown of Philadelphia in the mid-'90s (where he was an original member of the Roots). Whether playing in collaborative ensembles (Tortoise, Town and Country, Nicole Mitchell's Black Earth Ensemble, Chicago Underground, etc.), as a sideman (David Boykin's Expanse, Joan of Arc, Bonnie Prince Billy, Sam Prekop) leading his own groups (Natural Information Society, Joshua Abrams Quartet), or performing and recording solo, he brings a disciplined master musician's expertise and a skilled improviser's creative spontaneity to virtually any project he's involved in. He is equally adept at coloring indie rock, modern free jazz, world fusion, and contemporary classical composition with a deep, woody tone on the bass and uncategorizable fluidity on flutes, stringed and percussion instruments, and even electronics.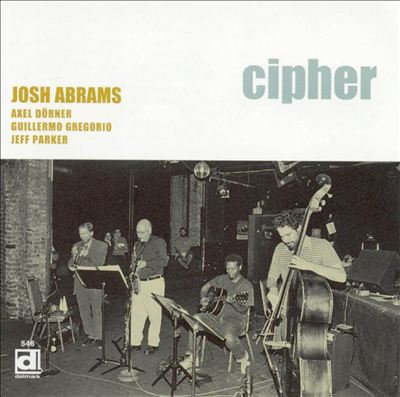 Abrams dove into a life of music early on, by the late '80s playing in various jazz groups as well as Square Roots, an early iteration of what would become the live instrumentation hip-hop group the Roots. He relocated to Chicago in the mid-'90s and quickly became a major player in multiple subdivisions of the city's music scene, staying highly active in jazz and improv circles, forming the more structured Americana-leaning band Town and Country, and lending his talents as a studio musician to recordings for an unbelievably large list of other artists. His 2003 debut leader date Cipher -- with Axel Dörner, Guillermo Gregorio, and Jeff Parker -- revealed a top-flight improviser more concerned with guiding energy and flow than showcasing his abilities as a soloist. With Fred Anderson (whose Velvet Lounge, Abrams worked in for years) and Hamid Drake on From the River to the Ocean.
By the end of the 2000s, Abrams had released several of his own records and played on dozens of albums ranging from various jazz ensembles to work with critically lauded indie artists like Will Oldham, Godspeed You! Black Emperor, Joan of Arc, Edith Frost, and many, many others. Abrams' tireless work grew to include composition of film scores and soundtracks as well as involvement with new groups in which he acted as bandleader and principal composer. One of these groups, Joshua Abrams & Natural Information Society, produced several well-received albums of his tunes beginning in the late 2000s: On Natural Information in 2014, he revealed his love of the Arabic guimbri (an ancient folk instrument with an animal skin covering the gourd-like wooden body of a three-stringed bass lute) as a vehicle for composition and structured group improvisation. Calling on friends from the Chicago improv scene such as Drake, Frank Rosaly, Ben Boye, Emmett Kelly, and a rotating cast of others, Abrams released adventurous and searching albums under the NIS banner such as 2015's Magnetoception and 2017's Simultonality, the latter of which found a more solid lineup of the usually amorphous collective, playing together sharply as a result of regular performances leading up to the recording of the album.