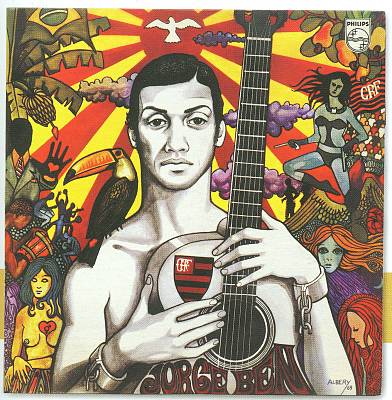 One of the most important Brazilian composers and performers to appear in the 1960s, singer and songwriter Jorge Ben proved successful at infusing samba with soul music. He is the author of two of the most legendary samba songs: "Mas Que Nada" and "País Tropical." His originality and open-mindedness led him to his participation in the Jovem Guarda, bossa nova, and Tropicália movements (see Jorge Ben, 1969, and Força Bruta, 1970), which put him in the unrivaled historic position of having been a member of most of the important movements of 20th Brazilian popular music. His songs have been recorded by acts such as Sergio Mendes, Herb Alpert & the Tijuana Brass, José Feliciano, Ella Fitzgerald, Dizzy Gillespie, Júlio Iglesias, and Al Jarreau. His mid-'70s recordings, including A Tábua de Esmeralda from 1974 and África Brasil in 1976, showcased his deep samba melded with soul and funk. The diversity in his approach, whether with light and airy bossa, fleet samba, or celebratory dance music, bears the trademark of his signature phrasing as a singer and his ability to seemingly stretch time as a composer.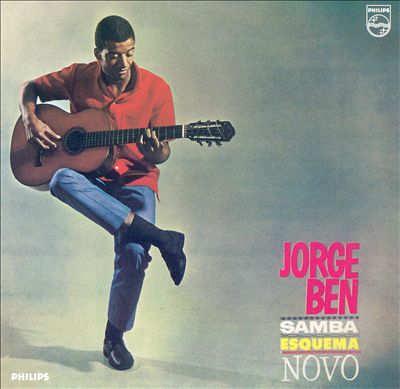 His father, Augusto Menezes, was a pandeiro (a kind of tambourine) player for the Cometa do Bispo Bloco (a carnaval group), and was also a composer and singer of carnaval music. Ben lived in poverty during his childhood in the Favela da Rua do Bispo (in the Rio Comprido borough in Rio de Janeiro). At 13, he learned to play the pandeiro in a small regional group, and two years later, he joined the church choir at the school he was attending. At 16, he was already a member of the Turma do Matoso, made up of a bunch of friends who met at Matoso Street in the Tijuca borough, who included Erasmo Carlos, Tim Maia, and Roberto Carlos. At 18 he taught himself to play guitar. Ben started his artistic career in 1961 as a pandeiro player with the Copa Trio, led by organist Zé Maria. He performed his early songs at the Little Club at the Beco das Garrafas, one of the few places in Rio at the time that featured Brazilian jazz and bossa nova. Concurrently, he was a rock singer at the Plaza nightclub, where Johnny Alf had introduced the jazz harmonies that changed the face of Brazilian music. In 1963, he had two of his songs recorded, "Mas Que Nada" and "Por Causa de Você," which he interpreted on Zé Maria's Tudo Azul; it was followed by an invitation from the Philips label to record his own single with the same songs, with backing from the Copa Cinco. The label's gamble proved a success at radio and on store shelves. The same year, they issued his debut album, Samba Esquema Novo. It sold an unprecedented 100,000 copies.
In 1965, Ben toured the U.S. for three months, and the Jovem Guarda Show debuted on TV Record São Paulo. At the time, Ben adhered to iê-iê-iê (as Brazilian rock derived from the Beatles' style was called). It didn't play well with the musicians and singers associated with Elis Regina who had declared war on rock & roll on her O Fino da Bossa program. (Their hostile reaction was similar to what Bob Dylan encountered from folkies at Newport in 1965.) Long an enthusiast of the style, Ben was known in his circle as "Babulina" because he loved Ronnie Self's "Bop-A-Lena." There was no denying that his roots were tied to samba, but he wanted to create a new dimension in the form. He pioneered an electric samba that also absorbed influences from rock and popular music. As a sambista sponsored by the jazz crowd, he had been invited to appear on O Fino da Bossa. Ben participated in two weekly shows. During that run he was invited by Erasmo Carlos to perform "Agora Ninguém Chora Mais" on the Jovem Guarda show. The next day he was banned by the producers of O Fino da Bossa. Remaining on Jovem Guarda, Ben teamed with Pery Ribeiro, Erasmo Carlos, Wilson Simonal, Bossa Três, and Carlos Imperial to create a new rhythm, the so-called "samba jovem," which mixed iê-iê-iê and bossa nova.
While Ben was facing adversities in his own country, in the U.S. Sergio Mendes and Brasil '66 issued "Mas Que Nada" as a single and hit the charts high. At the same time, José Feliciano recorded his "Nena Naná" and Herb Alpert his "Zazueira." Ben would remain in Brazilian music's doghouse until late 1968, when he participated in Caetano Veloso's and Gilberto Gil's Divino, Maravilhoso show on TV Tupi. In 1969, Ben hit paydirt with four singles -- "Minha Menina," "País Tropical," "Que Pena," and "Cadê Teresa" -- included on the eponymously titled Jorge Ben. In 1970, Ben interpreted his "Eu Também Quero Mocotó" in the V FIC, accompanied by the conductor Erlon Chaves, Banda Veneno, and Trio Mocotó. In 1972 he performed in Italy, Portugal, and Japan (where he recorded a live album) and won the VII FIC show with "Fio Maravilha," interpreted by Maria Alcina. The song was included on the same year's LP Ben. In 1975, Ben performed at the Sistina Theater in Rome, Italy -- the show was recorded by the Italian TV. That same year he performed at the Olympia (Paris, France), and that show was recorded live and released as Jorge Ben à L'Olympia. These performances and releases paved the way for Ben's embrace of soul on 1974's A Tábua de Esmeralda and of funk on 1976's Africa Brasil -- both are now considered classic albums.
In the '80s, Ben finally arrived as an international star. His growing popularity abroad yielded several invitations for performances at jazz and world music festivals. In 1985, he changed his stage name from Jorge Ben to Jorge Ben Jor; the change was inspired by move to the Warner label, and the fact that his international composition and publishing rights were being paid to George Benson.
In 1991, his "W/Brasil (Chama o Síndico)" became a big dancefloor hit in Britain and in Europe as a new generation of young people discovered his work. In November 1997, he was paid tribute by 12 artists -- including Fernanda Abreu, Carlinhos Brown, Paralamas do Sucesso, Skank, and Skowa -- on Músicas Para Tocar em Elevador. In 2001 he released his own unplugged volume in the Acústico MTV series (followed by a second a year later). Ben delivered a triumphant return to samba funk with Reactivus Amor Est (Turba Philosophorum) in 2004. Two years later he was honored with another Top Five European single as Mendes and the Black Eyed Peas cut "Mas Que Nada" as one of the themes for the FIFA World Cup. After a bout of international touring, Ben dropped the studio offering Recuerdos de Asunción 443 in 2007. The recording featured new versions of unreleased songs from his '70s and '80s periods. While the artist continues to tour, he spends most of his time writing for others and overseeing the reissue of his Philips catalog.