A singer and songwriter who has stubbornly (and joyfully) followed his muse in a career that began in the early '70s, Jonathan Richman started out as a primitive proto-punk bandleader under the influence of the Velvet Underground who would eventually mature into an acoustic balladeer, and who sang his spare, passionate tunes in Spanish as often as in English. In the middle, Richman was known for his purposefully naive music that reveled in a childlike love of the world around him, emphasized by a voice that was by turns craggy and adenoidal. While the initial lineup of Richman's band the Modern Lovers (as documented on the album The Modern Lovers) would often be cited as a precursor to the first wave of punk, Richman would abandon their aggressive sound and, with his second run with a new Modern Lovers, would emphasize acoustic instruments and playful tunes like "Ice Cream Man" and "I'm a Little Aeroplane" on 1977's Jonathan Richman & the Modern Lovers and 1979's Back in Your Life. As he stepped out as a solo artist in the '80s, Richman's music retained its simplicity, but he adopted the electric guitar and matured as a writer, producing idiosyncratic but smartly crafted sets of songs like 1983's Jonathan Sings and 1989's Jonathan Richman. 1994's Jonathan, Te Vas a Emocionar! was the first of several albums where he would indulge his fascination with the Spanish language, and he experimented with polished pop production (courtesy of Ric Ocasek) on 1998's I'm So Confused. In the 2000s, Richman's songwriting became more explicitly poetic as he relied more on acoustic instrumentation, as on 2004's Not So Much to Be Loved as to Love and 2008's Because Her Beauty Is Raw and Wild. Richman continued exploring new musical avenues in the 2010s, experimenting with Latin sounds on 2016's Ishkode! Ishkode! and ragas on 2018's Sa, though his songs remained as sincere and open hearted as the day he first picked up a guitar.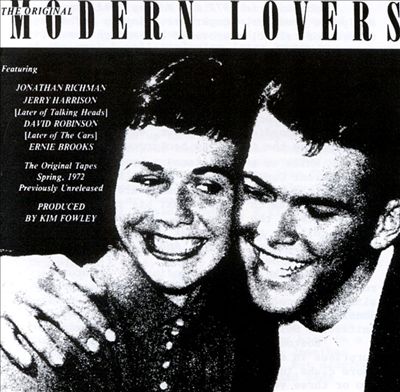 Jonathan Richman was born in Natick, Massachusetts on May 16, 1951. He took up the guitar when he was 15, and was soon playing in public for his friends. Richman discovered the music of the Velvet Underground, who were a popular live act in nearby Boston, and became a passionate fan, moving to New York City in 1969 to be closer to his favorite band, even crashing in the office of their manager for a while. Richman worked odd jobs while he tried to break into the New York music scene, but he couldn't find an audience for his straightforward songs and quirky vocal style, and by 1970 he was back in Massachusetts. He quickly formed a band that fused his love of the Velvets with his own take on rock & roll, and soon recruited guitarist John Felice, bassist Rolfe Anderson, and drummer David Robinson, calling his group the Modern Lovers. Playing their first gig in September 1970, the Modern Lovers played purposefully simple rock & roll songs that dealt with life and relationships with plainspoken passion. Richman also ran counter to the traditional image of a rock star: He cut his hair short and dressed simply, sometimes wearing a suit and tie when he really wanted to go against the grain. Felice and Anderson left the band in early 1971 (Felice would go on to form the Boston punk outfit the Real Kids), and they were replaced by Ernie Brooks on bass and Jerry Harrison (later to join the Talking Heads) on keyboards. The Modern Lovers attracted a loyal following in Boston, and record labels were soon scouting the band. In 1972, they cut a handful of demos for Warner Bros. and A&M Records (the former with John Cale as producer), and while neither label would commit to the band, the recordings would later be collected for the group's first album, The Modern Lovers, released by Beserkley in 1976. (Another set of demos, produced by Kim Fowley in 1973, would be released in 1981 as The Original Modern Lovers.)
By the time the demos collection came out, the Modern Lovers had broken up, and Richman had formed a new group he dubbed Jonathan Richman & the Modern Lovers. The new band eased back on the blunt, electric sound of the Modern Lovers' demos in favor of a lighter, more acoustic-oriented approach that suited the playful, childlike tone his songs had adopted. Featuring Leroy Radcliffe on guitar, Greg "Curly" Keranen on bass, and David Robinson on drums, this edition of the Modern Lovers would cut a self-titled album for Beserkley that also appeared in 1976, while a second LP, Rock 'n' Roll with the Modern Lovers, followed in 1977, with D. Sharpe replacing David Robinson, who would go on to play in the Cars. 1977 also saw the release of Modern Lovers Live, which documented another lineup change, as Asa Brebner took over on bass from Keranen. The lineup from Live cut a studio album, Back in Your Life, that appeared in 1979, but by the time Richman returned with 1983's Jonathan Sings (his first major-label release, for Sire), he had an entirely new band, including Ken Forfia (keyboards), Michael Guardabascio (drums), Beth Harrington (vocals), Greg "Curly" Keranen (bass), and Ellie Marshall (vocals). Most of the same crew returned for 1985's Rockin' and Romance, which was initially going to be his second album for Sire, but was instead issued by the independent Twin/Tone label. Andy Paley produced the LP, and he returned for 1986's It's Time For; this time around, Richman handled sax as well as guitar and vocals, and Paley and Asa Brebner took on the rest of the instrumental duties. Modern Lovers '88 was a short (less than 30 minutes) and sweet acoustic effort, with Richman's guitar and sax joined by Brennen Totten on guitar and Johnny Avila on drums.
As Richman's Modern Lovers had become less of a coherent unit and more a blanket name for his various backing musicians, Jonathan retired the handle, and 1989's Jonathan Richman was a true solo effort; except for two tracks, it reflected Richman's new live performance style, in which his Fender Stratocaster was his only accompaniment. Richman took a creative detour on 1990's Jonathan Goes Country; featuring Richman originals along with some C&W covers, the album was cut in Missouri with the celebrated roots rockers the Skeletons. 1992's I, Jonathan was cut with a handful of friends in a makeshift home studio, while 1994's Jonathan, Te Vas a Emocionar! found Richman recording an entire album in Spanish for the first time, with the track list divided between original tunes translated into Spanish, and Mexican and Spanish folk numbers. Around this time, Richman adopted a new strategy for his live shows, in which he moved over to acoustic guitars and performed alongside drummer Tommy Larkins, who had previously worked with Giant Sand. 1995's You Must Ask the Heart proved to be the last album in Richman's long association with Rounder Records, and 1996's Surrender to Jonathan, in which he re-recorded several of his favorite tunes with producer Andy Paley, was his first release for Vapor Records, an imprint founded by Neil Young.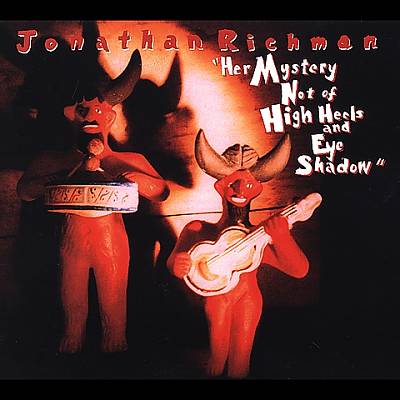 Fellow Bostonian Ric Ocasek stepped in to produce Richman's second album for Vapor, 1998's I'm So Confused, which gave him a glossier pop sound than he had ever enjoyed in the past. That same year, Richman enjoyed a serious career boost when he and Larkins appeared in the hit film There's Something About Mary, popping up occasionally to sing songs that commented on the story and the characters. Between the film and Richman's occasional appearances on Late Night with Conan O'Brien, a new audience was discovering Richman as his music was taking on a new level of lyrical maturity. 2001's Her Mystery Not of High Heels and Eye Shadow and 2004's Not So Much to Be Loved as to Love both featured Richman and Larkins joined by multi-instrumentalist Ralph Carney, and along with the subtle and dynamic arrangements, Richman's voice and lyrics sounded thoughtful and adult in a new way. (Both were also multi-lingual efforts; the second side of the vinyl edition of Her Mystery was entirely in Spanish, while Not So Much to Be Loved featured tracks in both Spanish and French.) Filmmaker Miles Matthew Montalbano invited Richman to compose the score for his film Revolution Summer, and the soundtrack album, released in 2007, would be Richman's first all-instrumental release. The Spanish Munster label issued 2009's ¿A Qué Venimos Sino a Caer?, which included four new selections and eight previously released tracks that found Richman singing in Spanish, French, Italian, and English. The same year, Richman dabbled in production, as he and Larkins oversaw the sessions for Skitter on Take-Off by Vic Chesnutt, who had toured with Richman several times. 2010's O Moon, Queen of Night on Earth was another low-key, multi-lingual effort that would prove to be Richman's last release for Vapor Records. Live work would occupy Richman for the next several years, but in 2016, the independent Blue Arrow label ended his recording drought with the album Ishkode! Ishkode!, which found him working with various styles of Latin music. Two years later, Richman took inspiration from Indian ragas for the LP Sa; the material was produced by his former Modern Lovers bandmate Jerry Harrison.